Meet Terrence Post. Terrence has been with UserTesting since January 2014, and in that time he's been promoted four times and is one of the crown jewels on our Professional Services Team. Terrence is currently our Director of Professional Services and oversees our Project Management and Support functions.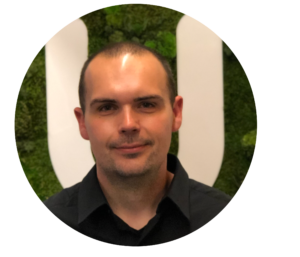 How did you hear about UserTesting, what was your first role here, and what were the first few months like?
I found the job listing online. I had just gotten out of law school and was looking for a temporary job to pay my student loans. I applied for the Support Specialist role, and sure enough, I got the job. Immediately, I was blown away by the caliber of people at the company. It was a collection of people who were incredibly smart, hard-working, and kind.
I found myself really excited to come to work every day. Right away, I realized that this was a great place to be. Within my first six months on the Support Team, I was given the opportunity to move into a leadership role as the team lead.
How did you then go from Team Lead to Support Manager?
One of the great things about UserTesting is that as it grows and specializes, the company looks for existing employees to take on new roles and new challenges. In my instance, the Support Manager was given the opportunity to become a Product Manager, which opened up a vacancy that I was able to step into.
I was feeling like my career here was taking off and I was doing something that I really enjoyed.
How long were you the Support Manager for and how did your next promotion come about?
I was the Support Manager for a year. Toward the end of that first year, our VP of Customer Success asked me if I'd be interested in helping overhaul our SMB (small and medium-sized businesses) Customer Success Team in addition to overseeing Support.
It felt like the company saw me as someone who was really good at figuring out new challenges. As we were working on scaling our SMB offering, I stepped in to help with processes, best practices, and building out the team. It was at about this time that I decided that I wanted to make a career at UserTesting and put the law pursuit on hold.
A few months later as our Professional Services Team was growing rapidly, and I was asked to help out by leading our new Project Management function.
So that's what you do now?
Yes, in my current role I oversee both our Support and Project Management functions. I've been doing this role for two and a half years now. One of the things that have been really rewarding about overseeing Project Management is that we've been able to build it from the ground up and evolve the team into a unit that provides incredible value to our Professional Services Team and our customers, all the while facilitating career growth and developing the skills of everyone on the Project Management Team.
What's unique about working at UserTesting?
The people are great. A culture of kindness and trust is rare to see at a lot of companies, but that's been the secret sauce to a lot of UserTesting's success.
What was the biggest lesson that you've learned from your time here?
Working here has helped me to learn a lot more about myself. When I joined the company, I never saw myself as someone who would be a people manager or a business leader, but after UserTesting gave me the opportunity to enter that role, I found myself really enjoying it and I like to think that I'm thriving in it. It really helped me to identify the way that I wanted to shape my career.
What advice would you give to someone who was looking to grow in their career?
I'd recommend that they take advantage of every opportunity, even if they feel like it's going to be a big challenge. Even more than that, they should always be asking what more they can do. Don't just wait for opportunities to be presented to them. A lot of leaders will respond positively to that initiative.