What if you only had 15 seconds to prove yourself in an audition?
What if your elevator pitch was pared down to 15 seconds?
That is essentially all the time that websites have before users make a decision about whether to stay or leave.
How will you communicate your company's credibility within this precious window to keep your visitors from moving on to a competitor's site? Below are some tips on how to communicate credibility and professionalism and not have your site dismissed as untrustworthy or gimmicky.
Visual design
First impressions count. Every element of your visual design should strategically convey what your site has to offer a visitor.
Visual hierarchy
This requires a clear visual hierarchy of information, which means placing the most important pieces of content in prominent locations, highlighting them in bigger fonts, or setting them a part from other content. By drawing the eye of your users to certain areas and de-emphasizing others, they will understand what you want them to pay attention to.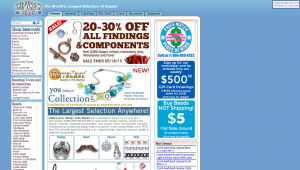 The example above has a lot going on, vying for your attention. It's hard to see the forest for the trees on this page. Can you spot where returning customers log in or where to create an account? It's far off to the right, disconnected from the main content and stripped of any visual design, sending a confusing message to returning customers, as if they themselves are being shunted aside.
White space
Creating a coherent visual hierarchy also means understanding how to use white space. The venerable New York Times extends its air of professionalism and authority to its web assets through the use of considerable white space to frame its articles. Readers don't need to strain their eyes to understand where to look: the black text of headlines and section headers floats forward from the white background.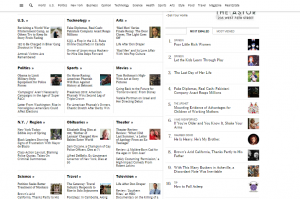 Conversely, effective use of white space doesn't mean hacking away at your content until nothing is left. White space doesn't have to mean empty space. Creating a minimalist design means strategically distilling your website to its most essential points; visitors shouldn't be left swimming in a sea of white space without any direction.
Font
Choosing the right font or group of fonts along with the use of white space can also help to frame important content and break up different areas. There are a variety of web fonts that are designed specifically for maximum utility on digital screens. These fonts add to the legibility of your site when used with varying weights and sizes to convey visual hierarchy.
Square does a great job of using ample white space and effective fonts to explain the benefits of using their service. Different font sizes emphasize what should be read first, and different colors identify and differentiate hyperlinks.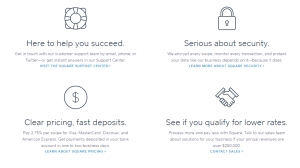 Updated content
Earning the trust and credibility of your customers also means making sure your content is up to date. These are crucial in the first 15 seconds of your product or service's audition.
No matter how evergreen you may think your content is, if the last piece of content on your site has been marked circa 2009, why would a visitor trust it to meet their current needs? It also signals that no one is actively managing the site and decreases trust in the information that already exists. In a world where tweets churned out every second, how can a site without up-to-date information expect to compete?
Dates and time stamps
When including content, if possible, make the date or time stamp of that material up front and easy to find. Even if it's not possible to update very often, manage expectations with a header or message on when to expect new material, so users are not left wondering if a lapse is due to negligence or is part of a regularly scheduled flow of material.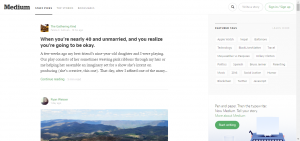 Copyright date
One of the most basic elements of your site that can be updated is the copyright date, often found in the footer. Unfortunately for the NSA site geared towards kids, the 2010 copyright date at the bottom leaves visitors wondering what kept them from refreshing the content for 5 years.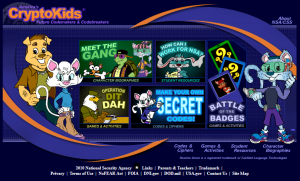 If you don't want to manually change the date from year to year, there are a number of scripts that will do this for you automatically.
Blogs and social media
Maintaining a blog or connecting a social media feed, such as Twitter or Facebook, is another potential way to show visitors that your content is fresh without draining your resources. Allowing commenting on a blog can also create a timely discussion with your visitors around your brand's offering. Jumping in on a conversation relevant to today is a much more enticing prospect than passively reading a posted article from over a year ago.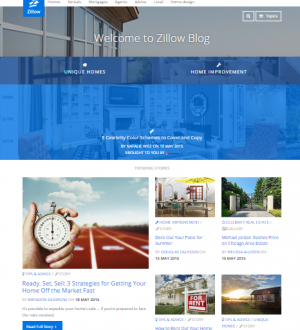 Social media feeds that focus on images (such as Pinterest and Instagram) are another low-overhead way to keep your content from going stale.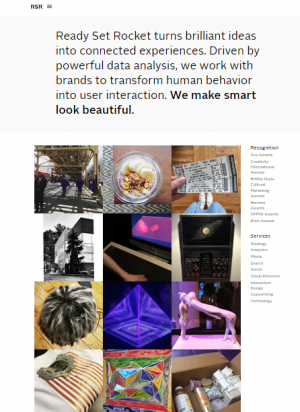 Links
If a link on your site or app connects to an unrelated or disreputable site, these impressions can carry over to your own. It's best to ensure that wherever you are sending your visitors is somewhere that you want to be associated with.
Just as damaging are links that go nowhere. This is the ultimate sign that no one is looking out for your site and will cause your credibility to plummet. Users will assume that those running your site might be asleep on the job, and without that vote of confidence, they will raise an eyebrow and head elsewhere. Double check Triple check to make sure that all the links on your site or app are working; it will be worth your time.
To ensure that any changes in external sites that you link to are accounted for, make link checks on a regular basis. How often will depend on the size of your site and the amount of resources you have, but whether it's monthly, quarterly, or annually, create a schedule and stick to it.
There are a variety of tools that can check the validity of links for you; no need to spend your time manually crawling through every link on your site!
W3C Link Checker: The World Wide Web Consortium offers a handy link checker free of charge. The simple interface only asks for your website's URL.
Xenu's Link Sleuth: A free application for Windows, this tool features a number of more advanced uses for SEO, but is widely used for to check for broken links. It also spits out a report for you.
Check My Links Google Chrome Extension: Although this is an extension specifically for Google Chrome users, it's an incredibly simple way to visualize which links work and which don't. Valid links are highlighted in green, while broken links are highlighted in red.
Take advantage of your 15 seconds
The art of persuasion is complex in any arena of life, and even more so within such a narrow time frame that creators of digital products have today. So use those 15 seconds wisely to create a fan of your brand for life, instead of a just a skeptical passerby.