The future that we anticipated would evolve over the next five to ten years has arrived much sooner than expected. We're working from home (permanently in some cases), remotely collaborating with colleagues in new and innovative ways, and trying to navigate an ever-changing, chaotic environment. While organizations are adjusting to unexpected remote environments, some are dealing with increasingly adverse information silos, and a whole new set of challenges to go with them. 
Centralized access to user data is the key to accelerating time-to-insights
With employees spread out further than ever before, access to information is not as simple as swiveling your chair around and shouting to a colleague across the hall. And let's face, we all have enough meetings as it is. Because of this, businesses need to find new ways to empower employees to access the information they need to make better decisions, faster.
Not to mention, this challenge is amplified for product and UX teams trying to take the pulse of their customers' changing behaviors—all while addressing those changes as quickly as possible.
 A typical UX team spends a considerable amount of time jumping between multiple tools, copying and pasting data from spreadsheets, and searching for files just to answer basic questions about customer preferences, experiences, frustrations, and more. This is no longer an acceptable way of working for those who want to succeed in an incredibly competitive environment—driven by rapid changes in society and technology.
Leverage the right technologies for better collaboration
Businesses have to find better ways to collaborate and share insights across the organization, efficiently and at scale.
A big part of this collaborative approach is working with robust solutions that play well together. Being able to integrate several of these solutions seamlessly into customer research processes helps teams increase the speed and quality of their research, and connect the dots between insights that have been previously siloed in various platforms or parts of the organization.
Introducing the EnjoyHQ and UserTesting integration
EnjoyHQ is a ResearchOps platform that specializes in helping UX teams streamline their research process by enabling them to centralize research data from multiple sources in one place—which makes sharing insights easy. So we're excited to announce that EnjoyHQ is now integrated with UserTesting. 
This will allow UX designers and researchers—who rely on UserTesting to gather insights on any product or experience—to increase the impact of their research across their organization. With this integration, product and UX teams alike can easily import video clips, notes, and metadata created in UserTesting directly into EnjoyHQ.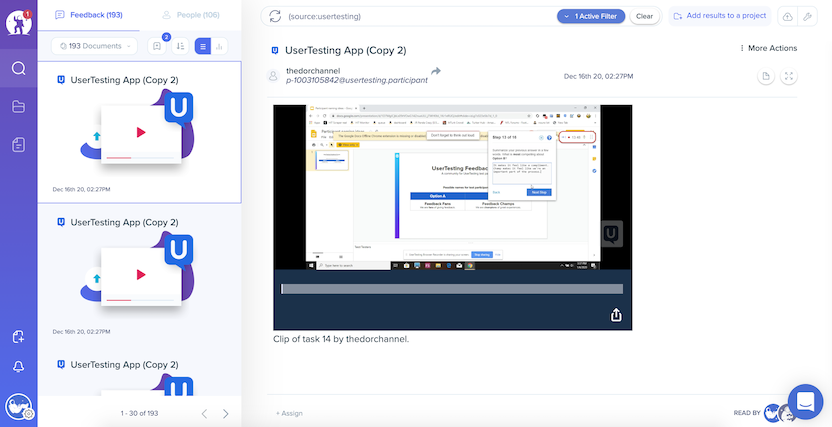 Having an easier and faster way to transfer insights between platforms empowers teams to speed up their research process and build better feedback loops with customers.
"By helping research teams directly connect their UserTesting accounts to EnjoyHQ, the job of product teams has become easier than ever. No longer will we have to search for, download, and upload unmoderated testing videos to EnjoyHQ—now all our insights are in one place and it's all done automatically" -Dalmar Hussein, Director of Research, Tally
If you're already a customer of UserTesting and EnjoyHQ, you can start using the integration today by activating it here. You'll be doing your best customer research and sharing insights across the organization in no time!