Name: Nick Donovan
Location: Mountain View, California
Official title: Customer Success Manager
Company: UserTesting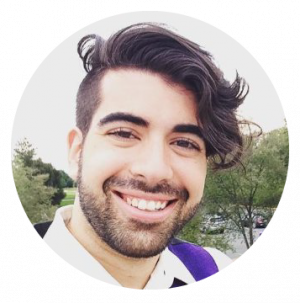 What did you do before UserTesting?
Most recently I was working in retail management in upstate New York. I loved most of the people, but the company didn't quite practice what they preached in their values and outlook. I wasn't listened to, and the opportunities for growth were scarce—it was a big challenge. About a year ago, I found out about UserTesting from a friend who worked here, I applied, got the job and came out to California.<
What were your first impressions of UserTesting?
It had a really amazing vibe. I was originally working out of the Mountain View office in this super cool, laid-back, engaging office atmosphere. Everyone was smiling and happy to be there.<
Now that I work mostly out of the San Francisco office, I get that big city feel as well. We have a great new space here and every day I'm still kind of in awe that I get to work in Silicon Valley for a really awesome tech company that genuinely cares for its employees.<
What do you do here?
I'm a Customer Success Manager. I'm essentially here to help my customers strategize around how to best use this platform that they purchased. We want to make sure that we're having a real impact on customers' KPIs and success. I'm here to help them achieve whatever success looks like for them.<
What's the first thing that you do when you get to your workspace each day?
Each day, when I get to my workspace, the first thing I do is check my email and my calendar for any new invites and messages from customers and then colleagues. Staying organized is a big part of the job, and being able to prioritize customer needs is important to the whole company; that's why our first core value is to put customers first! <
What's unique about working at UserTesting?
Working at UserTesting is unique to me in that you're truly empowered to own your work. If something is important to you, even if it falls outside of your role, you're encouraged to pursue it, become great at it, and use it to build not only your personal skills but also your career. If something is interesting, try it! You might find a niche you never knew existed.<
<
What have been some of your favorite UT moments so far?
I've loved some of the different group activities that we've done. I got a shoutout from our CEO at our last All Hands Meeting. It's great to be a part of a company that cares about the community, so seeing the entire company come out for volunteer events is inspiring. Sometimes, the departments will have great outings too, like our Customer Success retreat to Tahoe. I also have to say, winning our trivia night was a blast. <
How does UserTesting compare to past places that you've worked at?
It's incomparable. It's like your eyes have been opened to a new way of working. Everywhere I've been before, you're at your desk at all times. Here, I can move around, get a breath of fresh air between meetings, work from the lounge or a bean bag, wherever I feel creative and productive. It's an extremely supportive environment. I've never once felt that urge you might have at other companies to call in sick and avoid a day in the office. I'm excited to be doing the job, and UserTesting motivates me to get better at what I do. <
What do you like to do outside of work?
You might catch me down at Brewcade (part bar, part arcade), a local comic book shop, hanging out with friends, going for hikes, learning (very slowly) to surf, or doing some community service locally. <
In 140 characters or less, how would you describe UserTesting?
Life-changing and always for the better.<