The team at TED is known for smart ideas and great design, so it's no surprise that they wanted to collect user feedback to improve their online experience.
As a UserTesting client, the TED Technology Team had done some user testing of their main site, but they wanted to take it a step further. They have lots of other digital properties including the TED mobile app, various microsites, and the TED Connect app used by live event attendees. How could they expand their user testing efforts to build a consistent (and awesome) experience across all their channels?
Our Director of Research, Marieke McCloskey, flew to New York to do a day-long workshop with the team and show them the possibilities of in-the-wild user testing. Morris Reese, one of our UX Researchers based in New York City, joined the group to offer more ideas on conducting remote research and using the UserTesting platform.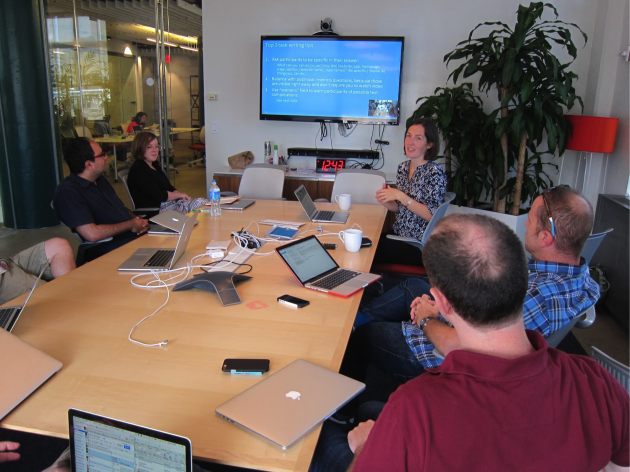 Marieke McCloskey shares some research ideas with the team
User testing isn't just for website usability anymore
For the first half of the day, Marieke and Morris talked with the TED team about how and when to test throughout the development cycle.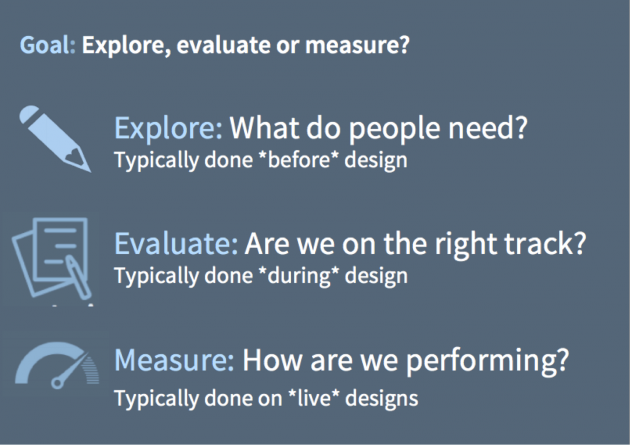 Research goals at different stages of development
They covered some of the different uses for remote user testing beyond finding basic website usability issues:
User experience: Where do users struggle across touchpoints? Are they engaged throughout the process?
Competitive landscape: How does our experience stack up against competitors?
Customer journeys: How do users move between our desktop, mobile, and in-person presence?
Customer opinion: What are customers thinking and how are they reacting to our brand?
The group discussed how they could test experiences in specific contexts, like users at a TED event interacting with the TED Connect app.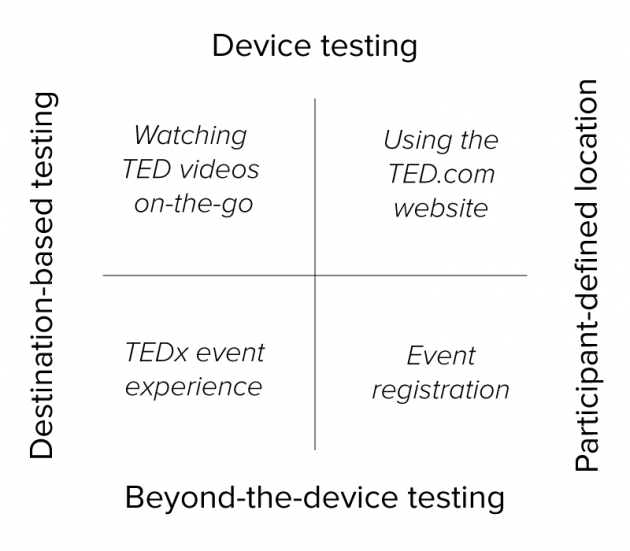 Ideas for different in-the-wild tests the TED team could run
They also talked about testing prototypes and new products to validate the concept and answer big-picture questions about how users feel about a brand when they use the product.
Setting up tests for a new product
After lunch, it was time to jump in and start planning some research!
OpenTED is a new platform that allows anyone to submit a short video on an idea. As a hypothetical test scenario, the TED team wanted to find out if their target audience could understand the concept and would even want to submit an OpenTED video.
To answer these questions, the team's Product Manager set up some quick user tests.
They learned that anyone on the team can run and analyze user tests—no background in UX research required! Anyone from the UX Designers to the Product Manager to the Engineers could easily use UserTesting whenever they needed to get feedback.
Many thanks to the Technology Team at TED for spending time with us! Your commitment to UX is inspiring.