When it comes to empathizing with customers, nothing beats having a face-to-face conversation. Live interviews are highly informative and observing the thoughts, words, and non-verbal cues of your customers in an interactive way is invaluable.
Traditionally, getting live insights has been a slow and challenging process. It can be difficult to target your exact audience, let alone coordinate a mutually-agreeable time to meet. Scheduling and coordinating interviews can be frustrating and often require long lead times and expensive logistics.
Live Conversation is a feature of the UserTesting platform that addresses these challenges, helping you quickly and easily get insights from in-depth interviews. You can either leverage our diverse panel or use your own target audience.
Seeing how your customers experience your product in the real world—whether it's with a mobile app or an in-store experience—provides essential insight. Which is why we're excited to announce that we've launched Live Conversation Mobile, a new feature that enables you to connect with your customers on their mobile devices in real-world environments, anytime, anywhere.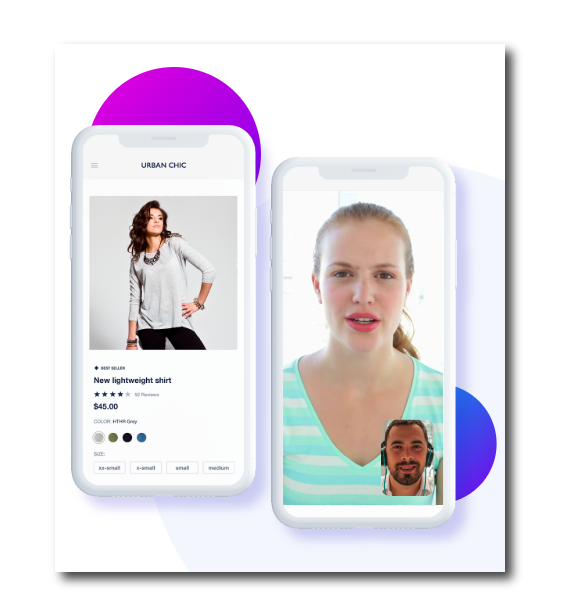 Connecting with customers one-on-one is a valuable tool that can reveal insights that might never have been discovered through traditional customer research. Some of the most interesting moments often arise when observing customers in their natural environment—taking the train to work, waiting in line at the grocery store, shopping for a last minute gift. By giving your customers the ability to share their experiences directly with you—as they happen—you can, in turn, create better ones for them.
Bridging the empathy gap
In an increasingly digital world, it's becoming harder and harder for companies to empathize with their customers—the gap between the technology and the customer is widening. This is why connecting with customers in-the-moment is so important.
Organizations like Expedia have leveraged Live Conversation Mobile to better understand their customers' real-world experiences. They're able to walk a mile in their customers' shoes to gain a true understanding of how customers experience a product, service, app, or even navigate a store, by having them share their mobile camera view for a live "as it happens" interview.
Daniel Lee, User Researcher for Expedia notes the importance of capturing mobile experiences as they happen,
With the rise of mobile devices for commerce transactions, it's vital that we understand our customers' mobile behaviors and see first-hand how they experience our solution via a mobile device to continue to deliver the same high-quality user experience they've always known.
It's also important to understand how people use their mobile devices in real-life situations. In addition to seeing where your customers are at and what's happening around them, with Live Conversation Mobile, customers can also share their mobile screens, offering a unique and valuable perspective on their daily workflow, how they organize their mobile apps, or general mobile app usage. With every tap or swipe, you'll have the opportunity to dig deeper to understand the why behind their actions.
Whether it's an existing mobile application or a prototype, gathering feedback from customers in real-world situations one of the best ways to build empathy with customers and quickly inform better product decisions.
Get started with Live Conversation Mobile
Take advantage of the flexibility to conduct Live Conversation interviews across all platforms—desktop, tablet and mobile devices (iOS and Android) using the UserTesting panel or your own audiences. Get started today by watching a demo here, or downloading our Live Conversation Success Kit.
Want to learn more?
To learn how UserTesting can help you understand your customers through on-demand human insight, contact us here.