On April 24, Pinterest rolled out a new way to discover ideas: the Guided Search feature on its iOS and Android app. It's one way the social bookmarking site is seeking to improve the user experience, and businesses that use Pinterest to promote their products should take note.
Discovery is one of the main reasons people use Pinterest. If you know exactly what you're looking for, it's generally easier (and arguably less distracting) to just Google it. But if you feel like exploring, Pinterest helps you visually discover things you may not have thought to search for.
The Guided Search feature takes this advantage one step further. Now, when you enter a keyword into the search bar, you'll see a slider with suggestions to refine your search.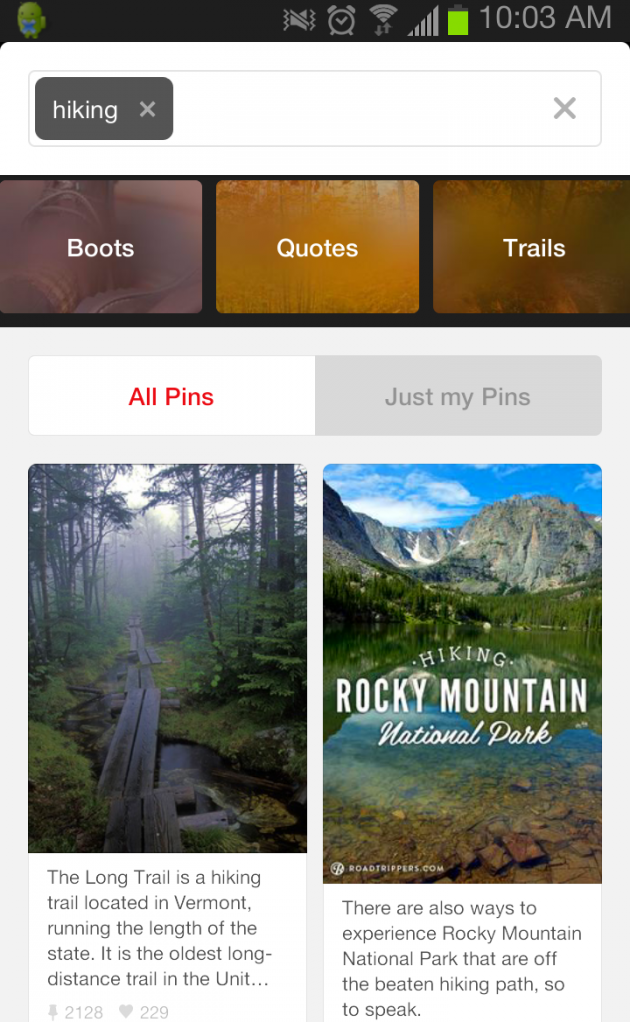 When I searched for "hiking," I could narrow my search to "boots," "quotes," "trails," and more with a single click.
What users are saying
Users are enjoying discovering new suggestions for different ways to narrow down their search. We ran a small test on the app with 5 users, and all 5 said they thought that Guided Search was more helpful than the previous search function. 4 out of 5 said they thought it was more fun, too (the other one said it was the same amount of fun as before).
It's giving you options, and you may not have even thought about those options otherwise.
-mrsangelas, United States, member of UserTesting panel
Here's a clip of a user trying out the feature for the first time:
What it means for businesses
Optimize your descriptions
Pinterest states on its blog that Guided Search won't change the way it ranks search results, so, as before, the best way for a business to be noticed on Pinterest is through optimized pin descriptions. Ideally, pin descriptions should accurately reflect the pin content -- but they should also engage the user by offering helpful tips, inspiration, or humor. After all, Pinterest is a social site, not an advertising platform. Pinterest users are mostly interested in gathering information and inspiration, not preparing to make a purchase.
Learn from your users
Smart companies can also use the Guided Search feature as a learning opportunity. Test to see how users are discovering your brand on Pinterest. What search paths lead users to your content? It might be something you hadn't thought of before.
You can also test users' perceptions of your Pinterest content. Is it helpful? Inspiring? Trustworthy? Don't be left guessing -- find out what real users think so you can attract and delight them on Pinterest.