When I was young, my mother and I had a Black Friday tradition. We'd wake up at an obscenely early hour the day after Thanksgiving and head to the mall. We'd drive into town in the dark, park our car, and wait with the heater on until a sleepy employee nervously opened the store doors to a throng of eager shoppers.
It was fun—when I was 10. But now the idea of holiday shopping makes me cringe. In the past, it's been a huge day for retailers, but last year saw an 11% decline in traffic to stores on Black Friday. And data released by consulting firm PwC indicates U.S. retailers enjoy higher sales the week before Black Friday than on the big day itself.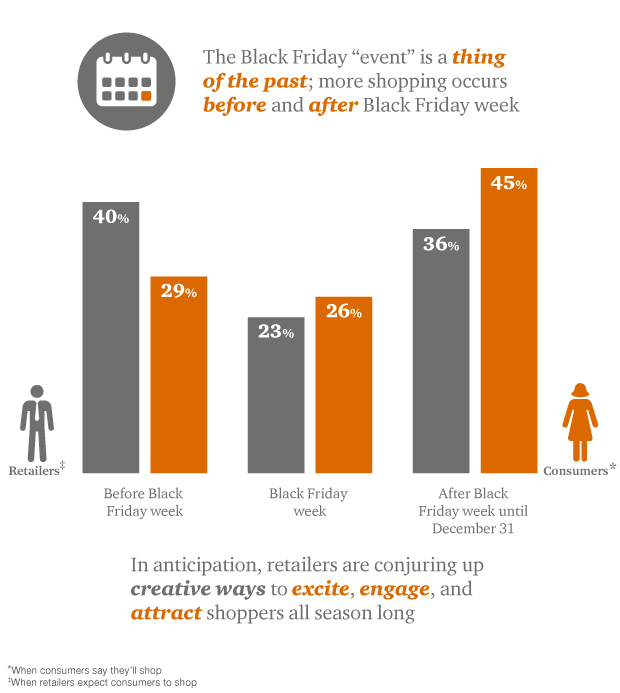 via PwC
So why are retailers still pushing Black Friday on consumers? It could be that some of them just aren't listening to their customers. But not every retailer is clinging to the Black Friday bandwagon.
In this article, I'll take a look at one retailer who's changing the rules of holiday shopping: REI. The company has taken two of the key commandments of a good user experience and applied them to the broader customer experience.
The employee experience
We don't often talk about employees when it comes to the customer experience, but we should. The employee experience is just as important as the customer experience and plays a major role in developing a user-centered culture.
In REI's case, employees are a big part of the company's campaign to close its stores on Black Friday—something previously unheard of in the retail world. In a letter from Jerry Stritzke, the company's President and CEO, he notes that the company will close all 143 stores and encourage its employees to use their paid day off to spend some time outside.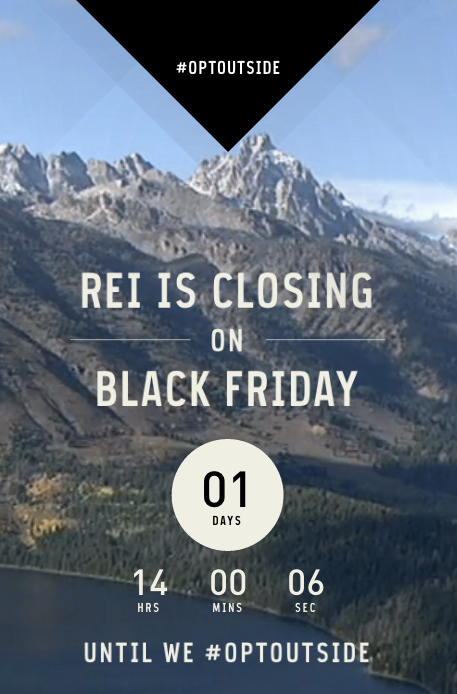 Not surprisingly, this went over pretty well with employees. I witnessed it firsthand when I was picking up an online order. The woman at the register saw me eyeing the promotional stickers with the now viral OptOutside hashtag. She lit up and asked me if I knew about the "movement." We chatted for several minutes, with other customers jumping in on the conversation to praise the company's decision. Other employees smiled as they walked by, overhearing our discussion. And the woman helping me was clearly proud to be an employee, telling me that "It's a great place to work."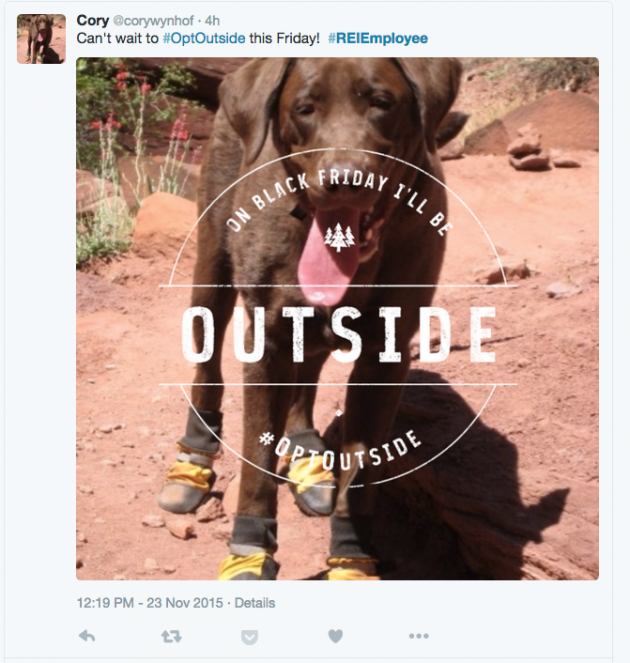 I left the store feeling good about my purchase, and happy that employees would not only be spared from dragging themselves to work at the crack of dawn this Friday but that they're getting paid for it, too.
[clickToTweet tweet="Treat your employees well, and your customers will notice." quote="Treat your employees well, and your customers will notice."]
Building trust through authenticity
Establishing trust is an important step in developing a great customer experience. Part of that trust comes from thoughtful design on your site or app, but it also comes from your brand and voice. If you sell health-conscious products, for example, but allow advertising for fast food on your site and app, your customers won't feel that you're true to your mission.
This is where REI is really cementing who they are as a company with customers. They're not just talking about it. They're walking the walk. By closing their doors on one of the biggest shopping days of the year, they're reassuring customers that they're serious about enjoying the outdoors. So when they do open their doors again on Saturday, customers will have a renewed appreciation and trust for the company's passion for the outdoors.
While just about every other retailer in America will be open bright and early (or late the night before) on Black Friday, REI is shaking things up and proving it really does care about its customers by giving them just what they wanted for the holidays: a day off to play outside.