The subscription video on-demand (SVOD) era—a.k.a. the 'what I want, when I want it' era—puts customers in the driver's seat, cementing the customer experience (CX) as the main competitive differentiator. With 22 million people in the U.S. "cutting the cord," UserTesting set out to find out why SVOD customers keep coming back for more, and which experiences drive them to seek other sources.
To do so, we conducted the fourth installment of the UserTesting CX Index Series: the Streaming Media Customer Experience (CX) Index, a competitive benchmarking study comparing the top five SVOD apps: Netflix, HBO Now, Amazon Prime, Hulu, and YouTube TV.
500 customers evaluated the SVOD apps based on five factors—Ease of Use, Speed, Credibility, Aesthetics, and Delight—uncovering key best practices to winning over the next generation of streaming video customers.
3 keys to dominate the streaming media experience
Create relevant recommendations
While recommendations were easy to find among the SVOD apps (with the exception of HBO Now), most fell short when it came to providing relevant recommendations—only 29% reported actually watching suggested content. There's a real opportunity for streaming video services to improve their recommendations; doing so could be a huge competitive advantage.
I did not find my recommended series or movies anywhere on the homepage, which was a disappointment to me because that is a very helpful feature when exploring new movies to watch.

- HBO Now customer, 26 years old
Limited content is a major drawback for all services
Consistent with a recent Deloitte report, UserTesting found that SVOD customers aren't finding all of their content through a single app. More than half of participants reported that they subscribe to at least two SVOD apps, with 90% of HBO Now customers subscribing to Netflix and 80% to Amazon Prime.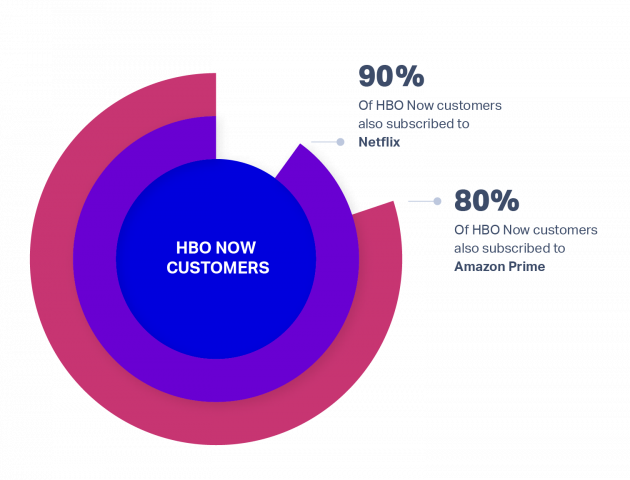 Deliver fast, friction-free viewing
The attention span of the modern consumer is shrinking, episode by episode. Customers expected immediate access to content without ads and had little patience for scanning through scenes at 10-second increments.
I loved how you could see the still image of each scene in the movie; it made it very easy to recognize the part you were searching for.

- Amazon Prime customer, 30 years old
And the SVOD with the best CX is...
The overall highest-rated SVOD app was Netflix
With a CX score of nearly 90 (scale of 0 "negative" to 100 "positive"), Netflix provided its customers with the best customer experience: the most relevant recommendations, an overall easy-to-use intuitive app, and impressive speeds, delighting its customers the most.
All features worked as they should. Nothing new was presented but I don't really expect new features to pop up randomly. The Netflix interface remains consistent. The only surprises they tend to give are new shows/movies to watch as they cycle old/new in and out over the months.

- Netflix customer, 29 years old
The overall lowest-rated SVOD app was HBO Now
With a CX score of 72, HBO Now disappointed its customers, who had extreme difficulty finding any recommended content, and experienced lag, freezing, and buffering issues. Had it not been for HBO's clean, sleek, and uncluttered design (scored 97 for aesthetics), its score might have been lower.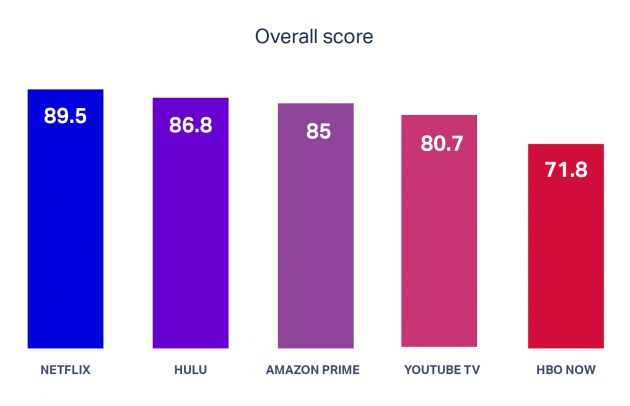 A new normal
Watching streaming video for daily entertainment is the new normal and traditional cable and satellite subscriptions are quickly declining. In this study, we found 60% of participants were "cord-cutters" and 74% watched streaming media every day! And while Smart TVs and streaming media devices (like the Roku, Apple TV, and Firestick) accounted for 45% of participants' preferred watching device, 37% preferred computers, and only 11% cited their smartphone or tablet as their primary streaming device.
Some machine learning and data can help uncover what is happening—quantifying the clicks, swipes, taps, scrolls, and voice commands—however, it cannot tell you why a customer experienced delight or frustration.
While data collection can help inform some features, there's no substitute for capturing human insights to understand the evolving needs of consumers in the 'what I want, when I want it' era.

Only by continuously listening to customer expectations can we understand the why behind every customer reaction, and create great experiences that exceed those expectations.

-

Janelle Estes, VP of Strategic Research Services at UserTesting
As traditional modes of entertainment continue to decline, SVOD apps face increased pressure to dazzle customers with a top-notch experience, not to mention relentless competition from others—especially Disney and Apple. Netflix may be considered the industry standard now, but other services could easily unseat the media giant by continuously listening to the needs and expectations of their customers.
Learn more
For more consumer insights to improve the mobile banking customer experience, check out the complete Streaming Media CX Index here.