Redesigning a website can be an intimidating proposition. With so many moving pieces and multiple teams involved, it's easy to feel overwhelmed. The good news is you don't have to be scared if a redesign is on your horizon.
We sat down with Conversion Scientist Brian Massey for a quick Q&A to get a sneak peek of his on-demand webinar with us, Avoiding Disaster: What a Successful Website Redesign Looks Like. Brian shares some common mistakes and best practices for redesigning a website, which he'll cover in more detail in the webinar.
What's the most common mistake that most teams make when redesigning a website?
The most common mistake is to "Go all in." Taking a hundred or a thousand assumptions about a site, lumping them all together and pushing them out onto your visitors is a gamble at best and a crime at worst.
Before redesigning, ask the question, "Do we need a redesign or a conversion optimization program?"
What's your favorite way to incorporate user research into website redesign?
By testing user input, one idea at a time. User testing is a fantastic source of hypotheses. Bryan Eisenberg says, "You can't read the label from inside the bottle." User testing gives us insights from people who aren't inside the bottle and too close to the business to see the real issues.
When we find a plateau in our testing, we turn to the amazing user testing tools found on the market today for fresh ideas. We take these ideas and rank them by expected ROI. I talk more about that process here.
Consider Automatic.com that completed a UserTesting program. Based on the user input, we chose some different headlines and reordered the information on their homepage. In our test, we saw a 60% increase in revenue per visit from the new design. As a bonus, buyers were more likely to purchase multiple devices which were an unforeseen benefit.
Without the testing, we wouldn't know if we were interpreting the research correctly.
Do you have an example of a big success (or failure) when it comes to website redesign?
Even large, sophisticated brands like Finish Line and Marks and Spencer have been hit hard by long design-cycle-website reboots. Finish Line launched a redesign just before the holiday shopping season and lost more than $3 million in sales before switching back to the old site.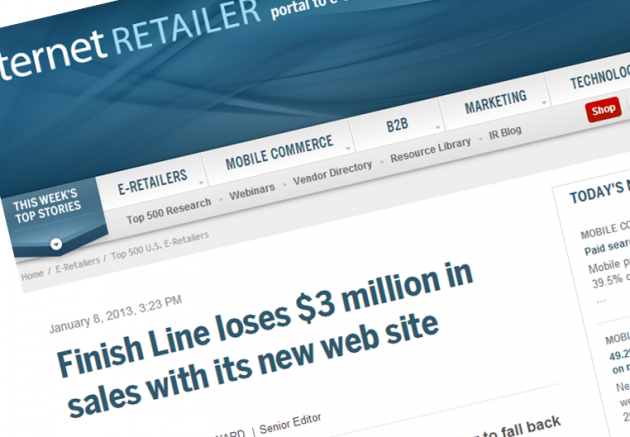 Source: Internet Retailer
Marks and Spencer spent more than £150 million on their "all-in" redesign, only to get an 8% drop in revenue.
As a contrast, consider Wasp Barcode. They did their redesign in steps, testing individual changes and new page designs before committing the entire site. They didn't have to wait six to 12 months to reap the benefits of redesigning. Those changes that worked delivered more software demos and more revenue. They increased demos by 255% within four months of starting their stepwise redesign.
How has website redesign changed in the past few years?
We have tools now that allow us to "buy insurance" when we feel we need to do a redesign. We can easily generate input from visitors like our prospects using online user research tools. We don't need to rent a place and pay for twelve people to hang out with us for a day.
Answers to any question we can ask can be sourced from our current visitors before we incorporate them into designs. CrazyEgg is a tool that tells us where on a page our users are focusing. Inspectlet is a tool that records users as they use the site. We use these tools to answer the question, "Is this page element really a problem?"
Unless we have a bad platform or are doing a complete rebrand of our business, we can slowly roll out design changes using testing tools such as Visual Website Optimizer, Optimizely, and Adobe Target. These are the final word in whether a design element will increase performance because the ask the visitors to vote with their wallets.
Watch the webinar
If you'd like to hear more of Brian's great advice, watch the on-demand webinar today!