Helping teams capture customer feedback more efficiently: April 2020 product releases
Image
Constant innovation for our customers is core to UserTesting's mission, and our latest updates to the UserTesting platform are designed to help more teams capture customer feedback more efficiently than ever before.
Included in the April 2020 release are a number of new features and updates that:
Enable marketing teams to test messaging, promotions, and campaigns at a time when customer feedback is more important than ever
Make it possible to deeply understand your customers' attitudes and behaviors, even when you can't connect with them in person
Help streamline test creation and analysis, so you can get insights more efficiently and easier than ever before
Companies that can quickly pivot and adapt to meet changing customer needs will not only survive—they'll thrive. Here are the latest UserTesting platform releases that further empower teams to inject human insight into everything they create, design, and build.
Test messaging, promotions, and campaigns
Customer feedback on marketing initiatives is more important now than ever. And businesses are facing major challenges adapting their customer's experience to meet their ever-evolving needs. That's why understanding customer needs, expectations, and behavior when it comes to how brands are engaging with customers is imperative.
Marketing Insight
Marketing Insight is a fast and intuitive solution designed specifically for marketers that enables them to capture qualitative feedback on campaigns, messaging, creatives, etc., all while helping them build deep empathy for and understanding of their customers.
With Marketing Insight, marketers can easily launch tests or schedule a conversation and get insights in under two hours. Powered by Quick Answers, pre-formatted tests that can be launched in minutes and with just a couple inputs, gathering customer feedback on marketing initiatives has never been easier. And with automatic highlight reels, Marketing Insight makes it easy to share findings with others. Most importantly, each Quick Answer summarizes the results and makes it easy to scan the output and identify key findings.
Read more about the Marketing Insight release, here.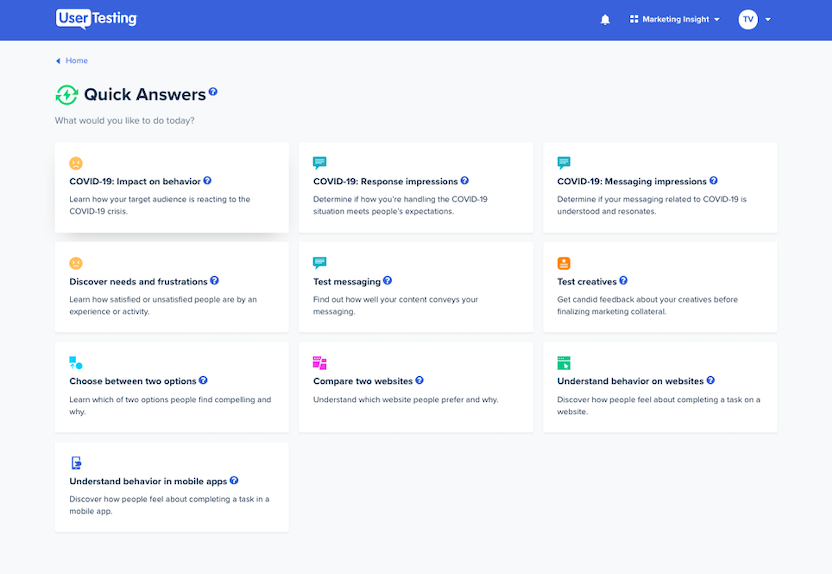 Custom Quick Answers
We're excited to introduce a new Professional Services offering that enables customers to partner with UserTesting research experts to create Custom Quick Answers for their team.
Custom Quick Answers help our Insight Apps customers get rapid feedback—automatically aligned to critical questions—at any stage of a project. This offering enables customers to define the inputs, questions, results table, automatic highlights, and iconography to meet your exact needs. Once a Custom Quick Answer is created in either Marketing Insight or Product Insight, it can be launched in minutes with just a few basic inputs. 
The results page is designed to speed up analysis with an automatic highlight reel and key findings summarized in a results table. A dedicated specialist will work with you to optimize the results page ensuring your team gets to insights even faster. 
Participant pack
With the Participant Pack, customers using Product Insight or Marketing Insight can now extend the number of test participants per study to up to 15 for all Quick Answers tests. This is especially useful for testing messaging and creatives in Marketing Insight or comparing two options or websites in Product Insight. 
Deeply understand your customers' attitudes and behaviors 
Today, people are traveling less, working from home more, and keeping human interactions to a minimum. Because of this, companies need ways to connect with and gain a deeper understanding of their customers without face-to-face interaction.
Live Conversation updates
Live Conversation is UserTesting's remote interview solution, allowing customers to conduct in-depth interviews with the audiences of their choosing. Our easy scheduling enables customers to conduct interviews as early as that same day.
Latest improvements include:
Outlook calendar integration makes scheduling easier so that you avoid accidental double bookings. 
Easy rescheduling helps customers more quickly replace a session when they have a last minute conflict.
Note taking allows users to annotate key moments from the conversation in real time, making it easier to find key findings when subsequently reviewing the recording.
Transcripts by speaker allows you to see who said what and more quickly hone in on key moments.
Read more about Live Conversation updates, here.
Full-screen recording for mobile testing
The latest update to our mobile testing solution increases the range of experiences that can be captured—in-home or out in the wild. By recording the full screen, customers can get insights on mobile experiences by recording whatever can be seen, shared, or displayed on a mobile device screen—opening up a new range of experiences that can be tested. 
Read more about Full-Screen Recording for Mobile Testing, released earlier this year, here.
Secure prototype hosting
Secure prototype hosting allows designers, researchers, and product managers to get critical insights on sensitive prototypes and concepts. Through an upload of an HTML prototype that is hosted by UserTesting, the prototype is only accessible by test participants during the time of testing, which adds an extra layer of security to top-secret designs.
Streamline test creation and analysis
We understand that many researchers feel overburdened and under-resourced and require tools to help them work more efficiently, empower other teams to collect feedback, and provide them more time to focus on the generative research needed to support innovation and growth. 
The following releases help to streamline test creation and analysis so more teams can get the insights they need, easily and more efficiently than ever before.
Test Templates 
With our newest release, Saved Test Plans, you are able to build, save, and reuse any test plan as a template. This is a game-changer for those who commonly use the same tasks and questions as it allows you to build and launch your study in just a few clicks without sacrificing the quality or accuracy of research.  
Read more about Test Templates, here.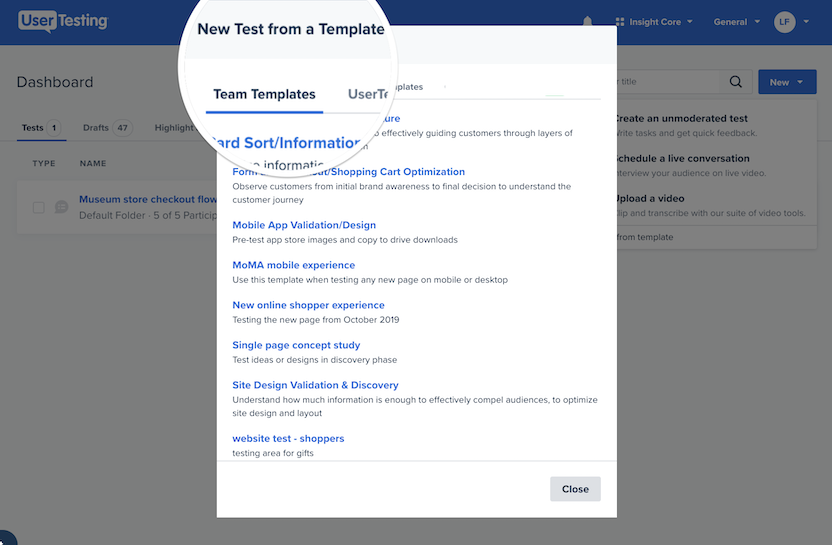 This release also allows customers to manage Saved Audiences, Saved Screener Questions, and Saved Test Plans from a central location—the Template Library—where you can edit and delete what is no longer needed.
Industry-focused templates for uncertain times
Our research team has created industry-specific test plan templates to help you better understand how your customers' actions and expectations are shifting in the current environment. The team created 44 templates across 4 industries; retail and grocery, travel and hospitality, restaurant and food service, and banking and financial services. The templates can be used as-is or as a framework that you can customize.
For example, retail and grocery customers can use these templates to find out:
How the pandemic is changing people's expectations and shopping habits, and how their shopping habits and needs will change after COVID-19.
How to best optimize digital ordering experiences, like checkout flows on the web or in-app–especially for new users.
How to optimize how people get their delivery, BOPIS, or contactless curbside orders so it feels safe and easy.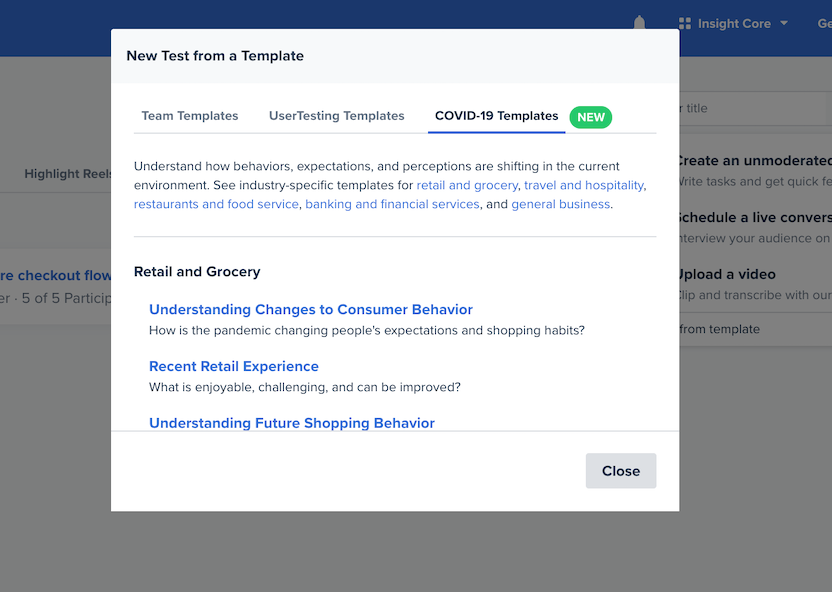 In addition to the industry-focused templates we have also created a dedicated area, our COVID-19 Human Insight Portal, with information and insights to help you adapt and stay connected with your customers—now and in the future.
Sentiment tagging
With Sentiment Tagging, customers can select intuitive "negative" and "positive" tags in Notes and Clips, to understand at-a-glance how people felt at any point during a test. With Sentiment Tagging, customers can quickly filter when creating Highlight Reels for the sentiment they're searching for.
Read more about Sentiment Tagging, here.
Improved Excel export
With the improved Excel export, customers get a neatly organized record of responses that can be easily shared with others. The improvement includes more intuitive organization, consolidated tabs, multi-select responses from multiple choice questions, Sentiment Tagging, and more.
Stay up-to-date
We're excited to bring these new innovations designed to help our customers get feedback more efficiently and effectively than ever before. To hear more about our newest capabilities, please join our April Product Release webinar. 
If you'd like to learn more about any of these features, contact your account team or reach out to us here. 
April 2020 product release webinar
Watch the webinar for a full look at our latest human insight innovations, and learn how our exciting new features empower more teams to capture customer feedback more efficiently than ever.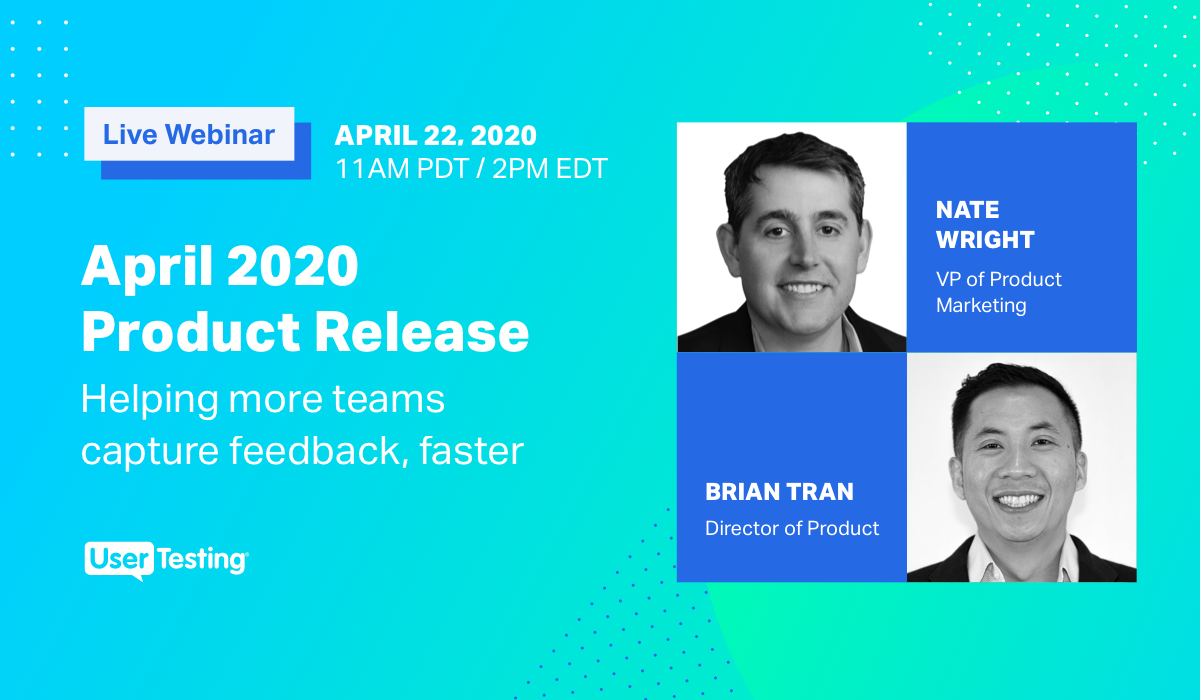 About the author(s)