Human Insight World (HiWorld) is back with a global twist
Image
Last year—in the wake of a global pandemic—we opted to take our premier customer experience conference, The Human Insight Summit, virtual. Born of necessity and careful consideration for the safety of our valued customers, partners, and employees, we moved to a fully virtual experience and called it Human Insight World (HiWorld). This year, we're taking it to the next level and embarking on a global, virtual tour.
What is the Human Insight World tour?
Customer experience and understanding are transforming the way businesses define success and deliver people-centric products and solutions. That being said, the challenges businesses face in meeting customer expectations vary from person to person, industry to industry, and perhaps most relevantly, place to place. That's why this year HiWorld is taking to the global stage under three virtual roofs with tour dates in North America, Asia-Pacific, and Europe.
Mark your calendar for the date in your region:
North America: October 19th
Asia-Pacific: October 22nd
Europe: October 27th
If you're new to HiWorld, it's a virtual conference designed to help organizations bring greater customer understanding to their business. And if you register for one of the tour dates, you can expect to find leaders and practitioners across industries sharing real stories and use cases of empathizing with customers and the measurable benefit of putting yourself in their shoes.
Speakers and attendees include the best in research, design, product, and marketing—from Fortune 500 companies to small and medium-sized businesses—across the globe.
There's something for everyone at Human Insight World
Whether you're a UserTesting customer or a business professional with an interest in CX, we have engaging sessions, speakers, and activities designed to inspire and help you discover new ways to use human insight in your role. 
All-star keynotes and unique spotlight sessions
Leaders across various industries will share real stories and use cases of empathizing with customers in their business. By joining you'll be able to hear from practitioners at brands including Kmart, Microsoft, Reckitt, Warner Bros, Zendesk, and others.
Not to mention, each stop on the virtual tour will host keynote speakers who will bring relatable stories unique to your area. 
UserTesting University live
Before HiWorld opens, we're hosting UserTesting University Live, a half-day of in-depth training led by experts from UserTesting. There, you can choose one of our engaging, deep-dive workshops to learn new skills and get the most out of the Human Insight Platform. Register today for a hands-on workshop in your region; space is limited.
Learn more about the University Live sessions happening in your region here.
Recognize CX excellence at the illumi Awards
The illumi Awards seek to inspire the world to think about human insights as a key ingredient for customer experience excellence, product and marketing innovation, and team success. The awards recognize and celebrate the individuals and organizations that utilize the UserTesting Platform to make a meaningful difference in these areas.
Read more about the illumi Awards here. Although submissions are closed for this year, get a taste of what we're looking for and prepare your 2022 submission.
Reserve your spot at Human Insight World
We'll announce the full agenda and speaker lineup soon. In the meantime, be sure to reserve your spot for our virtual tour.
At UserTesting, we believe that the path to human understanding starts with shared insight—seeing and hearing how another person engages with the world around them and their unique perspectives. We can't wait for you to join us and share yours.
Join us at HiWorld 2021
HiWorld is designed to help you bring greater customer understanding to your business by showcasing real use cases, from real practitioners, with real success. You won't want to miss it.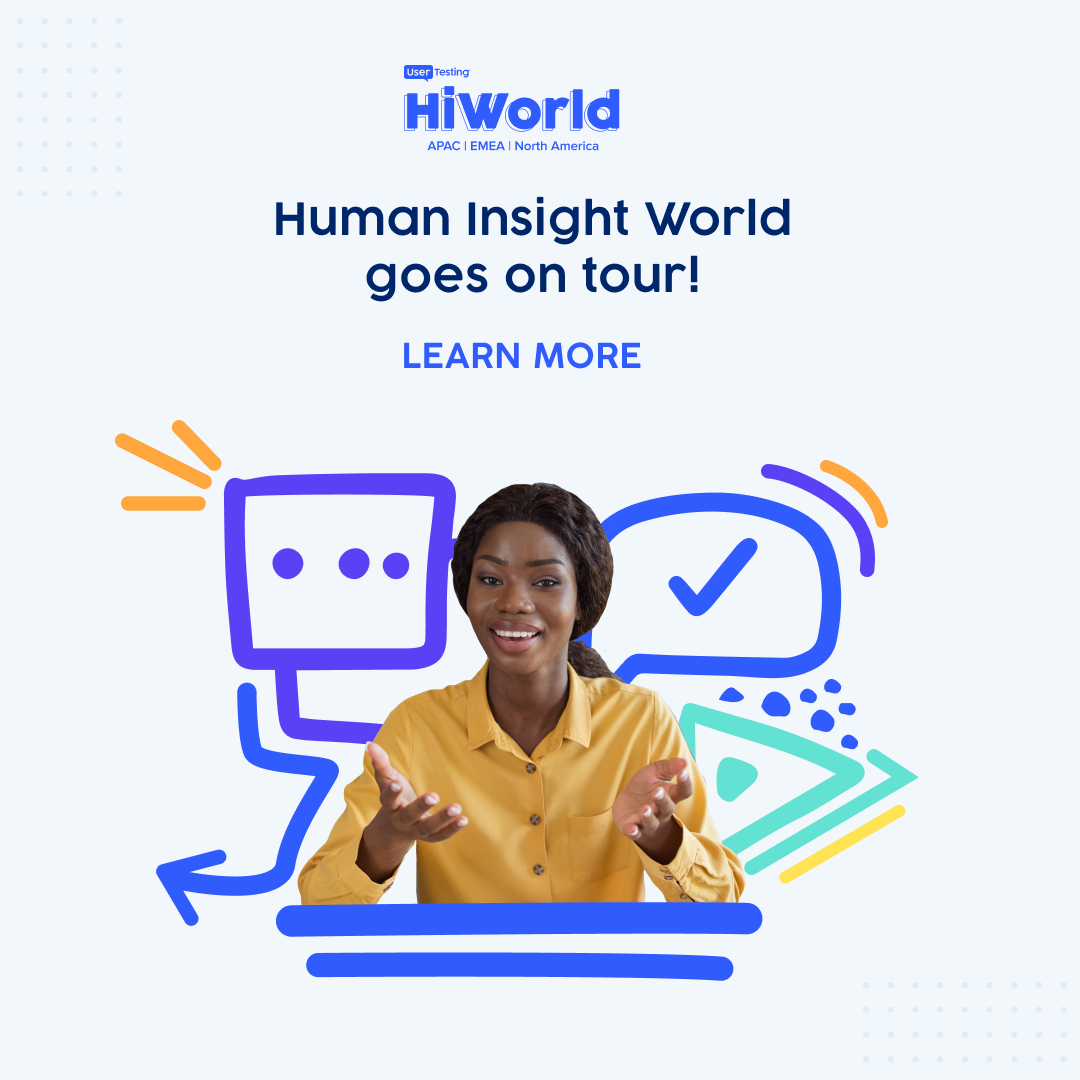 About the author(s)