Human Insight World 2020: a closer look at HiWorld's all-star speaker lineup
Image
When you think about data, human insight might not be the first thing that comes to mind. Perhaps customer, consumer, marketing, or product insights are more familiar terms, but a rose by any other name would still be the product of qualitative research. And it's because qualitative research (through user testing) comes in many forms—with various use cases—we've developed breakout session tracks designed for every type of user. 
So, it's time you plan your experience. You can view the full agenda here, register if you haven't already, or read on to get a closer look at our session and speaker lineup.
HiWorld features three unique breakout session tracks
Designed with the needs of our diverse audience in mind, we developed three breakout tracks with sessions that will address human insight, feedback strategies, and qualitative research in ways that are most important to your role and organization:
Power of Research: strategies for maximizing the value of world-class UX research
Insights for Business: how to make human insights central to any team's business strategy
Customer Feedback Fundamentals: best practices for designing, executing, and growing a research program
Power of Research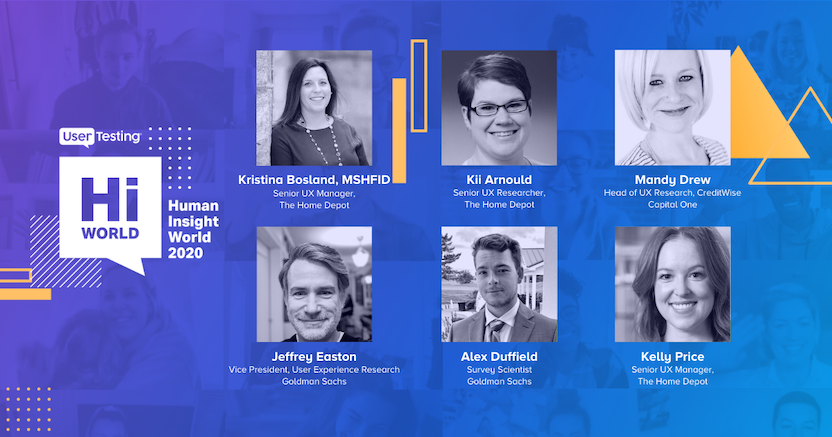 The Home Depot: Harnessing customer emotion, a cross-functional CX initiative
Forrester: High-impact research at scale—secrets and strategies
Capital one: Fast, thorough, remote, unmoderated: how to conduct JTBD interviews outside the lab
Goldman Sachs: Human insight repositories: what to consider before you take the dive
Insights for business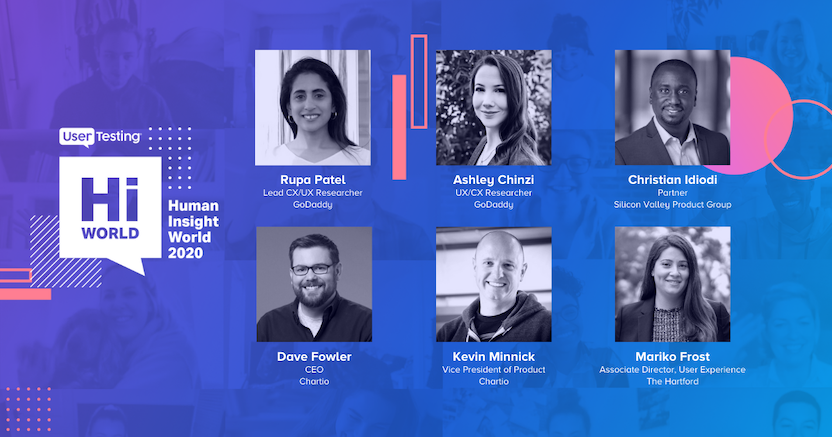 The Hartford: Putting the customer at the center of your innovation strategy
Silicon Valley Product Group: Don't guess, just test—even if your product sucks
Chartio: Reimagining usability: finally making data accessible to all
GoDaddy: Awareness and consideration benchmarking: a case study
Customer Feedback Fundamentals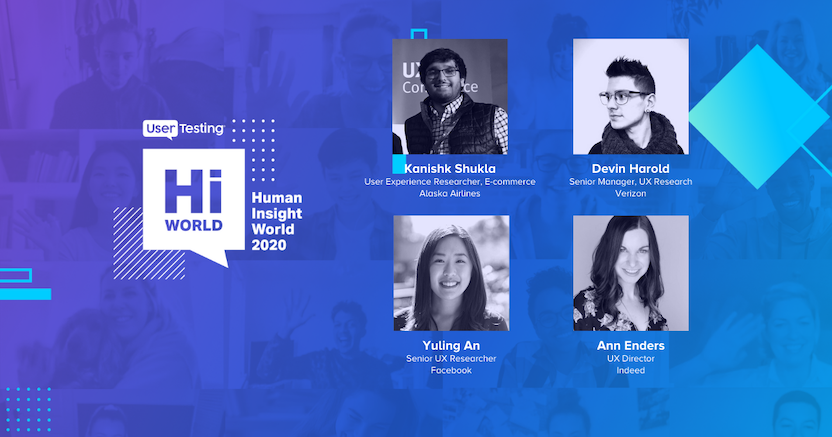 Alaska Airlines: Getting ready for take-off: fueling product strategy with research at Alaska Airlines during COVID-19
Verizon: Guiding principles for ethical research, and why you should care
Facebook: The art of alignment: how to unleash your research superpowers to drive product vision and strategy
Indeed: Lessons in intrapreneurship: how to quickly put fast customer feedback into action with limited research resources
Get involved—become a conference sponsor
Interested in showcasing your brand in front of thousands of UserTesting customers and industry professionals? Find out more about becoming a sponsor by emailing us at events@usertesting.com.
Register for HiWorld 2020
Join us for three days of interactive experiences designed to bring customer experience professionals together to learn, network, and be entertained.