Product development trends to watch out for in 2021 and beyond
Image
In order to keep up with the rising demand for better products, every step of the product development process has to push for innovation. Global companies are constantly on the lookout for adept product development teams who know how to leverage their manpower, talents, and market research to successfully bring their products to market. This means finding ways to optimize and enhance management and operations, current industry practices, and using tech in general.
With that said, we've listed below the five biggest product development trends that will drive innovation in every step of the process.
1. Shifting the focus to ecosystem integration
These days, many clients are looking to develop their own ecosystems where they aim to integrate most of their services and product offerings. Andreas Weiss, director of digital business models at Eco – Association of the Internet Industry, writes that the advent of IoT devices has exposed the need for interconnectivity between different products. This is why many product development firms should familiarize themselves with perfecting brand ecosystems to enhance user experience and give their clients a competitive edge in the market. Along with enhancing the connection between a brand's offerings, product development teams also need to work on being consistent with the hardware and UI to create a fully seamless experience.
While it's important to prioritize ecosystem integration, there is also a growing need to ensure your products can integrate with other businesses' products—be it the Apple universe, the Apple ecosystem, and more. After all, you want customers to be able to easily adopt your own products into their existing lifestyles, making it one less barrier to entry.
2. Highlighting safety and health
The global health crisis has caused tremendous change across industries and borders, and the realm of manufacturing and product development is not exempt. Health directives have called for limiting physical contact and encouraged remote work, forcing product development teams to overhaul how they operate. 
"This is an unprecedented event, nothing that manufacturers could have ever anticipated," explained Dr. Richard Kilgore to Assembly Magazine. "As manufacturers begin to resume production, they are doing so in the safest way possible."
Dr. Kilgore is currently an instructor on the online business administration degree program at Maryville University. He predicts that federal and state governments will be rolling out regulations for organizations in the industry moving forward, but the research and deployment for these will take time. In the meantime, teams are now temporarily collaborating remotely, using the tools at their disposal to streamline operations. While the current global situation is truly distressing for everyone, product development teams can use this experience to elevate and innovate products in relevant sectors like the health and wellness space. Even outside this industry, product development teams must push for innovation to ensure their products are equally (if not more) valuable and relevant as they were before the pandemic. Although COVID-19 has indeed sped up innovation for various sectors, this growth should be maintained beyond the pandemic.
3. Optimizing the development process through AI
In recent years, artificial intelligence (AI) and machine learning has really advanced a myriad of industries. In product development, both enterprises and startups have been using AI and machine learning to bring revolutionary products to the market, faster—from self-driving automobiles and virtual reality tools to market-tailored product recommendations and customized content. There has been a huge demand for product development engineers with a background in AI—proving that various industries have realized the potential of machine learning technologies and applications.
AI can certainly optimize the development process by helping product developers predict consumer needs. AT&T Foundry's report entitled 'The Future of Artificial Intelligence in Consumer Experience' reveals that AI can study consumer patterns and demands, and allow companies to create products before buyers can even request them.
In a previous post on UserTesting, we shared how one of the best ways to gather data to feed AI programs is by conducting research studies. Through this, you'll understand your product and market better, and you can then leverage data to improve future product designs that are fully optimized for your customers.
4. Redefining key roles
While some product development roles are very niche, many others in the industry are being redefined to maximize the success of projects. For one, many product designers are now more familiar with the business know-how of the industry —allowing them to provide input on other aspects of the product development process, like identifying opportunities for new products and analyzing how products can tie into market needs.
Similarly, product managers have also expanded their roles beyond overseeing product strategy and customer experience. Nowadays, many product managers are being given control of important decisions such as what marketing strategy to use and how to better connect with investors—and this has created a demand for these roles. In fact, in the report 'Product Management Hiring Trends in the US—2019', it was pointed out that the demand for high-level product managers has increased by 51% in the past two years.
5. Collecting rapid feedback
Product development teams should follow these trends in order to remain relevant and maximize the success of their projects. To further raise their chances of creating a product that has a significant impact on their niche, they should prioritize collecting rapid feedback and crucial marketing insights. Here at UserTesting, we offer the Human Insight Platform to help product developers improve their products and optimize their team operations. Through our Human Insight Platform, you can easily create custom tests from scratch and provide your user base with an easy-to-use program to help track their opinions and insights. You can then better listen to your customers and adapt your product to suit them.
Design thinking for product teams
Discover how to leverage human insight at every stage of your product development life cycle.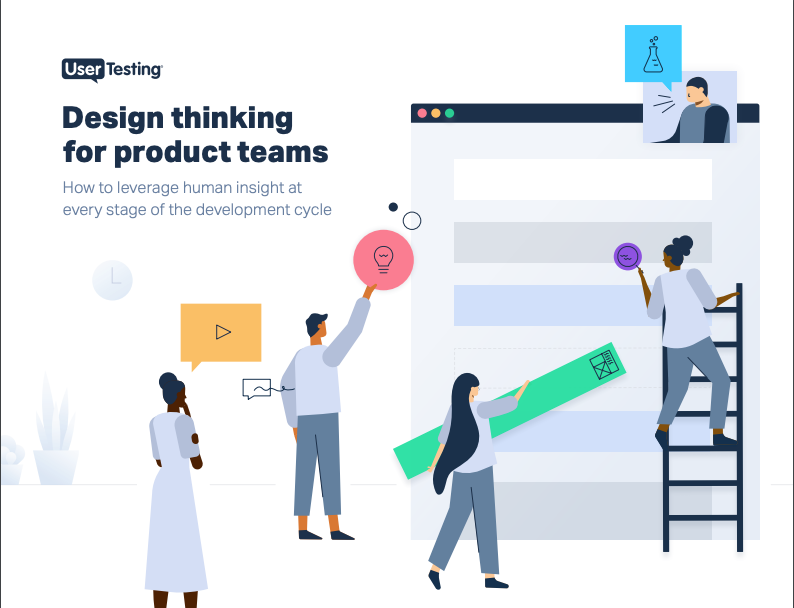 About the author(s)