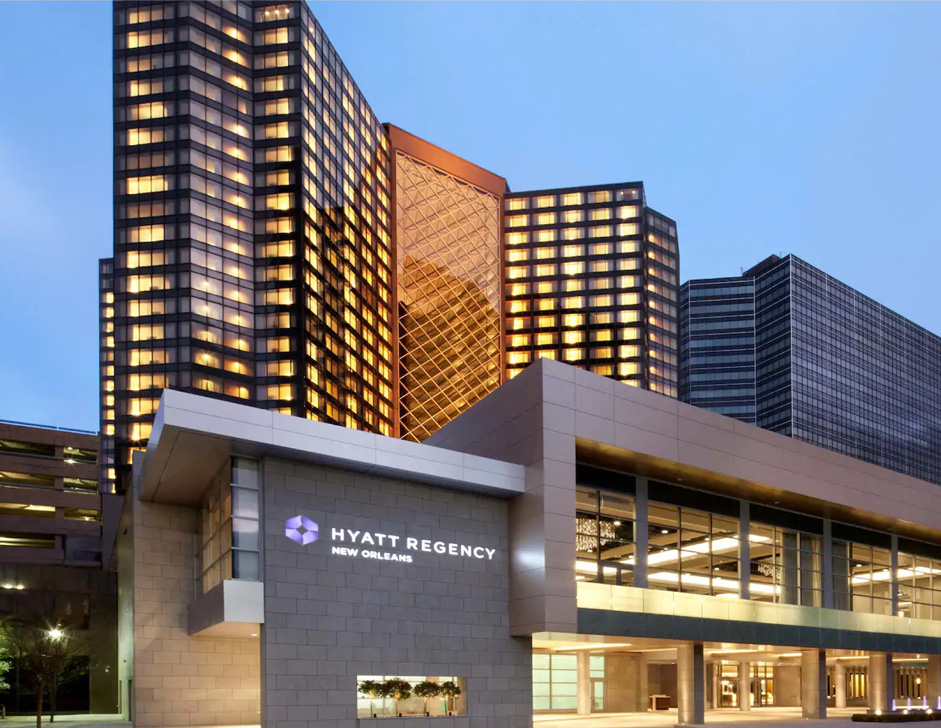 Venue
Hyatt Regency New Orleans
601 Loyola Ave, New Orleans, LA 70113
Accommodations
We have an exclusive block of rooms at a discounted rate at the Hyatt Regency! Don't wait, these exclusive rates are only available for a limited time.
General Questions
What are the conference dates?
The Human Insight Summit takes place from October 12-14, 2020.
Where is the conference taking place?
All UserTesting customers—whether you are a newbie or a long-time loyal fan—we'll have content for you! Spend up to three days with like-minded professionals in UX research, design, product, digital, and marketing who all focus on creating great experiences built with deep customer empathy and human insight.
All attendees must register for #THiS20.
Yes, the venue is wheelchair accessible.
Where can I find the main conference agenda?
We are currently curating an awesome agenda that will be uploaded shortly.
How can I convince my manager to let me attend #THiS20
We've simplified this for you and created a customizable justification letter for you to submit to your manager here.
What is the cost to attend #THiS20?
Early Bird Full Conference Pass: $749.00
Includes welcome reception plus admission to two full days of keynotes, breakout sessions, networking, and an evening offsite party.
Full Conference Pass: $849.00
Includes welcome reception plus admission to two full days of keynotes, breakout sessions, networking, and an evening offsite party.
Early Bird Complete Package (with add-on training): $998.00
Join us for three full days by adding UserTesting University Live to your full conference pass (value at $249)! You'll get access to a day-long, multi-course training, led by experts from UserTesting. Whether you're new to UserTesting or an advanced practitioner, we'll have hands-on workshops for all levels designed to help you learn new skills and get the most out of the Human Insight Platform. Seats are very limited.
*Hotel accommodations are not included in the conference price
Why is there a change in price from last year?
#THiS20 is UserTesting's first multi-day event. You'll notice an increase in our ticket prices as we are now offering a three day event experience packed with new offerings. Based on feedback from last year, attendees wanted more specific content and tracks tailored to their roles. So this year, depending on the conference pass you select, you'll be able to experience UserTesting University Live—pre-conference multi-course training sessions, additional breakouts, additional keynote sessions, networking, the official THiS party and a mobile app and more!
I have special dietary restrictions- how can I notify you?
Upon registration, you will be asked to list any dietary requirements. If you have additional dietary needs or on-site medical assistance requests, please emailevents@usertesting.com or call our help line at (844) 890-7983.
What should attendees wear?
Casual, we want you to feel comfortable.
When are the networking events?
The welcome reception will be held on Monday, October 12th from 5pm-8pm at the Hyatt Regency.
The official #THiS20 Party will take place on Tuesday, October 12th at 7pm at The Fillmore.
Will the sessions be available post event?
Yes, the sessions should be available approximately 4 weeks after the event.
Hotel and Travel
How is the Coronavirus affecting THiS?
The safety of THiS attendees is our number one priority. UserTesting is closely monitoring the Coronavirus (COVID-19) developments and will take immediate action where needed with guidance from the World Health Organization and local authorities.
Where can I stay in New Orleans?
We have a block of rooms at the Hyatt Regency for THiS attendees. You can view reservation details here. Make your reservation today, as rooms will sell out.
What airport should I fly into?
Louis Armstrong New Orleans International Airport is about 20 minutes away from the Hyatt Regency New Orleans.
How can I prepare for the new REAL ID TSA requirement starting October 1st, 2020?
On October 1, 2020, the U.S. Department of Homeland Security will implement the final phase of REAL ID enforcement, requiring Americans to present a REAL ID-compliant driver's license or other acceptable form of authenticated ID, like a passport, to go through airport security checkpoints. REAL ID refers to a set of security standards established by Congress in 2005 for card issuance, card design and application processing that individual states must follow when issuing driver's licenses and other forms of identification; most REAL ID-compliant driver's licenses feature a star in the upper-right corner. For more information, please visit the TSA website, or for info by state, including where to obtain a REAL ID, visit the DHS REAL ID website and click your state on the map. You may also contact your local DMV for further assistance.
Are there discounted hotel rates for THiS?
Room blocks have been secured at the Hyatt Regency. The room block special rate cut off is 11:50pm (EST), September 20th, 2020. To receive special pricing, please make your registration here.
How long are the discounted hotel rates guaranteed?
The discounted hotel rates are guaranteed until 11:50pm (EST), September 20th, 2020.
Does the hotel offer complimentary Wi-Fi?
Yes, the Hyatt Regency provides free Wi-Fi.
Will the UserTesting team make my hotel reservation?
No. You will need to book your own hotel room. You can book your hotel room here.
Does the hotel offer rooms on the nights before and after the conference dates?
You can also choose your desired stay dates within this time frame: Sat, Oct 10, 2020 - Fri, Oct 16, 2020.
Can I go directly to the hotel to make a change to my reservation?
A hotel confirmation link will be emailed to you once you complete your hotel booking. Please make all changes through the hotel confirmation link or by calling +1 800 233 1234.
How do I cancel or change my hotel reservation?
A hotel confirmation link will be emailed to you once you complete your hotel booking. Please make all changes through the hotel confirmation link or by calling +1 800 233 1234.
What happens if I do not check in on my scheduled arrival date?
Your reservation will go into a 'No Show' status. At that time, the hotel will release the reservation. A cancellation fee of 1-night of room and tax will apply.
Registration Policies
Cancellations, refunds and transfers
Attendees may not cancel their event registration once completed. However, you may transfer your registration to another colleague within your company by sending an email to events@usertesting.com by 11:59PM (EST), September 28, 2020.
Please note that sharing of Event badges is not permitted at any time. Badges are issued to, can be picked up by, and used by only the person named in the registration.
What ID do I need to check in for THiS at the registration desk?
Photo ID and/or confirmation email.
Does the registration fee include travel costs for the conference?
No, all travel costs are the responsibility of the attendee.
When does registration close?
Registration for The Human Insight Summit will close on October, 5, 2020 or earlier if the event sells out. We recommend registering as soon as possible as our event last year sold out.
When are registration hours?
Onsite registration is between 3pm-6pm on Monday, October 12 and Tuesday, October 13th & Wednesday, October 14th from 8:00am-10:00am with breakfast for attendees located on level 3 at the Hyatt Regency.
UserTesting University Live—Pre-Conference Training
How do I sign up for UserTesting University Live?
You can register for UserTesting University Live during the registration process.
What does UserTesting University Live include?
Attendees will have the opportunity to choose from multiple, hands-on workshops throughout the day to create their own day long curriculum. It will also include breakfast, lunch, breaks and access to all session materials post-conference.
I want to add UserTesting University Live, but have already purchased registration; what do I do?
Where is UserTesting University Live being held?
UserTesting University Live will be held at the Hyatt Regency New Orleans. You will receive additional details once you register.
Illumi Awards
What are the illumi Awards?
The UserTesting illumi awards seek to inspire the world to think about human insights as a key ingredient for customer experience excellence, product and marketing innovation, and organizational success. We want to recognize and celebrate those who use UserTesting to make a meaningful difference in these areas.
2019 Winners
In special recognition of companies who have achieved extraordinary success using human insights to
deliver world-class CX, UX, marketing or product innovation.
Gold Winner
Silver winner
Bronze winner













Aside from swag just for entering, you could win an awesome trophy, gain increased visibility, elevated status among peers, a resume builder, and promotion potential.
What's in it for your company?
Recognition, stronger brand equity, increased press coverage, trophies to display, video success stories.
Finalists and winners determined by a panel of industry experts. Judging criteria will be based on the following factors (equally weighted):
- Level of impact (to your customers and/or organization)
- Quality of story (clarity + detail + memorability)
Deadline for award submissions.
Monday July 1, 2020 11:59pm PST
Other