10 Time-Saving Tips for Your UserTesting Workflow
Image
We want you to be able to get your research results as quickly as possible, so we've compiled a list of time-saving features and techniques. Even if you're a UserTesting veteran, we think you'll pick up something new. And if you have some time-saving tips of your own to share, please drop us a comment.
Creating and Running Tests
1. Start every test with a dry run
Our Research Team recommends a dry run with just one tester, for every study. If something goes wrong—like the tester gets confused or a link doesn't work correctly—it's best to catch the problem before sending the test to several testers. Replacing tests takes a lot more time and money than correcting any problems following a dry run. If your dry run goes well, just use the Add Users feature to use the exact same study.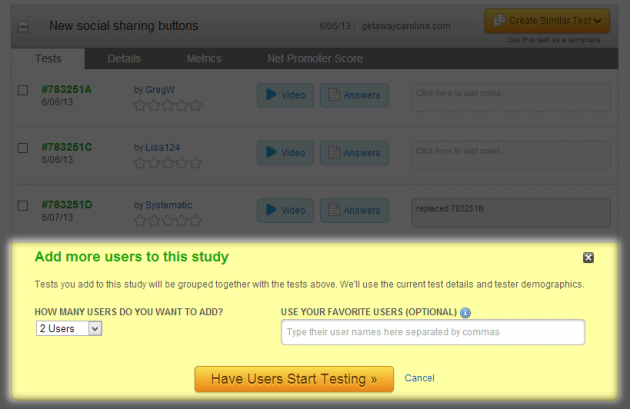 Adding users to a study takes seconds.If you end up needing to make changes, use the Create Similar Test feature.
2. How to quickly test both desktops and mobile devices
Sometimes a desktop test might work on mobile devices (especially tablets) with little or no modifications. In that case, use the Create Similar Test feature to duplicate the study for mobile devices. We'll even carry over any applicable demographics. With this technique, you could add tablets or smartphones to your research project in about 10 seconds! 

The Create Similar Test tool is the fastest way to run a test on a different device.
Managing Studies in the Dashboard
3. Find your tests quickly by searching and filtering
We run a lot of studies, and we know that many of you do too; so we built tools into the dashboard to make it easy to zero in on specific tests.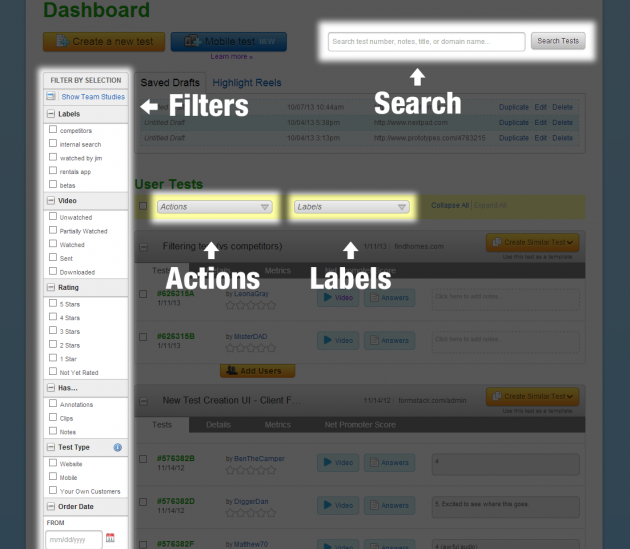 Searching and filtering let you zero in on specific videos.
Searching works across notes, titles, and domain names. (If you want to search across additional data such as annotations or tester answers, you can export to Excel using the Actions menu, and then search within that spreadsheet.) Filtering provides several options, but one of the best options is to exclude low-rated videos.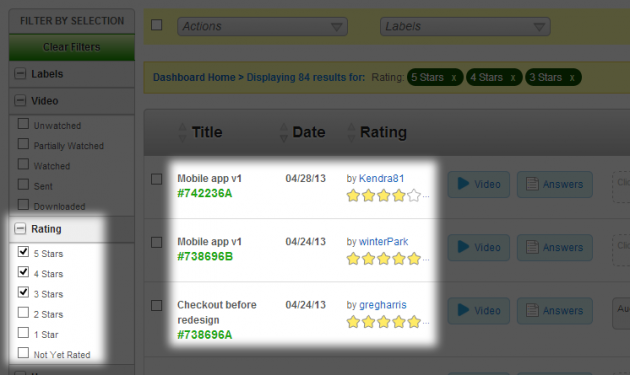 Using filters to exclude 1 and 2 star tests makes a long list of videos more manageable.
4. Use the Actions menu for bulk actions
Don't overlook one of the most powerful and time-saving features: the Actions menu.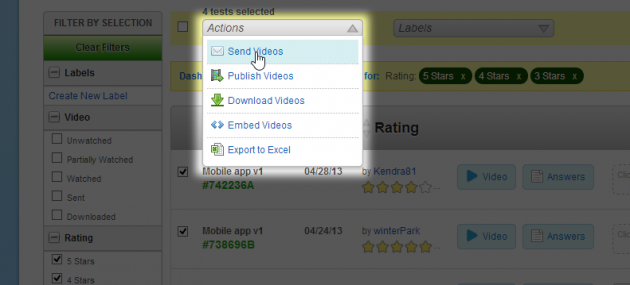 Need to send multiple videos to colleagues, or easily publish or embed multiple videos? Select the videos and use the Actions menu.
You can do the following with one or more videos:
Email videos to colleagues or clients
Create a single page with links to all of your selected videos
Download videos for offline viewing or editing
Grab a code snippet to easily embed videos on your blog or site
Export results and test details to Excel
Analysis and Reporting
5. Watch your videos faster
We use our product all the time, and this is one of our favorite features, hands down. You can play your videos at up to double the normal speed. A word of advice from our Research Team though: don't watch so fast that you have to go back and listen again.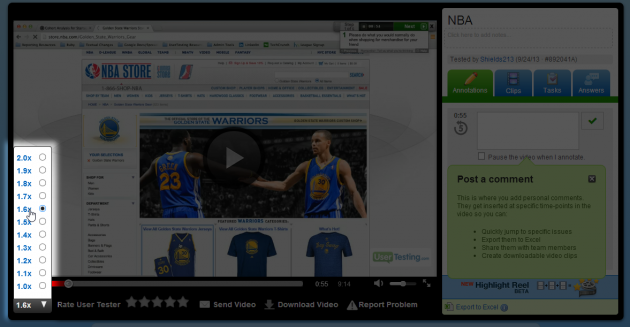 Speed up any video from 1.1x to 2x, to cut your video watching time by up to half.
6. Use annotations
This one isn't a secret; if you've ever watched a video from your dashboard, you've seen the Annotations tab. It's the default tab because it's one of our best time-saving features; if you find something of interest, quickly jot down a note so you don't have to hunt for that spot in the video again. Our Research Team offers this additional tip: Don't obsess over getting your annotation at the perfect time stamp. 3-10 seconds before the important moment is a good range. And to quickly rewind just a little bit, use the 5 second rewind button rather than the slider, for more precise control.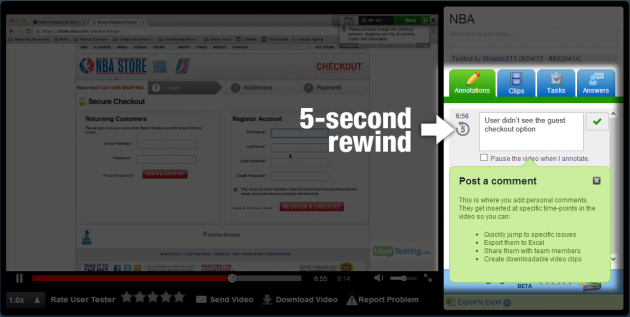 You can jot down annotations without pausing the video.
7. How to read all answers to a single question at once
The dashboard lets you view all the answers from a given user, like this: 

Testers' answers are available via the dashboard for one tester at a time.
But sometimes you want to quickly scan everyone's answers to a particular question, such as what the testers would recommend changing on the site. In that case, you can export the test results to Excel, using the Actions menu.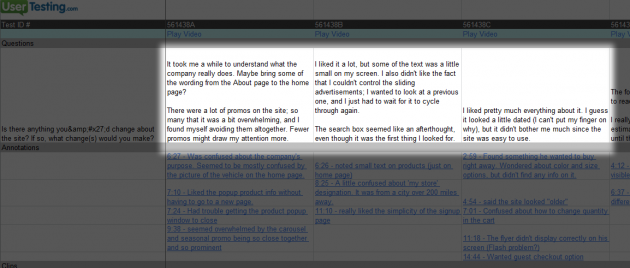 The Excel export includes all the answers to one question, in one row.
8. How to search clips, annotations, and answers
The answer to this one is (again) the Excel export. The exported file has links to all annotations and clips, so once you use CTRL+F to find the word you're looking for, you can click on the link and immediately watch the relevant portion of the video.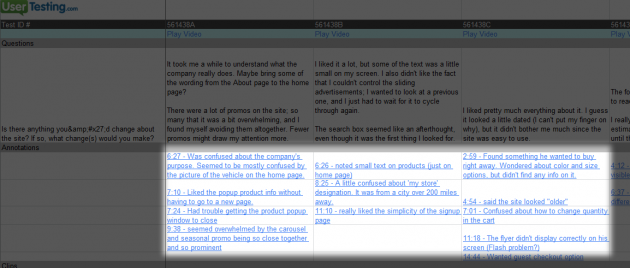 Searching for a word or phrase from one of your annotations or clips? Use CTRL+F in the spreadsheet.
9. Watch just the important stuff (Part 1)
Remember that the goal is to uncover the most important findings that you can act on—not necessarily to watch every minute of video. So once you've watched and annotated a couple of videos, use your findings to figure out which tasks to watch the other testers perform. After you've solved the biggest problems, you can run another test, or you can comb through the unwatched footage to see whether any testers found additional problems.
10. Watch just the important stuff (Part 2)
Customer Experience Analytics, a feature available with select enterprise plans, not only let you quantify user behaviors and emotions, but also help you determine which parts of your videos to watch. For example, if you find that a few users took an unusually long time on a task and then rated that task as difficult, you've identified specific tasks to watch, even before you saw one minute of video.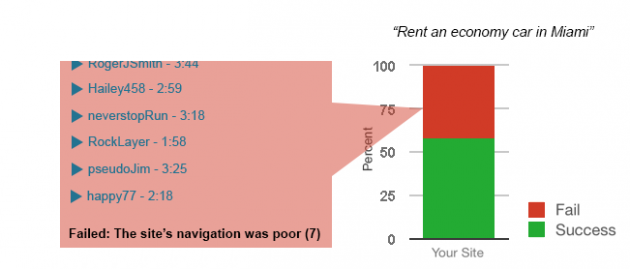 Customer Experience Analytics such as Time on Task and Task Completion Rate allow for quick identification of which videos to watch.
* Bonus tip: Utilize our experienced research team
Enterprise customers can shave hours off their workflow by offloading work to our Research Team. Our team will develop your test plan, bookmark key moments in your videos and produce a written findings report so you can spend more time making recommendations and fixing problems.
Your turn
We're eager to hear your time-saving tips. What do you recommend?
Insights that drive innovation
Get our best human insight resources delivered right to your inbox every month. As a bonus, we'll send you our latest industry report: When business is human, insights drive innovation.