How does your organization align around customer empathy?
Image
In recent years, customer empathy has become a competitive differentiator, so why is it that companies often find themselves struggling to define what it is and how to implement it?
What is customer empathy?
Customer empathy is understanding your customers on a deeper level—who they are, what they're going through, and what their motivations are for using your product or service. It helps to deliver a more meaningful experience and to fully understand customer needs.
According to research conducted by SAS, one-third of UK customers would abandon a company after just one poor experience. As the world continues to live with the ongoing pandemic, a wide variety of disruption has affected how consumers in the UK are engaging with organisations. Customers are simply no longer tolerating companies that don't provide a seamless customer experience.
So, we ran a study to find out if UK professionals (across industries) mutually understand what constitutes true customer empathy and how they perceive exceptional customer experience. 
Getting to the heart of customer empathy
When asked "what does customer empathy mean to you within your organisation?" and "why is being empathetic important?" UK professionals understood customer empathy as putting their customer at the "heart of everything they do" and "thinking like you're the customer by putting yourself in their shoes," but lacked a common understanding of how to build empathy into their culture and processes.
Linked to the lack of consistency and mutual understanding about what customer empathy really means, three key areas were identified from the study:
1. Companies understand empathy but lack the execution and implementation of it
Most of the contributors cited that this is where a lot of companies fall short when delivering a good customer experience. A solution to this could be organizations providing baseline benchmarks of what a good customer experience is—one that meets their consumer's needs. Similar to how companies have aligned around sustainability and CSR within a business, companies need to identify that common understanding of what customer empathy is too. 
"One of the biggest challenges is people having a common understanding of what constitutes "customer experience" and then being able to connect what they do with their business in their day to day to the customer experience." - UK professional, 38-year-old, Manager 
2. Respondents take themselves as an example of their own user
A solution to this might be giving your customer a seat at the table, which can only be possible if you listen to them directly. Being too close to the product can result in empathy fatigue, where you lose vision of the customer perspective. To be customer-centric means putting yourself in their customers' shoes rather than passing your own thoughts through a filter.
3. Blend empathy into the development process from the start
Respondents agreed that businesses should blend customer empathy into the creation of their product from the very start—ensuring that seamless experience. This can be done by having a culture of empathy built into the development of products across research, marketing, and design. By blending empathy across silos, it will naturally flow through the product development design process from idea to launch. 
"It is up to the company how the customer experience is integrated and related to the product's success. The customer experience and feedback obtained should filter into bettering the product" - UK professional, 40-year-old, Director  
If you take one thing away from this study, it's that customer empathy is getting lost in translation across teams, organisations, and industries. Having an informed perception and understanding of the customer—from the customer—of their experience with your product or service allows organisations to become truly empathetic. Companies should still continue to "put themselves in the customer's shoes," but only by listening directly to them. So, ask yourself and your colleagues, what does customer empathy really mean to you?
The Espresso Webinar Series
Hear from C-level executives from top European organisations on the value of research, the ROI of customer empathy, and their predictions for CX in 2021.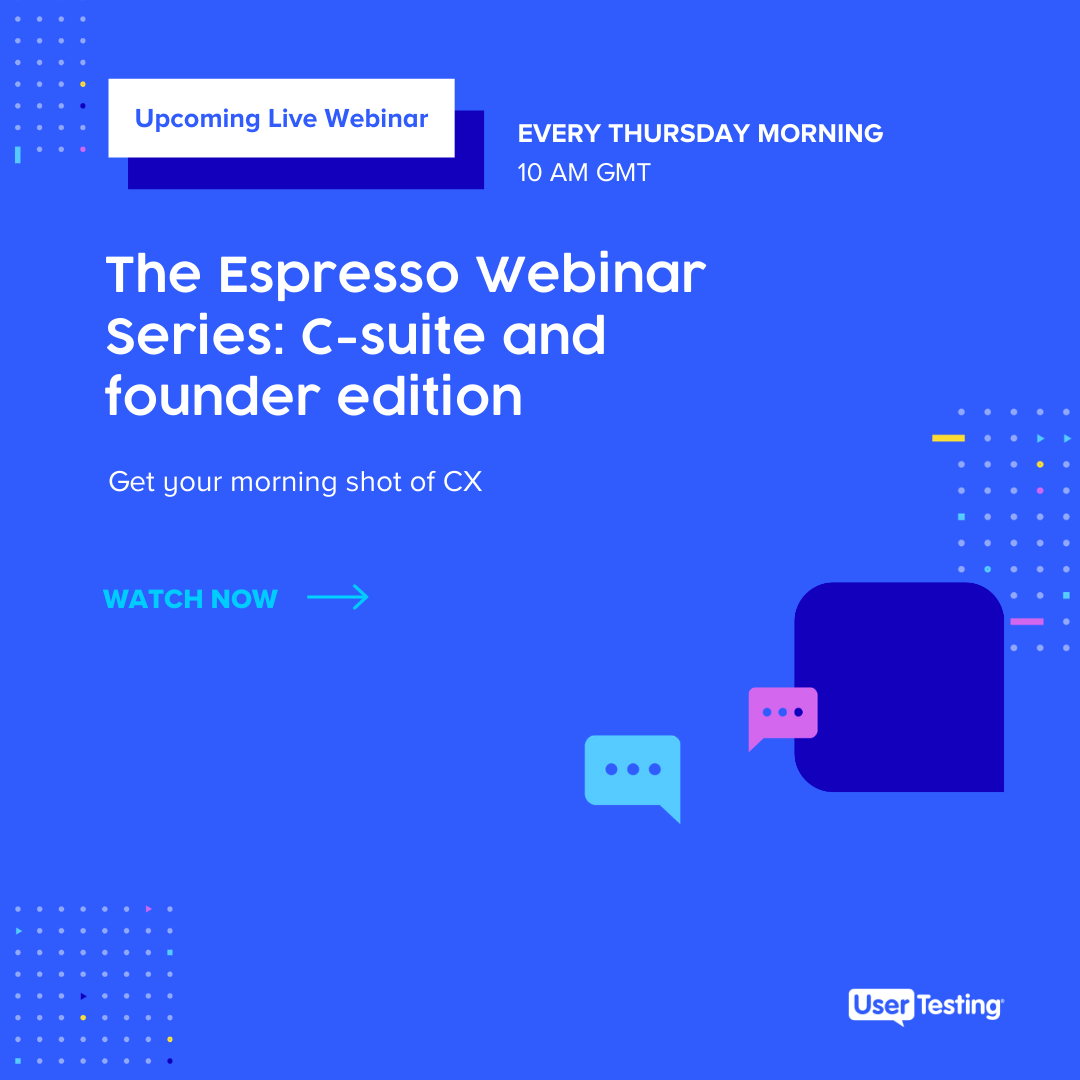 About the author(s)