4 considerations for building customer empathy into your B2B marketing
Image
B2B customer empathy creates trust. Trust builds loyalty. And loyalty builds lifetime customer value.
---
For some time now, employing empathy has been the cornerstone of B2C marketing. The buyers' journey in B2C is short, sometimes literally a couple of clicks, so decisions are often made rapidly and based on emotional connection. On the other hand, the B2B space is driven by business needs, including multiple stakeholders who are basing their decisions on logic, need, and ROI.
Yet, in today's increasingly digital economy, B2B buyers are becoming more like the B2C persona we've come to know. In a Software as a Service (SaaS)-dominated world, many of the characteristics we've ascribed to B2C personas are very much at work in B2B. Behind every B2B decision are real people with emotions who are making connections, just like you'd expect with B2C.
B2B buyers don't buy your product—they buy trust in your business
When consumers buy a new pair of shoes, it's a relatively low-stakes investment—if the style isn't right or the shoes don't fit, it won't have much of an impact on the consumer. However, when someone recommends an investment in an enterprise SaaS platform, their reputation (and possibly their job) is on the line. When B2B consumers are balancing so much risk with their investments, it's no wonder they require trust (and other emotional connections) to build confidence in their decision.
According to a Forrester presentation from CX SF 2019, there are four components for building B2B customer empathy:
1. Understand your B2B customer and what they want to achieve
In order to truly understand your customer, collecting feedback from them at every stage of their buying journey is imperative. By doing this, you're able to better understand what it is your potential customers want and need, so you can create more tailored, personalized content and messaging for them. 
When doing this:
Focus on research that helps you understand your customers' unique business, industry, and market conditions.
Discover and understand what's most important to their job and success.
Collect information that will help you prove ROI that is specific to their industry and organization.
Ultimately, it's your responsibility to make your B2B customer central to your decision making, much like you would for B2C customers.
2. Impart insights to your B2B customers
It would be great if your potential customers saw the value in your product immediately, but that's often not the case. That's why it's your job to go beyond selling your product by positioning your business as a credible source of information and insights before they even buy anything. 
This is thought leadership. From blogs to ebooks to case studies, your customers expect you to:
Be a trusted source of knowledge about their market and industry
Have a credible, authentic story to tell about how you help your current customers succeed
Provide relevant content at every stage of the buying process that can be self-served before ever speaking with sales
3. Embrace emotion to engage B2B buyers
From an early age, people are naturally and universally drawn to stories. They bring out unique perspectives and draw people in to make connections on emotional levels. No matter what you're building (product, website, app) it's your job to bring the experience to life through storytelling.
Storytelling isn't just about the narrative, it's about meeting people where they are in their buying journey. Imagine yourself in their shoes, and build your marketing around it. Help your potential customers reach their goals and design your content in a meaningful way that helps them connect on an emotional level.
4. Humanize your B2B buyer's journey
One of the most effective ways to humanize your marketing is through the content you develop for your audience. B2B marketers often rely on buyer personas and messaging based on job titles, but they don't give enough weight to the human concerns that are relevant to the individual making the buying decision.
B2B marketers can't merely focus on pushing the rational merits of their products and experiences—it's not enough. By focusing on an emotional promise that's unique to your potential buyers, you're more likely to build the trust required to motivate a purchase.
B2B customer empathy builds trust
Customer empathy is something that may have seemed like a buzzword or lip-service in the past, but it's proven to be a competitive differentiator. Even in B2B marketing, emotional connections are emerging as essential elements of effective marketing. Empathy creates trust. Trust builds loyalty. And loyalty builds lifetime customer value.
The complete guide to user testing your websites, apps, and prototypes
Learn how to plan, conduct, and analyze remote customer research with this comprehensive guide.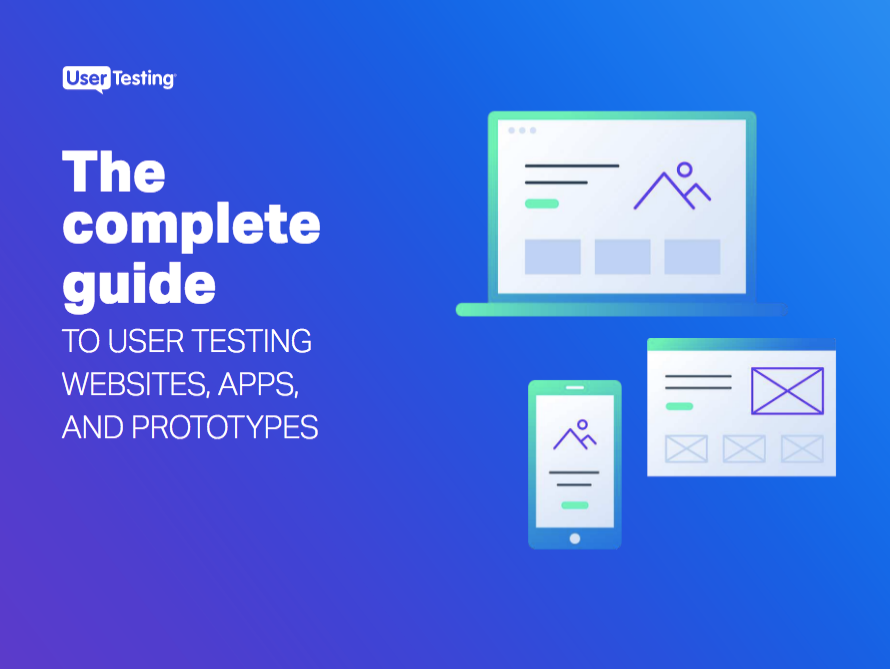 About the author(s)