Democratizing insights: how to scale user research throughout your organization
Image
There's a lot of talk about democratizing or scaling customer insights, but what does that mean? Well, in a world where customer experience differentiates elite brands from the laggards, could it be the secret ingredient to success? One thing is for sure, great CX starts with a deep understanding of your customer—their wants, needs, impulses, motivations, desires—but having this information is only half the battle. The key is to spread the knowledge throughout your organization. 
There's a clear need for democratizing insights
In our latest CX Industry Report, the vast majority of marketing, design, and product teams all agreed that it's important to gather customer feedback before launching content, designs, and products.
So it's clear that companies don't need much convincing that centering their business around the customer is the right move—for customers and the bottom line. However, when asked if gathering customer feedback was integrated into company processes, only 50% agreed. And when it comes to scaling those insights across the organization, again, only 50% agreed that they were empowered to use customer insights to inform their decisions.
If everyone agrees that customer insight is valuable for making customer-centric decisions, how does an organization make these insights accessible to everyone?
How to democratize insights within an organization
Research teams are limited. And if only a few people in the organization are experts at collecting customer insights, you're missing out on a huge opportunity. 
You could add more experts, but that would only incrementally increase the ability to collect customer research. A better approach is to educate a wide swath of the organization about the value of customer insights. And increase the user research knowledge and skills of the people already involved in your organization's projects.
Here are some ways to do just that:
1. Share insights through communication channels like Slack
Instilling new habits or ways of thinking is a massive undertaking. So start small. You can begin by creating a Slack channel (or weekly email) that highlights some of the latest customer insights you or your research team have captured. The more often you're able to put customer insights in front of those who benefit (hint: everybody), the more likely they are to warm up to their value. Not to mention, setting up other easy ways to share these insights will help too. 
Which brings us to our next point. 
2. Hold sessions dedicated to building empathy for your customers
At UserTesting, we know that there's never a shortage of information to share about customers and users. That's why we're always running sessions with our customers on the Human Insight Platform—both moderated and unmoderated—resulting in thousands of video hours packed with insights. But, expecting every person in your organization to carve out time to review hours of video footage is unrealistic, and frankly, not the best use of time.
That's why we host viewing parties focused on building empathy for our customers. Believe it or not, these sessions spark discussions that have led to real break-throughs when it comes to understanding customers and developing actionable ideas. And that's the point, right? The more you know about your customer, and become surprised by things you could never have guessed about them, the more opportunity you have to build products and experiences that truly meet their needs.
3. Store research and insights somewhere accessible
Store research somewhere accessible. Seems easy? Well, it is. It can be as simple as a spreadsheet. Some nifty ways of organizing the information could be by relevance—say, insights for marketers vs. designers vs. leadership. Or by topic—usability insights vs. preference insights. The options are endless, so you'll need to come up with a method that works best for your organization. 
For the UserTesting marketing team, we use a spreadsheet that captures:
The challenge/situation
Findings: a description of what you learned—could be an issue, a clear winner/loser, an idea, etc.
User needs/recommendations: what you need to do as a next step
Where the recommendation can be used: which assets or experiences are affected
Recommendation for follow-up studies
And the severity of impact
The value here is that everyone can contribute. By creating a place where people can store and access customer insights, the knowledge gained by one person or team is never lost in a vacuum.
4. Build sharing insights into your process
The faster you can build a reflex for sharing your discoveries, the better. Think about it like this—after a campaign you share metrics or after a feature launch you share user data, and those things are expected now. Customer insights should be no different. As you gather the information share it out. Your team members will thank you.
5. Empower all teams to gather their own insights
Now here's where you may run into objections. Researchers spend much of their lives mastering the art of research and testing. They know how to avoid bias, segment audiences, analyze results, and much more. Which is why many organizations have research teams in the first place. However, enabling other teams to run their own tests isn't as scary—or risky—as it might sound to experienced research teams.
Creating a program in which researchers build templates for common questions and types of tests is one way to relinquish the reigns without having to worry about all the pitfalls of running tests and studies without training. We've created a library of templates within our platform that helps nonresearchers go from ideas to action. Within the platform you can choose from our library of pre-built test plans to test things like:
Messaging
Choosing between creatives
Comparing websites
Understanding behavior
Validating a prototype or idea
Discovering needs and frustrations
And much more
Through templates, individual teams are empowered to collect insights when they need them without ever having to burden (already overburdened) research teams.
Democratizing insights is a team effort
Ultimately, the success of scaling insights within your organization depends on the programs you put in place and the people who contribute to their success. And the more you foster a culture where decisions are made from customer insights, the faster you'll reap the benefits. 
For anyone still unsure if democratizing research is right for your organization, think about it as doing more with less. By leveraging the activities above, the insights gathered from one group is now beneficial to everyone.
Scaling research for better CX
Discover our recommendations for structuring and scaling customer research resources within your organization.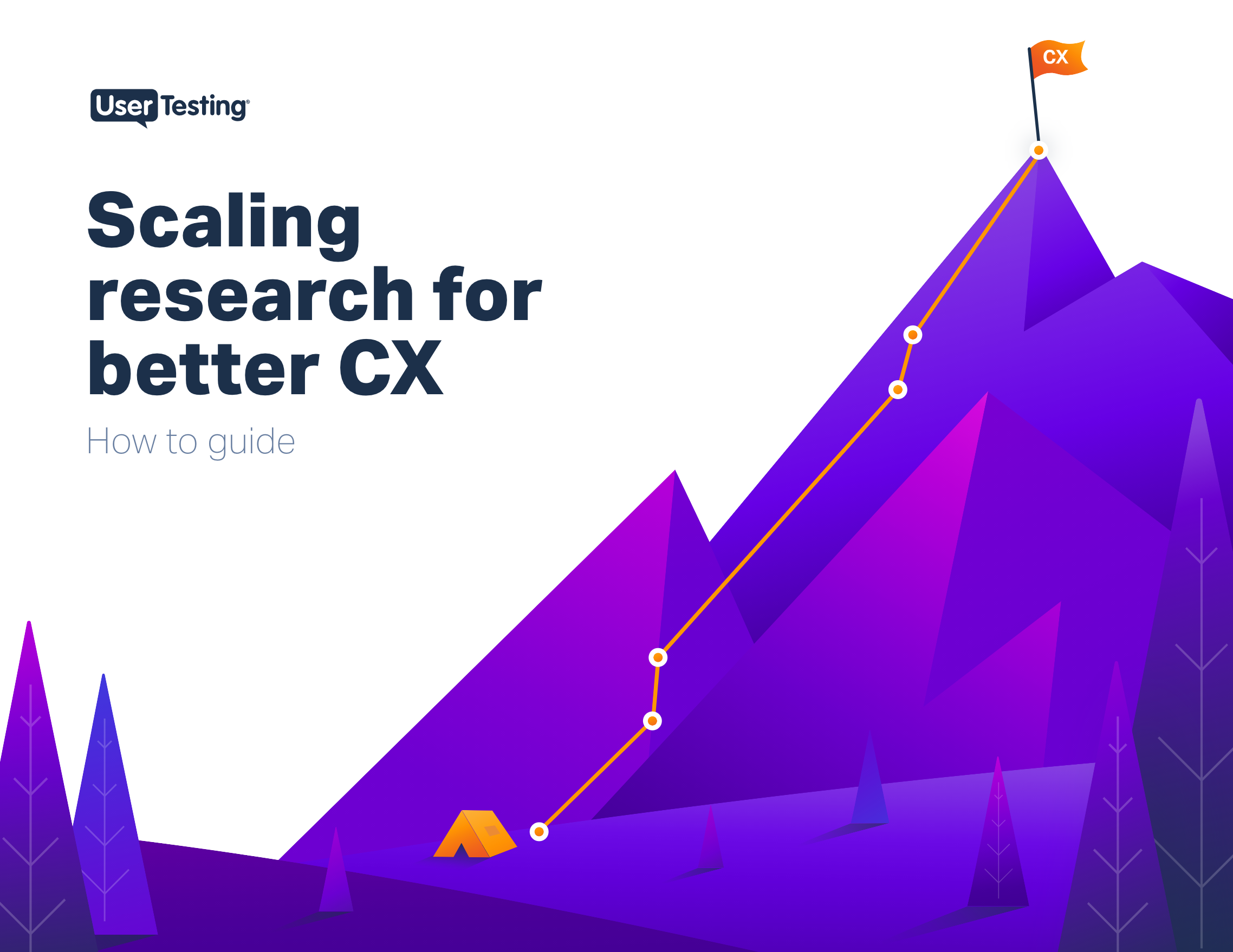 About the author(s)