Hangry UserTesting: Domino's Pizza Mobile Site and App
Image
Every Tuesday, UserTesting's Research Team studies a different product to share here on the blog. We hope you'll learn some nifty research techniques and get inspired to run some insightful tests of your own. Enjoy, and check back in next Tuesday!
Ordering a pizza should be an easy task. Unless you're ordering for a little league team and splitting the bill between several parties, there's not much to it. You pick your crust and toppings, add any extras, and voila! Dinner is served.
But when it comes to actually being responsible for ordering a pizza, almost no one ever wants the job. My husband and I flip a coin or roshambo if calling in an order are required. So when food delivery apps came on the scene, those of us that despise phoning in a food order rejoiced. We'd never have to talk to a person when ordering take out or delivery again! The idea of using an app to order such a simple thing as a pizza sounded like a dream come true to me. It's such a simple task, so the app must be a breeze to use, right?
If only. Nearly every time I hear about someone ordering a pizza on their smartphone, there's almost always some grumblings about how unnecessarily complicated the whole process was. Matters are often complicated by the hangry state of the orderer, making any confusing processes frustrating enough to kill an order.
How could such a simple task go so wrong? Are some things just too simple to need an app? With nearly 2 billion consumers expected to own smartphones by 2016, we wanted to know if an app could be as easy—if not easier—than ordering the old-fashioned way, over the phone.
The study
We conducted a remote, unmoderated study to find out if customers preferred using an app or mobile site to order a pizza, rather than calling in the order. We recruited 10 participants, between the ages of 18 and 48, to test Domino's mobile site and its app on an Android smartphone.
Here's what we asked participants to do:
Order a pizza with four toppings
Add a side of cheesy bread and a soda
Apply a coupon
Sign up for an account
Change delivery time of the order
The results
What worked
Nearly all our participants felt the layout and design were intuitive and smooth. The menu for both the mobile site and the app were fairly straightforward. Both utilize a tiered selection system using images that enabled participants to start with a general category, like pizzas or sides, and then drill down to more detail with toppings, crust, or extras.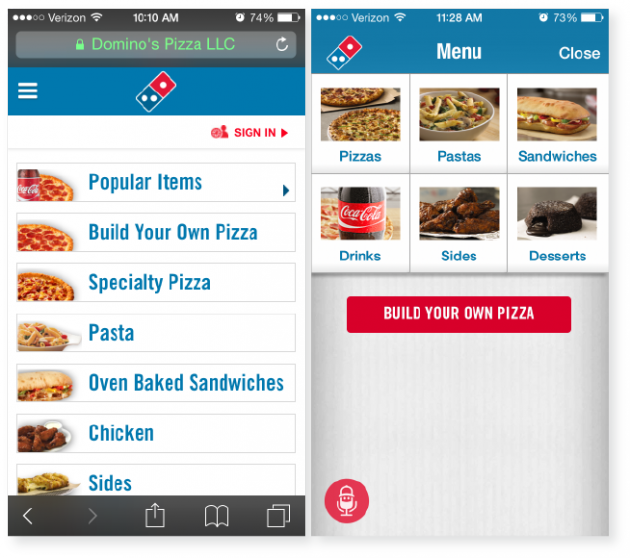 Participants chose their pizzas and toppings quickly, and many noted they appreciated the site and app's ability to customize an order by adding or removing ingredients from portions of the pizza.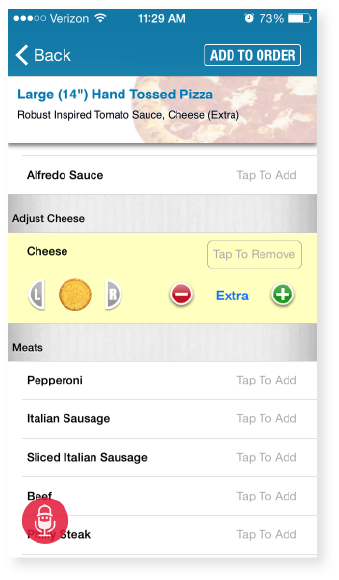 What didn't work
While choosing the perfect pizza was easy for our participants, the rest of the experience left something to be desired.
Several participants expressed frustration that they weren't able to browse the menu without entering in their delivery address first. Additionally, neither the app or the mobile site offered a location detection option, which meant every participant had to manually type in his or her address.
Participants also struggled with finding and applying a coupon to their orders. About half of our participants easily found the coupon buttons, while the rest struggled and searched all over the site to find a link. When participants did find the coupon section, selecting the appropriate coupon was a challenge. The coupons were not organized in a way that assisted customers who had already begun an order, which meant our participants believed they had to edit their order to fit with a coupon. Several participants noted it would've been helpful to have the app suggest appropriate coupons based on their order, or, at least, allow additional sorting options by pizza size or number of toppings.
Several participants also ran into issues with the app or site deleting their order or personal information—or both—when they attempted to modify the order. One participant had to re-enter his address and order three times. I can't repeat his feedback verbatim here, but suffice it to say he was not pleased with the experience.
The app and mobile site's biggest issue for our participants were with scheduling the delivery. We asked the participant to confirm when their order would be delivered, and then to change the delivery time if they could. About half our participants were able to find out when their pizza would be delivered, none of them could find an option to modify the delivery time—an option that is available on the desktop version of the site.
What sort of worked
There were a few features that almost worked, but didn't quite deliver. The app, for example, has a voice activated assistant (which reminded us of the Mayday feature of the Amazon Fire) which seemed promising at first glance. But the feature offered no assistance in areas like address and credit card information, and participants quickly abandoned the feature.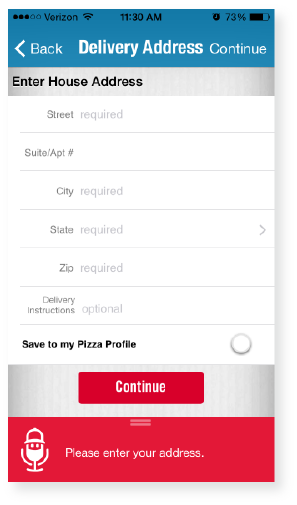 Every participant was able to set up an account, however, many of them struggled to do so. Some had trouble navigating to the sign up section, as both the mobile site and the app default to suggesting users "sign in" and don't enable new users to sign up until after they've navigated to the sign in page. Additionally, the lack of form-field validation left some users confused about what they had entered incorrectly—something that can easily happen when typing on a small screen.
Other pizza ordering options
Although our participants only tested the Domino's app and mobile site, we took a look at a few others to see how they compared. Pizza Hut and Papa John's have similar apps that offer most of the same functionality, and even a few improvements (both offer location services to help with address input, and the option to modify your delivery date or time). Yet even with the few improvements, neither app was clearly a better experience than Domino's.
We also stumbled across a new app released last year, called Push for Pizza, that claims to have "uberized" pizza delivery. The app lets you order a super basic pizza from local pizzerias, based on your location, that has partnered with the app. And when you're ready to check out, it allows you to simply snap a photo of your credit card to enter your payment information. Then, as the app name suggests, you just push the button, and a pizza allegedly arrives, with everything, including tip, already paid.
A basic app like Push for Pizza may not be for everyone, but it's a clear standout from the other pizza delivery apps and sites currently available. Domino's could take a lesson from its bare-bones approach to make some simple—but meaningful—improvements to its mobile user experience.
Conclusion
When we asked participants if they felt it was easier or more difficult to order using the app or mobile site, versus placing an order by telephone, the majority of our participants said ordering by telephone would be easier.
But it turns out that 'easier' doesn't necessarily mean better. While most participants felt ordering over the phone would be faster and easier, they also noted that ordering with the app or mobile site gave them more time to explore options, and allowed them to order at their own pace. Here are a few key takeaways to keep in mind if you're working on a mobile site or app:
Conduct user tests. Pay close attention to what participants do, not just what they say. Just because a participant can complete a task, doesn't mean they were able to do it easily and enjoyably.
Test your forms. Make sure it's easy for users to complete them, and offer form-field validation to help users identify issues.
Test user flow. Pay attention to how users navigate through the app or site, and identify where and when they might want certain information. (Like the coupons.)
So my advice? If you're hangry, just call in your order and be done with it. But if you've got some time and patience, a mobile site or app like Domino's could save you the hassle of explaining that double anchovy, half pepperoni, half bacon, stuffed pizza order to another human being.
Insights that drive innovation
Get our best human insight resources delivered right to your inbox every month. As a bonus, we'll send you our latest industry report: When business is human, insights drive innovation.
About the author(s)