101 Experiences You Can Test with UserTesting's Mobile Recorder
Image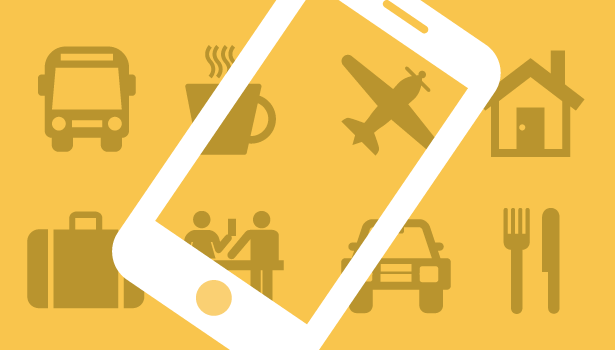 UserTesting was once restricted to digital experiences on desktop computers, smartphones, and tablets, otherwise known as "device testing." But not anymore!
With UserTesting's new mobile recorder, you can now test user experiences that involve non-digital experiences, products, and places. By using the mobile recorder with destination testing, beyond-the-device testing, and other research techniques, you'll be able to test and improve more user experiences than ever before.
To help you get inspired to test and improve experiences beyond your website or app, we've come up with a list of 101 creative testing ideas!
Note: Our mobile recording technology is in public beta now. If you're interested in setting up a test like these, contact us at support@usertesting.com and we'll help with the logistics!
We've broken the list down by industry:
Let's get started!
Air Travel
How can your product improve the flying experience for your users? Run tests on these activities.
Parking in a long-term lot: Research, find pricing, identify the location, understand how often and from where the shuttle runs, and review the quality of the shuttle ride
Purchasing an airline ticket: Purchase a ticket on mobile or desktop and check-in at the airline desk
Checking in at an airline kiosk: Review the usability of an airline kiosk
The overall airport experience: Be dropped off at the airport, find the airline desk, shop and eat in the airport, review the lounge and restroom quality, board the plane, deplane, claim your baggage, and get picked up or hail a taxi
Using an in-flight entertainment system: Listen to music, pay for a movie, watch TV, order food or a drink
Who could run these tests: airports, airlines, airport parking companies
Cars and Parking
Which experiences involving cars and parking can be improved for customers? Run tests on these activities.
Purchasing a car: Research brands and models online and/or in-store, purchase a car, and set up car insurance

Using a car's infotainment system: Look up directions, connect a Bluetooth device, play music, send a text, etc.

The car breaking down: Use an insurance app, contact the insurance company or a tow-truck, review the overall customer service

Finding a repair shop: Research an auto repair shop, locate the shop, understanding the pricing, review quality of service

Watching a car repair tutorial: Find and follow an online tutorial to repair a broken car

Renting a car: Research car rental companies, rent a car, pick up the car, return the car, and review the overall quality of the car and customer service

Comparing car rental companies: Compare the process of renting a car between multiple companies

Using a car share program: Research and find a car share program, rent car online, find location, pick up and return the car

Using a valet parking app: Download and use a valet parking app. Review how quickly the valet meets the car, how quickly the car is returned, and the overall customer service

Reading road signs: Test the intuitiveness of road signs, lines in the road, exit signs, etc.

Using a parking meter: Record the experience of using a parking meter

Parking in a parking structure: Go to a parking lot, read the payment instructions, park, pay for your parking, exit
Who could run these: parking companies, and companies that rent, sell, insure, repair or share cars
Rideshare and Bikeshare
What do customers find helpful or irritating about rideshare and bikeshare programs? Run tests on these activities.
Using a rideshare app: Download the app, sign up or link to social media, input payment information or gift code, request ride, input address, review the ride, receive/find your receipt

Splitting a rideshare: Split a rideshare with another rider via the rideshare app

Comparing rideshare companies: Open multiple rideshare apps before deciding which to rideshare company to request

Using Spotify in a rideshare: Link and use Spotify during your rideshare

Using a taxi app: Download a taxi app, sign up, input payment information, request a ride, input address, review the ride, receive receipt

Using a bikeshare program: Find a bikeshare program, sign up, pay, locate bikes, rent, and return
Who could run these: rideshare (Lyft, Uber, SideCar, etc.), taxi apps (Flywheel), and bikeshare companies
Public Transportation
How do customers feel about using different forms of public transportation? Run tests on these activities.
Using public transportation apps: Download and use app to navigate the system, find times, understand payment, locate stops

Riding on public transportation: Pay for and ride on a public transportation vehicle

Using a transit pass: Use an all-in-one transit pass (like San Francisco's Clipper card) to ride the ferry, light rail, bus, etc. in a metropolitan area
Who could run these: all forms of public transportation, including trains, subways, buses, ferries
Travel
Where do users become stuck or frustrated while planning a trip and traveling? Run tests on these activities.
Planning and going on vacation: Research a resort/cruise/vacation, make a reservation, check-in, experience the vacation, review the whole trip

Staying in an accommodation: Research an accommodation (hotel, Airbnb, hostel, etc.), book online, check-in, give first impressions of room and location, use amenities, review overall customer service and experience

Going on a cruise ship: Use a cruise app to navigate the ship, sign up for activities, and review the activities

Attending a conference or convention: Register, book hotel/travel, review booth set-up, find events, line up for activities, attend lectures/workshops, and review overall experience

Navigating a city: Go from point A to point B in a new city by using public transportation options and local maps

Using a GPS: Use a GPS system or app to find a location and then follow the directions (Google Maps, Waze, etc.)

Finding a public restroom: Find a public restroom in a certain location using an app or by asking around. Review cleanliness

Using the Road Trippers app: Use the site/app to discover restaurants, historical spots, and funky locations while on a road trip

Using the Glympse app: Download and use the Glympse app, send and receive coordinates to share location info with a friend
Who could run these: hotels, Airbnb, hostels, hotel booking sites, cruise ships, hosts of conferences or conventions, travel apps, and navigation apps
Food and Restaurants
What's really going on in a customer's head as they choose different food and restaurants? Run tests on these activities.
Eating at a fast food restaurant: Drive to a fast food restaurant, order food via the drive-through, review confirmation, pay cashier, receive your food, and review the order

Finding a restaurant from a user review site/app: Find nearby food options, go to a restaurant, review the restaurant/experience/food/ambiance, and give your overall review on the app (Yelp)

Reviewing a restaurant: Research a restaurant, make a reservation, give your first impression of restaurant (take a photo), review the menu, and order from the server/tablet/your smartphone. Review the food (take a photo)/service/ambience. Pay for your meal. Compare different restaurants in a chain

Reviewing different restaurants within a chain: Review the overall experience of multiple restaurants within a chain

Eating in a cafeteria: Review the food and experience within work or school cafeteria

Using a restaurant-specific app: Download the restaurant app, scroll through the menu, select items, pay for order, and pick up in store (Taco Bell app)

Using a food delivery site/app: Research restaurants, find a restaurant, scroll through menu, select items, pay for order, and have delivered (or pick-up)

Using a coffee/soda/Slurpee machine: Use a self-serve coffee, soda, or Slurpee machine

Ordering via a grocery delivery site/app: Navigate the site/app, select the items, select a delivery time, input address, pay for the items, record the delivery experience. Review the quality of the food and service
Who could run these: restaurants, restaurant sites/apps, cafeterias, convenience stores, online grocery stores
Brick and Mortar Retail
How can you improve the customer experience of shopping in your retail store? Run tests on these activities.
Comparing the cross-channel experience: Compare the experience of shopping in-store, on desktop, and on mobile. Find an item, check out, and review the overall service and brand impression

Comparing prices: Compare the in-store and online price of an item

Purchasing and returning items: Purchase and return an item online or instore

Checking out across different devices: Add an item to your cart on desktop and then complete the check-out on a mobile device

Using a mall/building directory: Use the mall or building directory to find a storefront

Shopping in a brick and mortar: Go to a store and record the overall experience, including the customer service

Using the self-checkout: Record the experience of using the self-checkout at a grocery store

Using a shopping list app: Write down the items you need on a shopping list app, go to the grocery store, and shop with the list app

Shopping with a rewards program/app: Go to a store, sign up for their rewards program during check-out, review the emails and marketing promotions, and use their rewards the next time you shop

Comparing different stores: Go to two different stores in a shopping center. Take photos of each and explain which you prefer and why

Unboxing a new product: Record the experience of receiving and unboxing a new product. Review the packaging and assembly of the new item
Who could run these: brick and mortars, malls, online stores, and consumer goods companies
Mobile Payment
How do users interact with mobile payment systems? Run tests on these activities.
Using mobile payment at a brick and mortar: Use a mobile payment system at a brick and mortar (Apple Pay, Google Wallet, BrainTree)

Integrating Bitcoin or Paypal with traditional payment methods: Test their integration with other traditional payment methods

Paying a friend back: Transfer money to a friend via a mobile payment method (Venmo, SnapCash, Banking apps)
Who could run these: mobile payment companies (Apple Pay, Google Wallet, BrainTree, Venmo, SnapCash, Bitcoin), banking sites/apps, companies that accept mobile payment
Entertainment
What do customers find frustrating or delightful about different forms of entertainment? Run tests on these activities to find out:
Going to the movies: Research a movie on desktop or mobile, find a theater and showtime, buy tickets, and pull up the e-ticket or use a kiosk at the theater

Using a movie theater's app: Test out the movie theater's specific app while in the theater

Going to a museum: Research a museum on desktop or mobile, buy a ticket, use ticket to enter the museum, navigate the map, tour the museum, find more information about the exhibits online, review the cafe/giftshop, etc.

Going to an amusement park: Go to an amusement park and test out their app. Review live updates, broken down rides, showtimes, the park experience, the map, new attractions, etc. (Disneyland, Six Flags, Universal Studios, etc.)

Playing a board game: Purchase and set up a board game. Read the rules, play, and review the game

Playing an analog and digital game: Play a game with both analog and digital components

Using a video streaming service: Find a movie/TV show on mobile or desktop, then switch to watch on your smart TV or gaming console (Netflix, Hulu)

Controlling a smart TV with a "smart" remote: Use an app that controls a smart TV (xfinity remote, AT&T, Dish)

Renting from a DVD kiosk: Search for and rent a DVD from a DVD kiosk

Going to an event: Buy a ticket online, download to your phone, enter the event with your ticket, use a map to find your seat. Review the seating, sounds, overall event/performance, etc. (sporting events, concerts, etc.)

Using multimedia wearables: Test multimedia wearable technology and their corresponding smartphone apps (GoPro, Oculus Rift, Samsung Gear VR, Sony)
Who could run these: movie theaters/sites/apps, museums, amusement parks, board game companies, game companies, streaming movie/tv services, cable companies, TV companies, DVD kiosks
Sports and Outdoors
What do customers like and dislike about recreational experiences? Run tests on these activities.
Navigating a snow site/app: Find trails, check conditions, review the map, find a lodge, listen to music, review your stats (EpicMix)

Exploring a national park site/app: Navigate the map, explore trails, find restrooms, etc.

Using a sports app: Use a sports app while watching a game or while away from the TV (ESPN, NFL, MLB, NBA, MLS, etc.)

Using a GoPro: Mount/install a GoPro, use, record footage, and review durability

Exercise with a fitness site/app: Research a workout routine, use music app, check progress

Checking the weather: Check the weather on a site/app for your location, go outside and take a photo of the weather in the real world

Using health/fitness wearables: Test health and fitness wearable technology and their corresponding smartphone apps while exercising (Fitbit, Nike, Jawbone)
Who could run these: snow resorts, national parks, sports companies/networks, GoPro, fitness apps, weather sites/apps
Daily Life
How are your customers really accomplishing these daily activities, and how could your product fit into their lives? Run tests on these activities.
Running errands and scheduling appointments: Research a service on desktop or mobile, select a company, find out their pricing, schedule an appointment, review the service (cleaner, cable company, plumber, repairman, barber shop, nail salon, etc.)

Planning and preparing for a family: Use a family planning app, track baby's development after conception, find a doctor, use an insurance site for your medical record, prepare you home by researching products and shopping online, announce the baby's birth with e-card and social media

Planning a wedding: Research ring stores and styles, buy a ring, organize the proposal, plan the engagement party, plan and have a wedding (invitations, location, food, photographer, music, the rings, the dress/suit, wedding party, accommodations, etc.)

Redecorating a home: Research a design on desktop or mobile, find furniture/paint colors/window treatments, buy online or instore

Shopping at IKEA: Research furniture options online, go to IKEA, pick up furniture, bring it home, follow instructions and assemble

Planning a party or holiday event: Research decorations and recipes on desktop or mobile, buy decorations and food, set up the party, and review the party (Christmas, Hanukkah, Thanksgiving, Halloween, Fourth of July, Valentines Day, birthdays, etc.)

Finding a house/apartment: Research on desktop or mobile (Craigslist, Padmapper, Zillow), go to neighborhoods, take photos, make notes, and follow up with landlords

Signing up and using coupons: Sign up for coupons online, have them delivered to your home or mobile device, and use them in-store

Doing daily activities: Record the process of your daily activities (mowing the lawn, brushing your teeth, doing laundry, doing your hair/makeup, washing your face, getting your child ready for school, your child doing homework, etc.)

Using makeup/skincare/hair products: Research a product, find where to purchase or select item in store, open product, and read instructions or watch tutorial online (youtube)

After going to the doctor: After a doctor's appointment, look up your diagnosis online, order your medication, and pick up

Going to a doctor/dentist/vision appointment: Find a doctor that takes your insurance, book an appointment, find directions, go to the appointment, and review the doctor and office experience

Voting at a poll during an election: Find a poll booth location, check in, use the poll booth

Experiencing an emergency: Using PG&E (or similar company) site/app as you would during an emergency (natural disaster, power outage, etc.)

After experiencing an emergency: Go through the process of trying to claim insurance after an emergency

Ordering and sending e-cards/holiday cards: Research different online card companies, select and design a card, upload photos, order/pay for the cards, receive the cards, and review their quality

Order a personalized item: Find a gift website, select an item, personalize, and order/pay for the item. Receive and review the quality of the item
Who could run these: any companies that require appointments or use coupons, family planning sites/apps, wedding sites/apps, housing/home improvement sites/apps, consumer good companies, doctors/dentist offices, governments, insurance companies, power companies, emergency agencies
Advertising
What to find out how people perceive different forms of advertising? Run tests on these activities.
Watching commercials: Test storyboards, wireframes, and commercials before pushing live

Viewing a billboard: Go to a specific location to view a billboard and review the messaging. Does it make sense, is it engaging, and does it make you want to sign-up/purchase

Looking at ads: Go on a walk and take photos of the different ads that you see. Talk about which ones you find engaging, confusing, etc.

Listening to radio ads: Listen to the ads on a radio station or online radio service. Which do you find engaging, confusing, etc. Which ads would compel you to sign-up or look online for more information
Who could run these: advertisers, marketers, creative agencies
Space and Military
(Note: these ideas are obviously restricted by logistics and security---they're just to get you thinking outside the box!)
Flying a drone: Fly a drone with a tablet-based software

Using a military smartphone: Review the GI experience of using smartphones in combat

Communicating between space and Earth: Record the communication process between astronauts/Space Station and Earth

Tracking bugs on the International Space Station: Have an astronaut use their iPhone to run the mobile bug tracking program for the International Space Station
Who could run these: drone companies, military organizations, space organizations
Want to test out one of these ideas?
Sign up for a UserTesting account here or reach out to your Client Success Manager. We'd be happy to get you started!
Do you have a testing idea for the Mobile Recorder that we didn't include? We'd love to hear it! Post it in the comments below.
Insights that drive innovation
Get our best human insight resources delivered right to your inbox every month. As a bonus, we'll send you our latest industry report: When business is human, insights drive innovation.
About the author(s)