The secret to binge-worthy streaming media experiences
Image
There's no surprise that streaming media has become as popular in households today as televisions themselves. In fact, the streaming media industry is growing, and it's growing fast. The economic numbers are staggering, and it's predicted that the market will nearly triple between 2018 and 2024—resulting in a $688.7B industry.
With many people across the world quarantining as a result of the pandemic, streaming video consumption has massively increased, but what makes consumers turn to these outlets for media consumption? And why do consumers select one streaming service over another? We had some guesses, but we wanted to know for sure.
Inspired by a recent poll by SurveyMonkey, we conducted a competitive benchmarking study to better understand consumers' needs and desires, and ultimately what drives great CX. The study evaluated seven top on-demand streaming services: Netflix, Hulu, Disney+, Apple TV+, Amazon Prime, HBO NOW, and HBO MAX.
3 traits of binge-worthy streaming media
In order to discover what sets top streaming video platforms apart from the competition, participants were asked to complete a series of tasks (on each platform) and then answer questions about their experience. After reviewing the results, these three traits emerged: 
Offer a broad, diverse library of content with a thorough, logical organization that enables customers to find what they're looking for.
Deliver a highly personalized experience with curated content recommendations based on customers' past viewing histories and interests.
Use customer empathy to dictate CX strategy to cater to increasing viewership and increasing expectations.
Ultimately, delivering a world-class digital streaming experience is a must if you want to keep pace with the competition. After all, the popular phrase is, "Netflix and chill," for a reason, right? 
Get the report
To see which streaming media providers were awarded with the highest overall experience scores—as rated by consumers—you'll want to download the report. Within, you'll also find first-hand video footage of consumers interacting with the platforms and providing their insights that fueled the results of the study.
3 traits of binge-worthy streaming media services
In this report, you'll learn how seven top on-demand streaming services create binge-worthy streaming media experiences.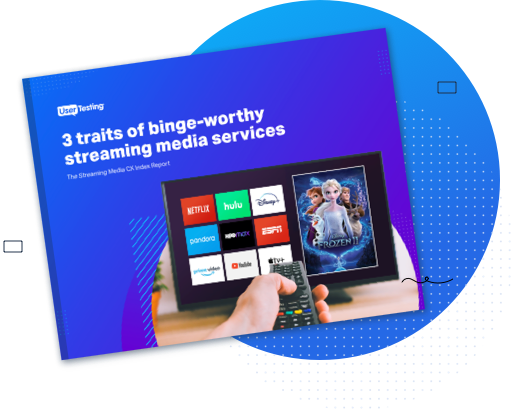 About the author(s)