4 test templates for building empathy on issues of racial equality
Image
Across the globe, organizations large and small are moving quickly to stand together with the Black Lives Matter movement, outlining action plans, and making donations in support of racial equality and racial justice. But these plans can't just be drawn up in the vacuum of a boardroom. They require honest and thoughtful conversations with employees, customers, and our communities.
Yet these conversations, which are so important to effecting meaningful and lasting change, are also some of the most challenging for all involved. They tap into our deepest emotions about justice and equality and can highlight fundamental differences of perspective that can be difficult to reconcile. But if done right, they can also invite empathy and help organizations develop a roadmap to address long-standing inequalities that slow our collective progress. 
For more than twelve years, UserTesting has helped organizations build real connections and empathize with customers. We've seen firsthand how companies that engage with customers and connect with them emotionally are able to solve customer needs and challenges more effectively and in the process elevate their brands, products, and experiences. At the same time, we've also seen the pitfalls of talking to real people about emotionally-charged topics. The conversations must be approached with thoughtfulness and a desire to listen and learn.
More recently, organizations have asked us for help gathering feedback on issues involving race, equality, and inclusion. We understand collecting this type of feedback can be uniquely challenging. First, you must find people who are willing to speak with you and assure them that you'll provide a safe space for them to be heard and understood. Second, you have to give them the time they need to open up about very sensitive topics, knowing that these same topics are likely causing them significant additional stress. Finally, and perhaps most importantly, you must gather feedback from a diverse audience to ensure you're getting an inclusive mix of feedback and perspectives.
Based on these experiences, we've taken the most thoughtful questions we've seen and created test templates to help everyone collect candid feedback about how expectations, behaviors, and perceptions are changing with regards to racial equality. The templates, described below, are now available in both Insight Core and Marketing Insight. We're also using these to gather critical feedback needed to build our own response and action plan. We hope that you will find them helpful as you develop your plans in support of racial equality for Black communities.
Templates for collecting remote feedback about racial equality
For each template, we created separate versions for B2C and B2B teams. The Insight Core templates include B2C and B2B options, are fully customizable, and come with screener questions to help you get feedback from a diverse audience. The Marketing Insight Quick Answers are primarily for B2C organizations, and are designed to launch quickly with just a few simple inputs. The templates can be used to gather feedback on the following topics: 
Changes to behavior: how recent events are changing who consumer and business partners choose to support
Changes to expectations: how recent events around racial equality is changing expectations
Perception of your response and action plan: how your response is perceived, and if it resonates with others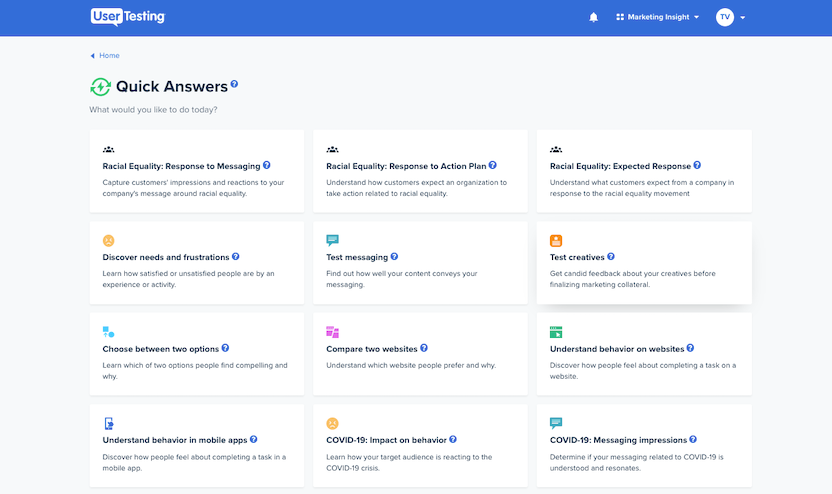 During the process of piloting these templates, we also gathered some compelling feedback that demonstrates their power. Sample feedback is included below.
---
Template 1: Understand behavior changes based on the racial equality movement
With public opinion evolving quickly on issues of racial equality, customer behaviors are shifting as well. With these templates, you can better understand: 
How your target audience is reacting to the racial equality movement
The biggest impact, if any, that the racial equality movement has had on who your target audience chooses to do business with/purchase from
Template links
Sample feedback
During testing, we found that many agreed that the movement had significantly impacted their spending habits. For example, one person said: "The Black Lives Matter movement has created a massively positive impact for me by providing resources for causes and Black-owned businesses that I would like most to contribute my money to."
Another said: "I purchase from a brand/individual who displays inclusiveness in their product design and their brand endorsements. I avoid doing business with people who practice discrimination or portray discrimination."
---
Template 2: Understand expectations of your organization's response to the racial equality movement
Consumers and B2B decision-makers have strong expectations of how they expect companies they do business with to respond to the racial equality movement. With these templates, you can better understand:
How your target audience expects your organization to respond to the racial equality movement
What responses or actions related to racial equality, if any, would make your target audience more likely to engage with or do business with your organization
Template links
Sample feedback
During testing, respondents generally indicated they preferred action over inaction. For example, one person said: "Not knowing a company's stance on the Black Lives Matter movement makes it less likely that I do business with them. A non-statement on the movement could easily be taken as a stance against social justice. Not knowing where a company stands could affect me choosing to do business with them."
When we asked people how they wanted organizations to respond to the current events, they had many suggestions, including:
"Giving a strong, specific public statement about the Black Lives Matter movement and pledging to take action is a valuable trait I look for in businesses/brands."
"Businesses that are consistently outwardly spoken about supporting the Black Lives Matter movement and contributing funds to organizations are most likely to get business from me."
---
Template 3: Capture impressions of an organization's action plan in response to concerns about racial equality
How you respond towards issues of racial equality and how much detail you include in an action plan can have a big impact on a customer's impression of your organization. With these templates, you can better understand:
Feedback and reactions to your company's response and action plan
Whether your company's response and action plan meet people's expectations
People's perceptions of your company based on the response or action plan
Template links
Sample feedback
During testing, when we asked people to react to specific action plans, they generally preferred specificity over vagueness, and said things like: 
"We need more details on the steps that they are going to take inside [redacted] to address diversity and inclusion issues. They said they're going to address it but they don't have steps, the process, the timeline."
"I don't think this action plan will have an effect because it's not specific enough."
"They're not talking about their policies. They're only talking about the outcome. I want to know what their policies are and exactly how they'll address their values."
---
Template 4: Understand reactions to commercial messaging related to racial equality 
Customers can react to messaging and ads in different ways depending on the context, especially when you are discussing sensitive topics such as racial equality. With these templates, you can better understand:
What a customer thinks you are trying to convey with your messaging
Whether a customer understands your message, and how it makes them feel
Whether the message is brand-appropriate
Template links
Sample feedback
During testing, we asked people to review a commercial message related to racial equality from a well-known brand, people commented on authenticity and action. One person said: "It doesn't feel like they're trying to bandwagon. It was very genuine and thoughtful." Another said "It went above and beyond with the donation." 
When we asked people how the post made them feel, they indicated that they felt positive emotions, such as trust, more intensively than negative emotions, such as fear. One person commented on the emotions the messaging evoked, saying "This message is the first one to bring up such powerful emotions in me."
---
Human insight can power racial equality efforts
At UserTesting, we believe we can contribute to racial equality efforts by encouraging teams to collect feedback from diverse audiences and approach these conversations with thoughtfulness, safety, and inclusiveness. 
We encourage you to use these templates to authentically connect with your customers—and the broader community—around the topic of racial equality with a goal of creating thoughtful and appropriate responses that drive positive change.
Insights that drive innovation
Get our best human insight resources delivered right to your inbox every month. As a bonus, we'll send you our latest industry report: When business is human, insights drive innovation.
About the author(s)