UserTesting celebrates today's initial public offering
Image
Today we celebrate an important milestone in UserTesting's history by becoming a publicly-traded company on the New York Stock Exchange under the ticker symbol "USER". I am incredibly proud of what we have accomplished and how we've built a world-class global organization that helps companies build stronger customer intuition, empathy, and understanding with human insight to ultimately drive better business results.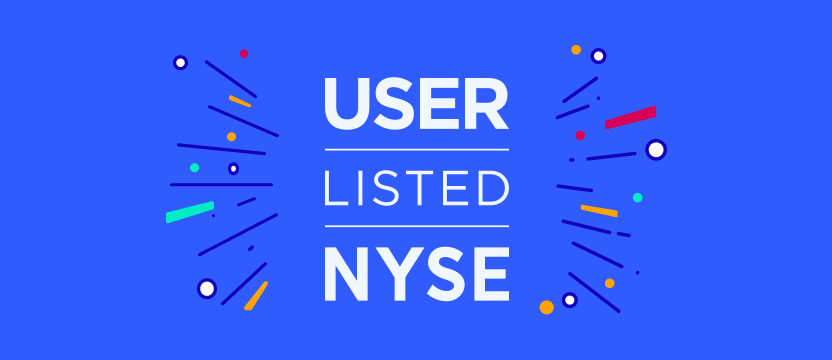 Our success is, and will always be, a team effort. I want to thank our founders, Darrell Benatar and Dave Garr, all of our customers, partners, investors, board members, contributors on our network, alumni, and every one of our employees for their hard work, support, and for being part of this amazing journey.  
Darrell Benatar, UserTesting co-founder and board member, shared these thoughts with me: "I'd like to thank everyone who has been part of the UserTesting family, for their hard work, contributions and for helping bring us to this amazing moment. I started this company more than fourteen years ago with my friend and co-founder, Dave Garr, and we feel very fortunate to see our idea turn into what is now a publicly-traded company. We look forward to what the future holds for UserTesting."
The UserTesting Human Insight Platform transforms how today's businesses understand what it's like to be a customer, with a video-first platform. Our customers share amazing stories about how the platform makes it easy and scalable for anyone in an organization to get a vivid, first-person understanding of a customer's perspective by watching them engage with digital or real-world products, apps, services, or experiences. Helping companies create exceptional customer experiences is what drives us. 
Today's IPO is a significant moment in our company's history. But our mission has never been internally focused. We're looking forward to the future as we help our customers create a more empathetic and engaging world. Thank you for being a stakeholder and supporter along the way, but more importantly, thank you for your continued support as we continue forward.
Insights that drive innovation
Get our best human insight resources delivered right to your inbox every month. As a bonus, we'll send you our latest industry report: When business is human, insights drive innovation.
About the author(s)
Andy MacMillan
Andy brings 20 years of enterprise SaaS experience to UserTesting. As a former product executive at Oracle and Salesforce, he saw the critical role that customer centricity plays in creating great experiences. By helping companies become more customer-centric, he has grown multiple enterprise SaaS businesses to hundreds of millions of dollars.