Today, the customer experience is all about smarter, better, faster. And good business is all about customer experience. That means you need to understand your customers better than ever in order to provide the experiences they've come to expect. By testing with the UserTesting Panel, you can do just that.
What is the UserTesting Panel?
The UserTesting Panel is a global network of test participants who complete tests produced and launched through the UserTesting Human Insight Platform. Once a test is shared with the panel, it can be completed and returned to the creator in as little as 1-2 hours. And with Live Conversation, 1-on-1 interviews can be scheduled with participants as soon as that same day.
The UserTesting Panel is constantly growing and can be filtered for participants in multiple countries—including Australia, Canada, India, United Kingdom, the United States, Mexico, South Africa, Japan, and France to name a few.
How does the UserTesting Panel get participants?
Well, the process is quite simple. Prospective participants need to submit and verify their email, complete a profile, and submit a practice test to apply. While the application process may be simple, our focus on quality is paramount.
A focus on quality, integrity, and relevance
Industry-best quality assurance and ongoing customer feedback, ensure participants meet your expectations.

What does the UserTesting participant's experience look like? 
Test participants can view and accept tests on their UserTesting participant dashboard—accessible on desktop or through the UserTesting mobile application. Once a test is launched, only people matching the target participant profile (e.g., demographic requirements) will be able to view the test on their dashboard. From there, they may need to answer some screener question(s) before a participant can accept and complete a test on any experience. 
Commitment to innovation extends to the UserTesting Panel
Providing our customers with the highest quality of feedback is our primary goal. And in order to do that, we've recently made user interface (UI) enhancements on the participant view of the application.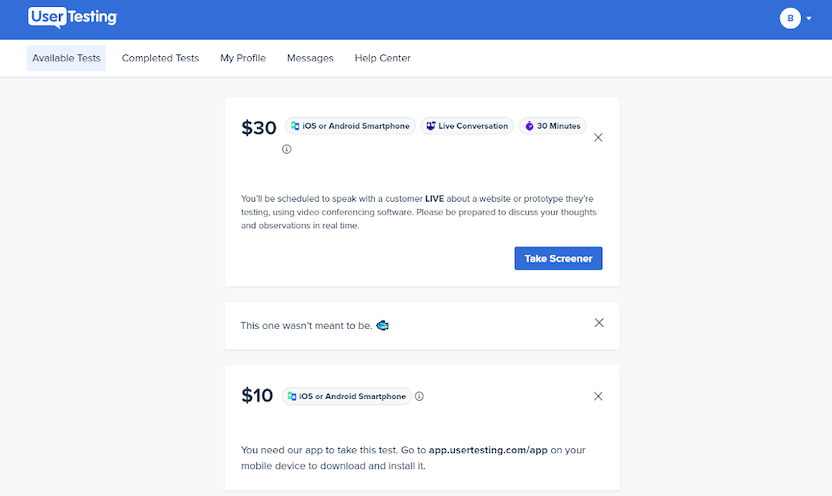 More than just a design upgrade, the recent improvements surface test information earlier in the process so participants can make faster, smarter decisions. To provide a little more detail, participants now have the ability to complete screener questions inline within the test feed. They can also quickly scan through available tests as a result of the increased transparency and descriptive badging. These improvements allow participants to be able to find better matches—for more tests, faster—because screeners are easier to scan than before.
"I love that I can just "x" out of a test that I already know I won't qualify for. This new process is so streamlined and super user friendly." -UserTesting test participant
Ultimately, this upgrade has led to more participants completing more test sessions, reducing cognitive load, and giving them greater control—all of which should lead to higher quality responses for our customers.
Building delight into the participant experience
In addition to upgrading the test feed functionality and the participant's core experience of taking screeners and tests, we've also built delight in the participant experience. What does that mean?
Frequently, a participant will not be an exact match for a test, and we recognize that can be disappointing. And that's not a word most often associated with a positive experience. Confronting this head-on, we've built moments of encouragement that display on the page whenever someone isn't selected as a match for a test.
"The emojis make the environment so much more friendly." -UserTesting test participant
A healthy panel means better insights for customers
In order to put our customers first, it's critical that we provide them with the best possible experience gathering valuable feedback. And doing that requires us to ensure that our panel is meeting (and exceeding) expectations. These latest improvements are designed with both of these goals in mind.
Here are a few more things our participants have said about the improvements:
"So much faster to go through the screening process—thank you!"
"Looks cool and much easier to understand everything."
"The new test feed streamlines the process of getting to the business of testing."