Retail apps are growing in popularity, leaving many retailers scrambling to claim their slice of the m-commerce pie. But simply having an app doesn't guarantee a retailer will actually see an impact on the bottom line. Many apps fail to effectively engage customers because they don't provide the right value at the right time.
It's true for any retailer: not every customer is going to use your mobile app. For one-time and casual shoppers, the effort of installing the app (downloading it, signing up or signing in, and managing notifications) may be too high a cost. Most customers don't need another app taking up space on their phones unless they expect to get real value out of it.
That means many mobile shoppers will exclusively rely on your website—and that's okay. Your app shouldn't be a substitute for an effective, responsive website.
What an app is useful for is creating a richer shopping experience for your customers. It's for developing customer loyalty and building a lasting brand relationship. It's for providing value to the customers who are the most engaged with your brand and who are likely to turn into loyal advocates.
Your mobile app should be a rich, engaging shopping experience for your customers—not a substitute for an effective website.
So what makes the difference between a successful retail app and one that's a waste of time and resources? What are some apps that are getting it right?
5 traits of successful retail apps
1. They make shopping easier and faster for your most engaged customers
Companies who do their research can establish patterns with their mobile shoppers. What key journeys do they complete most often? Which actions result in the highest average order value? What workflows are difficult or frustrating for customers on your mobile website and could use a little simplification?
When you've broken down the actions high-value shoppers are likely to take, you can distil those key workflows in your app, eliminating the distractions that come with the complete website. You can create a more guided experience, leading customers effectively down the path to purchase.
This is especially true for retailers with a large inventory that can be overwhelming to sift through on mobile. Customers will thank you for simplifying the actions they take most frequently, and you'll benefit from more frequent and higher-value purchases.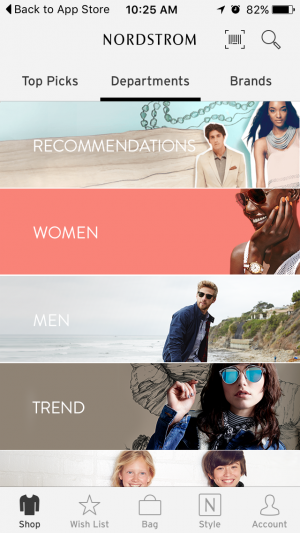 Nordstrom's app streamlines the shopping experience
2. They eliminate the hassle of in-person shopping
Great retail apps contribute to the complete omnichannel shopping experience by making it easier to buy or pick up purchases in-store.
Walgreens and CVS are two surprising champions of the app world. While refilling prescriptions on an app may not seem very exciting, they solve for a real customer need: avoiding waiting in line at the pharmacy. Customers who use the app save time and have a more positive experience than others.
Starbucks' app is another example of eliminating the hassle and wait time. With their order-ahead feature, customers can pay for their drink of choice on mobile, skip the line, and pick up their order in-store. In our recent study, customers were willing to forgive the occasional hiccups in the experience because of the overall convenience.
3. They offer special discounts, rewards, and incentives for users
One of the hallmarks of a successful app is making customers feel like VIPs. If your app rewards loyal users with coupons and special deals, they'll be likely to engage more often and take advantage of the savings they've earned. This is a great way to make a distinction between your mobile app and website. If you position it correctly, your customers will clearly understand the advantages of using the app and keep coming back for more. You'll get more app downloads, and you can nurture your app users into loyal advocates.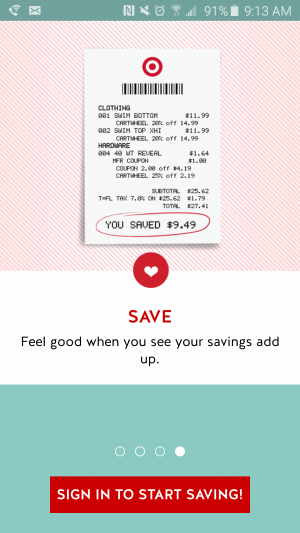 Target's Cartwheel app is a great example of offering valuable savings and making customers feel special.
4. They capture customers' attention with relevant and timely push notifications
One of the biggest advantages of mobile apps is the ability to send push notifications to customers at the right time. Use this to your advantage by focusing on the most relevant activities, like announcements of big sales, geotargeted offers, and abandoned cart notifications.
But tread carefully; engaging your customers is different from selling to them all the time. Push notifications should only be used when there's a compelling offer, not when your numbers are down. If you're constantly bugging your users with notifications, they may become irritated and deactivate notifications—or uninstall the app altogether. Experiment with notification content and frequency to find the right balance for your customers.
5. They use features of the mobile device to strategically enhance the experience
Some of the most successful retail apps are finding creative new ways to utilize the features of the phone and provide an experience that is truly different from the mobile website.
Using the phone camera to assist in visual search is gaining in popularity. Visual search allows shoppers to snap a picture of an item they like and purchase similar items through the app's search results.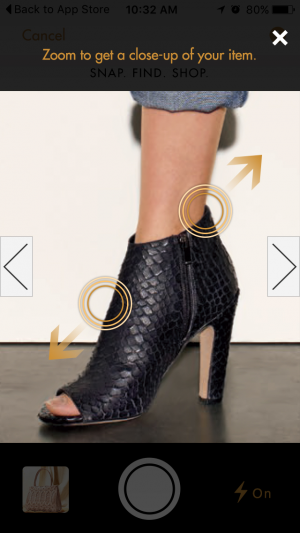 Neiman Marcus' Snap. Find. Shop. feature allows customers to search for shoes and handbags they spot on the street.
Beacon technology is another example of phone hardware enhancing the shopping experience. Beacons can provide coupons and deal alerts to in-store shoppers when they approach a display or walk down an aisle.
Successful retail apps require continuous UX research
To ensure your app will engage customers and contribute to your revenue, it's critical to get feedback from your target market at every stage of development. Their insights will help guide your decisions on what features to include and how to incentivize your users. Plus, you'll uncover any problems in the user experience that could cause your users to uninstall your app.
Listen to user feedback early and often to provide the best—and most valuable—customer experience.