Mobile App Testing Tools
Build apps that your users will love
Almost instant user experience feedback along every step of
the app development cycle - from prototype to publish and
beyond.
Mobile Usability and Compatibility Testing
Do user tests at every stage of your app development cycle
Get real user feedback on everything including wireframe sketches, hi-fidelity prototypes, unreleased beta apps,
unreleased versions, app store pages, and your current release.

Available for Android and iOS
Fast feedback, real users
Watch users complete the tasks you specify, and listen to them speak their minds as they interact with your app. Create a study and start getting results within an hour.
Are you a mobile game developer? Check out our tailored game testing solutions.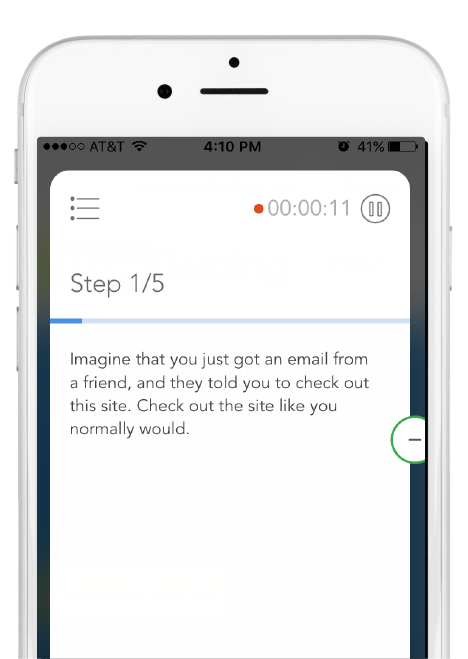 It's easy to get started!
No SDK integration required.
Securely test your mobile app by simply uploading your .ipa or .apk file and create a new app test!
We distribute your app to testers.
Define the demographics you would like to test, and we securely send your app to people who match that profile.
UserTesting Benefits
Release mobile apps confidently
Increase retention
Your analytics only tell you part of the story. UserTesting helps you understand your user's journey first hand and uncover the "why" behind your funnel metrics.
Save time
The fastest way to gather feedback at every stage of your mobile app development cycle from prototype to launch and beyond. Deploy a study in morning and have actionable insights by lunch.
Validate ideas
Watch real users experience your wireframe or prototype before ever committing code. If you have a design disagreement with a client, or within your team, run a test and let the users settle it for you.