Mobile Game Testing Tools
Increase retention and monetization by tapping into the real story of how people play your game.
Gain actionable insights through the fastest and easiest platform for user research. Watch and listen to your target demographic play your game and how they interact with your App Store page—video results within hours.
Get the human voice behind the analytics.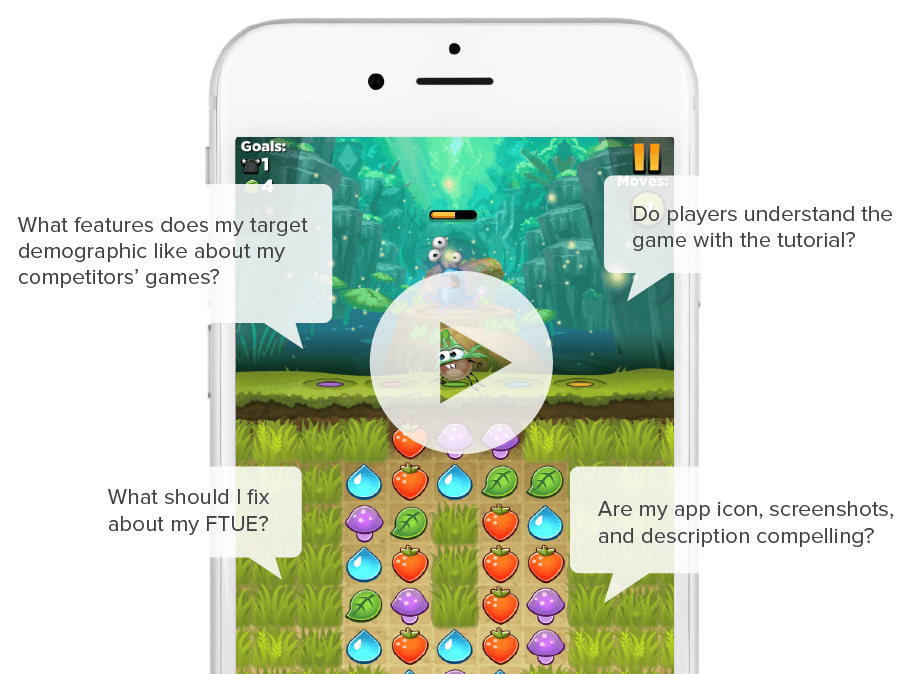 Mobile Game Prototyping Tool
Bring UserTesting into every stage of game design
Answer the challenging questions that arise at each part of game development to ensure a successful launch. From prototyping to unreleased builds to released builds in the App Store or Google Play Store, hear what players think and see how they behave every step of the way.
Mobile Game Testing Techniques
Types of Studies and Methodologies
Field your own studies and get results in hours or get expert analysis through UserTesting's dedicated team of game researchers.
No matter what you're trying to accomplish through user research, our team can help you get fast results. Tell us your objective, and we can plan out a study for the best solution.
Remote Unmoderated

Surveys

Remote Moderated

Longitudinal

1:1 Interviews

Focus Groups
Fast, Easy and Secure Mobile Game Testing
UserTesting is hassle-free and easy to use. Anyone on your team can run the tests!
No SDK required—just upload your build, and we'll do the rest of the work. For Android clients, just point the test participants to your app or prototype on the web.
Additional features:
See taps, swipes, and gestures

Video and audio results within hours

Access a diverse panel of over 1 million participants

Test the entire funnel from game development to app discovery

Secure and easy app distribution to test prototypes and unreleased games/builds

Dedicated UserTesting mobile gaming team with support on: Writing studies, Recruiting and scheduling participants (if necessary), Analyzing and compiling findings, Provide best practices