4 ways video improves the customer experience
Image
Over the last few years, video has proven to be a successful tool to help companies expand their customer connection and retention. And video creation tools can now be found everywhere, even in our pockets, with mobile collaboration tools. This leaves no excuse for not creating your own company-branded videos, especially if you're trying to improve your customer experience. 
Video is also a great way to improve your social presence and boost your rankings on search engines because video content is now a preferred method of information delivery. Video sharing has also become as simple as pressing a button, as has live streaming. 
So it's no longer just a tool for advertising; it's an easy way to bring your brand into people's homes without them making any significant investment or directly engaging with them. Rather than merely an inbound marketing or email marketing tactic, it's time to consider video as a customer experience tool.
Before we get into the ways video improves overall CX, it's important to note that, despite the prevalence of video making tools, the onus of creating good quality videos is still on you. The quality, lighting, sound, animations, and content need to all be up to scratch before releasing any content to the public. It's better to make no video at all than one that isn't very good. 
On almost all platforms, quality plays significantly into how video content is ranked. Google and Facebook, in particular, will usually rank professionally made videos above all else. Additionally, the video's quality will link directly to customer experience, another thing Google and Youtube certainly consider.
So, with all that said, here are four ways videos can improve your customers' experience.
1. Explaining your product or service 
The best ecommerce website designs incorporate video to better sell the benefits of products. Explainer videos are a great way to improve customer satisfaction; after all, humans, by their very nature, are visual learners. A video can explain the features of what you do or sell and show people how to utilize it best. It's here that you can help customers make the most of their investment, while simultaneously increasing their knowledge of your brand.
An educational video plays a pre and post-sale role, delivering a promise on what you can offer. When done correctly and honestly, you've greatly improved your standing in the customer's mind. It's a great way to show off your features by putting them in a real-world context.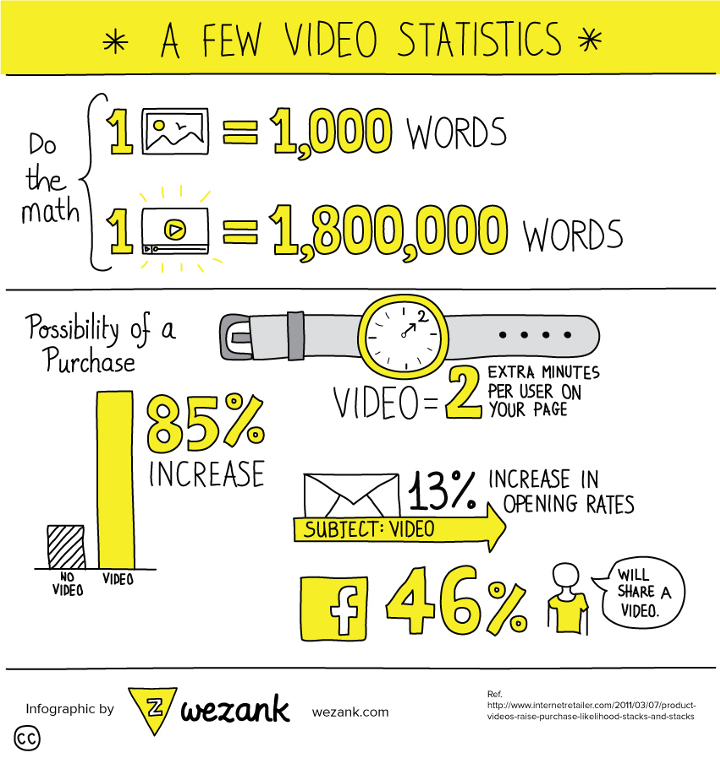 ​
2. Using video to address pain points 
Every video you release needs to serve a purpose. The inspiration for creating a video should be how it specifically addresses a problem your customer may have. 
Controlling a customer's emotional interests has always been a cornerstone of building loyalty and boosting sales. By giving customers a solution to a relatable pain point, you're establishing both your credentials and your authority on the subject matter. However, targeting specific pain points isn't all that easy.
While you can make use of certain buzzwords to determine the direction of written content, you lose a sense of urgency, and the conversion rate suffers as a result. However, with video, you can cover a vast array of pain points in an immediate and more relatable fashion. This is relevant whether you're creating explainer videos or just plain promotional content. 
Whichever method you choose, be sure it visually shows the consumer what's missing from their lives and how your product or solution solves that.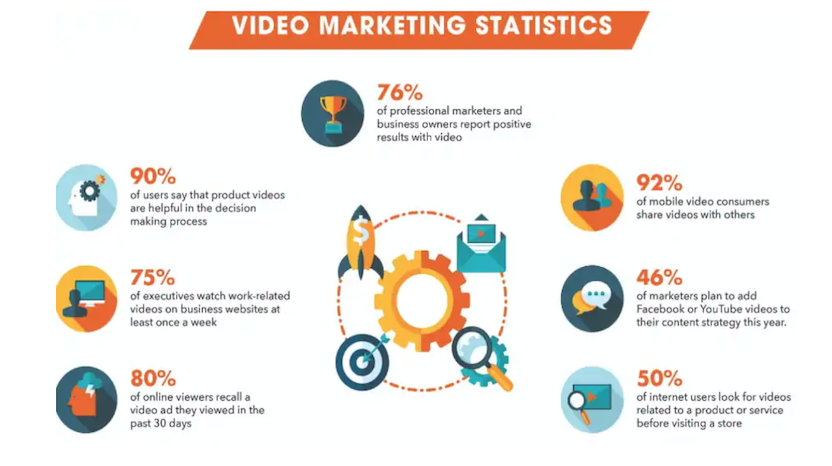 Examine the most common questions, queries, and complaints that your customer service team encounters, to gain some inspiration. Most customers would rather watch a brief video than scroll through an article when they're looking for solutions. So, ensure your content is to the point while still answering the common pain points that customers endure.
Lastly, you don't need to just talk about your product or service in a matter-of-fact fashion, either. Share some laughs, take them behind the scenes of how a product is made, or show off your office culture. Give them something to be more invested in and use this to create deeper connections through storytelling. 
3. Improving customer support
Today's customer support is about connecting with consumers in as many ways as possible. That's why firms leverage channels, including live chat, email, and a small business VoIP. Equipping your customer service team with video tools or can also help them improve customer retention scores. 
You can use pre-built videos in your FAQs to answer common questions or collaborate with your service team to film custom videos for a specific issue they've received. 
You can use the 'share screen online' tool found in most collaborative software to give customers immediate responses while later sharing the URL of the recording so they can refer back to it. Repetition is how humans learn, so having the recorded answer on hand ensures they don't need to contact the help desk again, helping eliminate lengthy email chains. 
Customer support videos also give you an opportunity to answer questions in various ways. Whether it's asked over a call, a support text, an email, using internet phone services, or on a live chat, you can send the video response. It's flexible. You can send them linked videos as well, pre-empting follow up questions. You can even speed this process up by integrating your CRM with your video library. 
Video content isn't meant to replace your current customer support system. Instead, it's meant to work in collaboration with it. Using customer support systems, businesses can determine what works and what doesn't. 
4. Personalizing your content
Establishing standard video procedures makes it easier to accomplish the most tried and tested tactic for customer satisfaction—personalization. Not only that, but it also boosts conversion rates, overall engagement, and lasting experience. Videos are easy to personalize, so you can create one for each unique situation. 
At the start of a video that answers a particular query, for example, you can film a personalized greeting and then let the rest of the clip play out as standard. This is a minimal effort solution, allowing you to reuse content for multiple people. 
Alternatively, you can create a standard video and then annotate the customer-specific frames. You could simply insert arrows to highlight what you're discussing or display where the customer should be focusing. Again, start these with the customer's name and a welcome message—the same video, just with predefined annotation. 
This sort of personalization shows that you care about the customer in question and take his or her concerns seriously. It's an easy way to create a perception of trust, but is also a great sales and retention tool.
For example, imagine that someone sends in a specific request for a proposal to your business. If they get back a standard plan along with an attached video that explicitly addresses how what you're offering can solve their problem, it becomes harder to say no to your proposition. It's a simple yet smart way to gain their attention, which is the most valuable currency in today's ultra-competitive online sphere (well, second most valuable currency, behind actual money, of course). 
Lastly, get rid of thank you pages or notes and put a video in their place. It's an ideal way to conclude a sale or follow up after a query is resolved. Instead, thank each individual personally; it's a great finishing touch to any interaction. And, yes, while this takes far longer than an email or DM, your customers will know the effort you've put into them even after your business has concluded. And that type of feeling resonates far longer. 
However, customer preferences change over time, and this does affect video content consumption. Using your analytics, databases, and social media monitoring, you need to determine where the majority of your customers view your content. Pairing this quant data with qualitative insights will also help you ensure that your video content is up to par. By testing your content through on-demand video feedback, you'll be able to see and hear exactly what your target audience thinks about your content and if you're targetting the right mediums. 

You should then use those learnings to alter the focus, length, and type (Q&A, webinar, how-to, testimonial, or promotional) of clips that perform best on your chosen channel or social platform.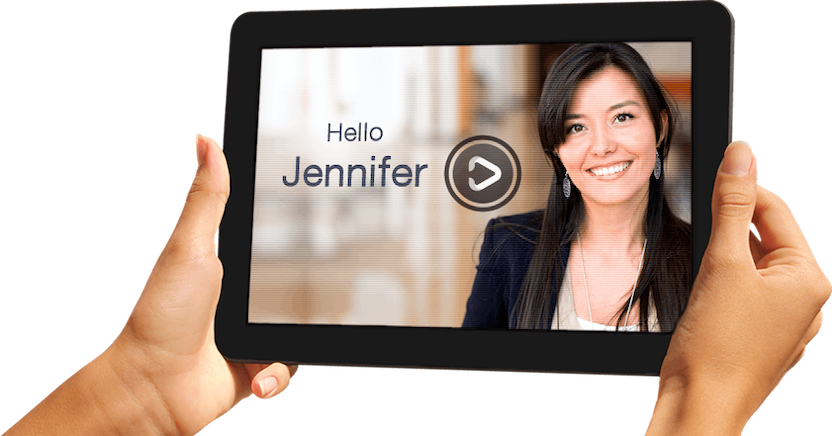 Video, as a customer experience tool, has seen exponential growth over the last decade. Yet, there are still many businesses trying to work out how to incorporate it into their own strategies. Video content has the potential to be much more than just advertising; it can completely alter the feeling a customer has about your brand. 
Videos share information faster, give customers something they can use again and again, and give your business a distinctive edge over your competitors, when done correctly. However, it won't work unless your efforts and output are truly genuine. 
Incorporate videos into your company culture and train those around you about their overall value. Your business can't succeed without buy-in from your customers. And video is a great way to show you care.
Insights that drive innovation
Get our best human insight resources delivered right to your inbox every month. As a bonus, we'll send you our latest industry report: When business is human, insights drive innovation.
About the author(s)
John Allen
John Allen is the Director of Global SEO at RingCentral, a global UCaaS, VoIP, video conferencing solutions and contact center software provider. He has over 14 years of experience and an extensive background in building and optimizing digital marketing programs. He has written for websites such as Vault and BambooHR.