Customer empathy: the new metric for success
Image
If you take a moment to think about all the companies and brands you like doing business with, they probably have one thing in common—empathy. And that's likely because customers value the experience of authentic empathy. Whether that experience is easily filing a claim with your insurance provider, being able to return clothes free of charge, or being able to get through to customer support without a battle, customers want to know that they can trust a business and its products and services.
However, becoming a business that evokes feelings of trust and loyalty doesn't happen overnight. These companies put a focus on all of the possible interactions they may have with their customers, small and large, across multiple touchpoints. In this article, we're going to show you what it takes to become a customer-centric business by way of empathy.
What is customer empathy?
Empathy is an abstract concept that we think of as being hard to measure. It's defined as the feeling that one person understands or shares another person's experiences and emotions; or the vicarious experiencing of the feelings, thoughts, or attitudes of another.     
In general, we think of empathy as something that's human-to-human, however, that's not always the case. 
In a recent industry report, When business is human: insights drive innovation, we discuss how companies can work toward a culture of empathy by committing to understanding their customers. This may sound squishy, but hang tight—it's possible to make the intangible concept of empathy concrete and tie it to business impacts and outcomes.
The new metric for success    
It's not uncommon to hear executives and decision-makers throw up their hands and give up trying to put a number to empathy because it seems impossible to create a model for measuring complex feelings. But the fact of the matter is that leading companies are already creating exceptional and measurable customer experiences that define who they are as a business.
Companies like Apple, Coca-Cola, Edward Jones, and USAA, to name a few, are picking up on the signals of empathy that can be measured through customer interactions. In other words, they're connecting the dots between their business and their customers by using defined goals tied to key CX metrics in a consistent and thoughtful way.
To go one step further, they're not just examining micro-interactions or a specific journey flow—though they are very focused on optimizing and measuring the effectiveness of each—but also customer lifetime value (CLV). They know that by projecting authentic empathy as a company, they will drive trust and loyalty that will make customers think of them first when they want or need another product or service they offer.
Customer empathy requires a change in how we connect business goals to outcomes
At the highest level, every business wants to drive the bottom line and in the most efficient way that it can. That's why they build and test new products, create effective marketing campaigns, and generate efficient processes with the end goal of making (and saving) money. However, these sorts of activities can be measured with industry-accepted metrics like daily average users, conversions, and cost-savings respectively.
But how does a business really measure empathy?
In order to do this effectively, it requires businesses to rethink what it means to be customer-centric. Not just in the products and services it provides, but at its core—what it really stands for.
If you think of your business' mission statement as the anchor to your brand, then you're off to a good start. Your company's mission statement should define your why, and really get to the heart of why your company does what it does. If you're able to define your why, then you're able to connect that mission to tangible initiatives and business outcomes that tell the story more effectively around how well your company is projecting authentic empathy.
Customer empathy in practice
Let's say that your company has a high-level mission of 'keeping it simple' for customers. One way that you intend to do this is by ensuring that your customer touchpoints are straightforward and accessible. Hopefully, this will give off the impression that your company is easy to work with. So this becomes your top-line goal.
To make progress on this goal, your company decides to undertake a series of initiatives, across multiple teams, focused on optimizing customer-facing touchpoints. A few examples might be to "reduce the number of steps required to buy online," "improve the self-service experience," or "right-channel the purchase process".
These initiatives get selected based on the expectation that they will drive improvements to key CX metrics. We often do "what-if" calculations to understand the costs and benefits associated with these projects so that we can reduce the risk of investment and understand what the potential business outcomes will be. We do UX research to understand the needs of our customers to ensure that we build what they need and avoid costly rework too. This is the core value of UX research. It guides business decision-making so that we can move the needle in the right direction to pick successful approaches that address true customer needs.
It means that human insights are critical to ensure that your company is making the right decisions for your customers. Whether you reduce the number of steps required to make a purchase or reduce the amount of customer support calls, you will be able to tie these metrics back to your goal of becoming a more empathetic organization—that keeps it simple for customers.
For a deep dive, please read our companion piece: Is your research team surfacing the ROI of customer empathy?
Customer empathy is based on insight
The key to great CX starts with putting human insight—which helps build meaningful connections with customers—into the hands of all teams. And the shift to a culture of empathy must happen in tandem, by connecting your company's mission to business goals and metrics (like the example above).
We can't express this enough: your business activities should be driven by the needs of your customers. With a human insight platform, companies are able to have remote access to more than a million consumers around the world so they can see, hear, and talk to their customers to understand their needs and concerns. It's from there that you'll be able to bring customer empathy into your company's strategy and mission, to help make customer-centric business decisions the only type of decisions you make.
When business is human, insights drive innovation
Download the 2020 CX Industry Report to learn how the industry is evolving and how your organization may be impacted.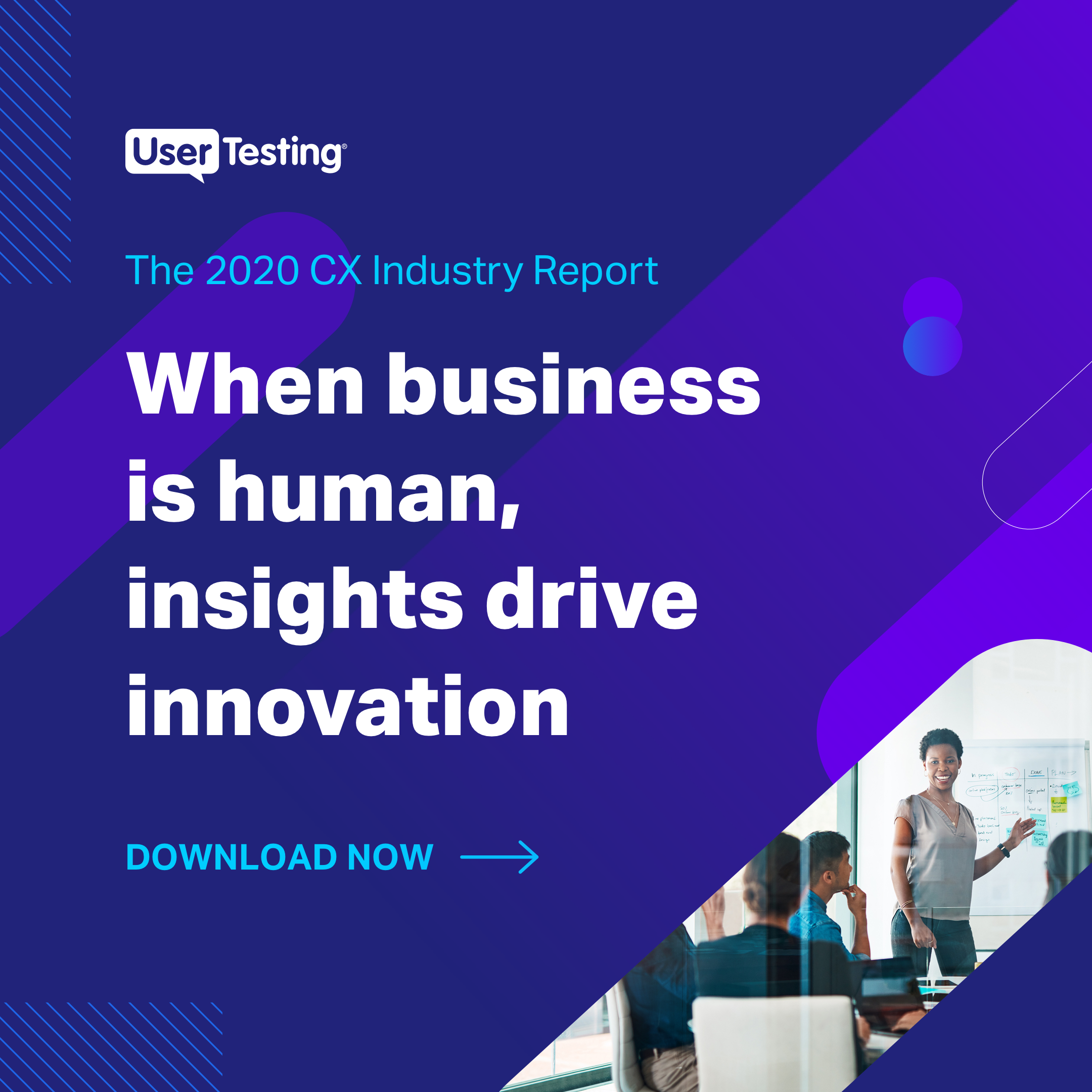 About the author(s)