Today's guest post comes from veteran startup founder Hernán Amiune. Enjoy!
---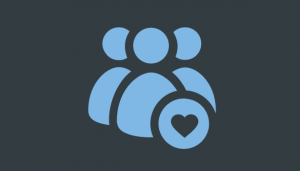 The two scarcest resources for any entrepreneur are time and money. In the last ten years I've founded five startups and been an investor, and mentor, to many other projects. Based on what I've learned, I can assure you that improving your user experience is the best way to avoid wasting time and money. Your goal is to resolve two fundamental issues:
Discovering the parts of your product that users don't understand (so you can make proper adjustments)
Identifying functions that aren't being used (so you can eliminate them)
Surprisingly, it doesn't require a huge investment of time or money to carry this out successfully. Nielsen Norman Group discovered that a study with five participants will uncover 85% of the usability problems.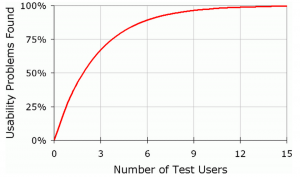 As you can see from the curve, it only takes 15 users to discover nearly all of the usability problems in your design. That's why it always puzzles me when founders don't make a habit of testing their product with their target audience.
If you want to build better products, have happier users, and avoid wasting valuable development time, here are five tips that will help you improve your startup's user experience.
1. Create a clear value proposition
The starting point for improving your startup's user experience is to effectively communicate your value proposition.
What does that mean? Well, it means you must be able to communicate the problem you're solving --- and the benefits you'll provide customers --- in 15 seconds or less. As CEO of Chartbeat Tony Haile mentions in this article, that's how much time you have to capture the attention of people on the web before they move on to the next page.
As founders, designers, and programmers, we often get caught up in the daily tasks of our project and fail to see things from the outside. We make the mistake of assuming that the rest of the world can easily understand what our startup does.
We must always remember the basic function of our site: to convert visitors into customers. This is accomplished by quickly and effectively explaining what problem you solve, how you do it, and why they should choose you right now.
Video is one of the most effective ways to communicate your value proposition in an engaging way. Slack, a startup based in San Francisco, is a great example of this. Here's the video they use on their homepage:
2. Focus on One Goal
Now that the user understands what you do and the benefits you can provide them, you need to give them an option to learn more. Focus on getting users to take a specific action, like signing up, starting a free trial, or selecting an appropriate pricing plan.
Canva does a great job of focusing on one goal. When you land on their homepage, you're presented with one major option: sign up.
Within seconds you can start designing graphics and images. From the user's point of view, it's quite simple. There are no doubts about what action to take.
3. Optimize your sales funnel
Having an effective sales funnel is another fundamental aspect of UX that gets overlooked by many entrepreneurs. It's easy to focus on everything related to acquiring a new customer, but we often fail to optimize the steps a customer must take to make a payment.
Amazon is known for having a foolproof checkout process. Their priority is making the shopping cart as simple and easy to use as possible. It may sound obvious, but the easier it is for customers to complete their purchase, the more likely they will be to actually buy something!
I recommend that you provide customers with some option to interact with your company during each step of the sales funnel, whether it be directly calling the sales department or chatting in real time. That way you're always there to help customers through whatever inconvenience or question that arises --- such as trouble entering their credit card information. And as a result, you'll learn how to improve the process.
4. Build a helpful on-boarding process
Just like we optimized the sales funnel, we should also provide the best onboarding process for new users.
When customers are using our product for the first time, it's essential that we help them create their first project, task, campaign, event, etc. Pay close attention to detail so that their experience is excellent from the very beginning.
Basecamp has a great on-boarding process. They use orange comment clouds to teach users what to do in a step-by-step tutorial until the task is accomplished. They also include a video that explains what the user needs to know.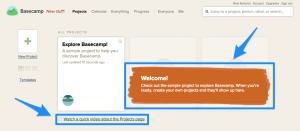 5. Test your product early and often
As a founder, it's your job to interact with your potential customers and learn as much as you can about their experience with your product. I learned a critical lesson from my startup el Mejor Trato: even though users were having problems using our tool, we didn't receive any indication or comments from them.
Users aren't going to take the time and bother to tell you what you're doing wrong --- they'll just use your competitor instead. That's why it's so important to consistently perform user tests and get feedback.
You can do this in person with customer interviews, or you can take advantage of online tools such as UserTesting which simplify and facilitate the process. Here are the basic steps you'll take when starting to gather user feedback:
Set clear test objectives --- Decide what you're trying to learn and specific goals outlining what you want to learn from your study
Define your target audience --- Figure out who your target audience is and recruit test participants from that demographic
Design your test script --- Write out a series of tasks you want to observe users performing and questions you want to ask them about their experience
Run your test --- Bring people into your office and record them while they complete your test, or use an online tool like UserTesting that automates the process for you
Analyze the results --- Watch the videos and take note of anything that users found to be difficult, frustrating, or confusing
Take responsibility --- Identify the biggest issues you need to address, and then decide who's going to be responsible for fixing each problem and when they can have it done
(Editor's Note: If you want to learn more about how to run a user test online, check out our Complete Guide to User Testing Your Next Project eBook.)
My recommendation to you
It's your responsibility to understand the problems that users experience with your site or app. And like I said above, your users aren't going to go out of their way to tell what they are. Instead, they're just going to use your competition instead.
If you invest in improving the user experience of your product, you'll have a much higher chance of success because you'll eliminate the friction points that users encounter, and you'll also stand out from the competition. Your users will be happier and you'll avoid wasting valuable time and money developing features that users don't want.
Don't make the same mistake many startup founders make. You don't need to wait until your product is finished to start testing. The sooner you can get feedback on the user experience --- even if it's just a prototype or a minimum viable product --- the better.