How voters access 2020 election information
Image
Welcome to UserTesting HITs, an ongoing series that shares human insight trends (HITs) uncovered from studies conducted by the UserTesting team. We hope you find these insights interesting and that they inspire you to conduct similar studies of your own! In this study, you'll learn how US voters access election information in preparation for the 2020 elections.
What we did
According to Pew Research Center study, about half (49%) of US registered voters expect to have difficulties casting a ballot in the 2020 presidential election. To better understand what information challenges exist in preparing to participate in the 2020 election and make recommendations on how governments and organizations can eliminate information and access barriers to increase voter participation, we interviewed new, occasional, and experienced voters across the US to learn how they access election information.
What we learned
Recommendations to improve access to voting information
Provide one-stop shopping for voting information: Finding election information is a key concern for voters. Many noted that a centralized, easy to use site would be ideal, especially for newer or less experienced voters.
Eliminate distractions: Just like any other digital experience, voters tend to scan through information, rather than reading every word. Make it easy for them by applying content formatting best practices like clear headers, links to additional information, and chatbots to answer common questions and eliminate all other elements that may distract from the information voters desire.
Explain the lingo: Clarify legalese, common terms, and voting jargon so voters quickly understand how the information they're accessing applies to their current situation (e.g., verifying voter registration, versus registering to vote).
Don't forget about local elections: Most voters expected to see information about local, state, and federal candidates and initiatives, yet many struggled to even find who or what would be listed on their ballot.
Hear voters talk about finding election information:
How do voters access information?
Google
For voters who didn't have a specific voter information website in mind, a Google search was their go-to tool, with most voters choosing from the top five search results, rather than choosing from the recommended content driven by Google's search ads.
Start with .gov, then .org sites
Voters chose sites that ended in ".gov" most, believing those sites to be the most trustworthy and up-to-date. If a .gov site didn't meet the voter's expectations, the most common (and trusted) next step was to try a .org site.
Experienced voters know where to look
When it came to experienced voters, most participants already knew where to start for information and often relied on their state's site for the Secretary of State or local political party-affiliated website to learn more about state and local candidates.
Barriers to trustworthy voter information
Heading into the 2020 election, some voters in the study expressed concerns about the reliability and trustworthiness of election information
Lack of information: Broken links, missing information (e.g. listing only two presidential candidates instead of all of them), led may voters to distrust information.
Buried information: Voters often overlooked important information because it was buried in paragraphs or link paths, which required multiple clicks and visits to less-than-relevant pages.
Information vs. action: Several voters located instructions on how to participate in the voting process, but struggled to find where to begin the process or verify their registration.
Poor site design: V

oters questioned websites that were poorly designed or ignored UX/CX best practices when it came to things like navigation or readability.

Biased views: Sites that were clearly 

partisan tended to be less trustworthy to voters.

No links to .gov or .org sites: Voters were wary of sites that didn't link to more trusted pages with .gov or .org domains.
I don't trust this [government] site. It' doesn't look updated.
The link that was broken needs to work! The website was fine, but when the link doesn't work and I can't check what it says the link will check [voter registration status] that's frustrating.
Share your insights with us! 
Have you conducted a similar study? Did these findings inspire you to run some experiments of your own? Insights are always best when shared, so share your biggest "a-ha" moments with us on Twitter with #RealHumanInsight.
Get the latest UserTesting HITs
Download the latest HITs to keep up with human insight trends.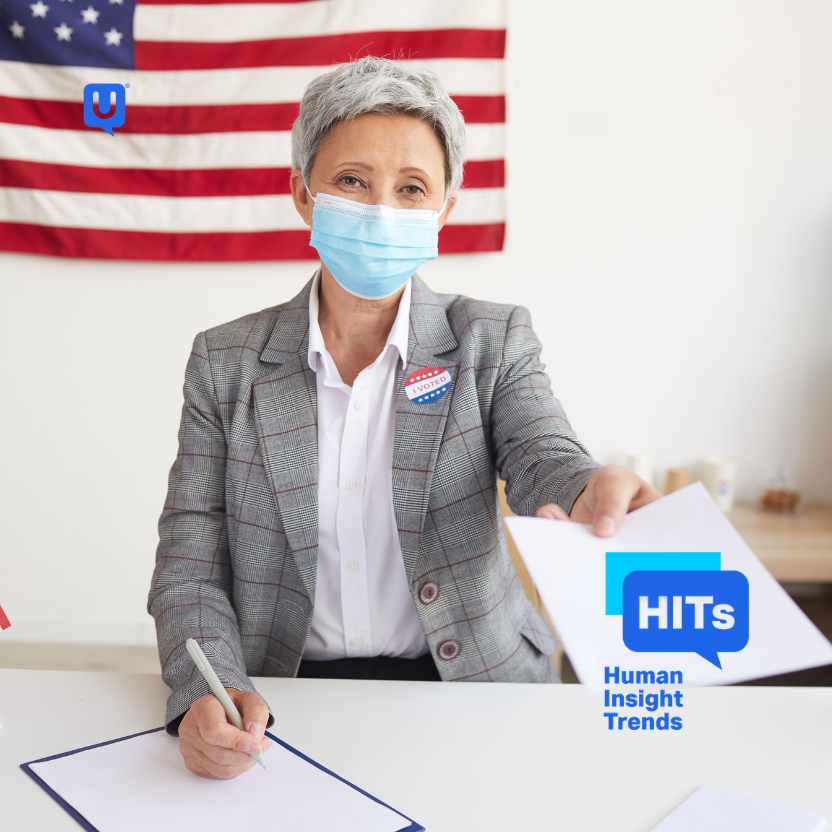 About the author(s)