How Top B2B Companies Use Customer Insights to Succeed: Step 3---After the Conversion
Image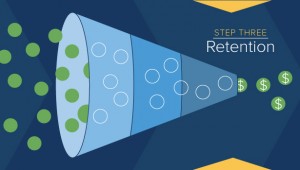 Sometimes we marketers spend so much time focused on getting potential customers to convert that we neglect to focus on what happens next.
Of course, conversions are wonderful. Everyone wants their audience to take action---that's the point of most B2B marketing efforts!---but what's important to remember is that these initial action moments are not where the sales cycle ends.
What happens post-conversion matters deeply for three reasons:
Many initial actions, such as signing-up for a free trial or taking a product demo, still need to be followed by an actual sale. Just because the customer is in the Sales team's hands doesn't mean the marketer's job is done!
Continued customer satisfaction is essential for companies that depend on a recurring payment/purchase model.
Customers who buy one product from a business are very likely to buy another.
In other words, focusing on engagement after a first action can lead to many valuable future actions.
So, how can you improve your post-conversion engagement efforts?
In the first two parts of this series, we covered how some of the B2B companies we admire use user experience tactics to build an audience and increase action-taking. In this post, we're going to explore how customer experience can help with the final phase, post-conversion engagement.
Three Key Tactics for Improving Retention and Engagement
In general, the marketers we talked to said they don't do anything too different to engage customers after a conversion. The core tactics—asking for feedback, monitoring metrics, testing offerings—tend to be the same as in other parts of the sales cycle. The key is that the companies who succeed say they invest the same amount of time and effort in engaging post-conversion as they do in pre-conversion.
So, what specific tactics do these top B2B companies recommend employing post-conversion? Here are three lessons respondents highlighted for us:
1. Tailor Swiftly: Immediately Customize Your Follow-Up Offerings to the Audience
For Crazy Egg, a heat map tool provider, getting visitors to sign up for a 30- or 90-day free trial is viewed as merely the beginning of the engagement process.
Crazy Egg puts every potential customer on an email drip sequence as soon as they choose a plan, with each engagement flow further customized based on the actions taken (i.e., has this person created a snapshot of their site, viewed the results, etc.). They also send contextual emails to individuals showcasing the value of running particular reports.
The point of these emails isn't to engage for the sake of engaging; it's to clearly showcase the value of the product and lead the person down a structured path from initial trial sign-up to sale. Given that goal, the metrics on these email efforts—open rates, click-through rates, etc.—are closely watched so the company can adjust exactly as needed.
Crazy Egg also makes extensive use of surveys to find out what potential customers like/dislike about its product and its marketing efforts. Again, the key is that these queries are targeted to specific segments. For instance, in a blog post earlier this year, the company gave this example of potential follow-up questions for different types of customers:

2. The S-Team: Enable Your Customers' Success
BrightEdge, an SEO and content marketing platform, has a single core value: customer success. In practical terms, this means it makes every effort to ensure that its clients are both pleased with its product after purchase and are using it to full effect.
To achieve a high level of satisfaction, the company provides set-up support and ongoing technical/consulting resources, as well as an extensive training program that includes a certification program. All of these efforts are showcased using a range of content, including case studies, videos, customer stories, and research papers.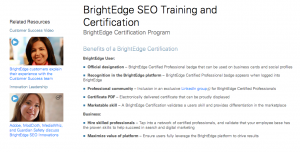 The key to success is that post-conversion engagement is structured and optimized. A dedicated Customer Success Team is responsible for the efforts and undertakes regular reviews of all assets/processes to see what's working (and what isn't). The offerings are then continually tweaked and augmented so that customers get the follow-up materials they truly need.
3. It's Simple: Be Useful
Formstack, an online form-building application, deeply appreciates the value of post-conversion engagement. As the company put it to us:
"Customers who engage with us tend to have a longer relationship with Formstack. If we can get clients involved with our marketing efforts early in their lifetime, they are more likely to stick with us longer and be advocates for our brand."
So how do you build this sort of highly-valuable brand relationship with customers post-conversion? In essence, it comes down to this: Be useful.
To be truly useful to its customers, Formstack starts by sending bi-weekly emails highlighting hot posts on its blog. The key is that these topics tend to be specific to the product, covering challenges many users are grappling with.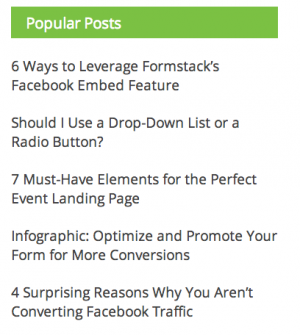 The company also hosts quarterly webinars on various digital marketing topics, such as landing page optimization and content marketing through forms. Again, the goal is to provide truly fresh, useful, content.
Insights on what's working with these efforts come in part from qualitative metrics---email click-through rates, blog post views, etc.----and in part from qualitative feedback via the webinars and other events. The emails and webinars are then adjusted to better meet the needs of customers.
Of course, "be useful" isn't a groundbreaking idea—but that's the point. The best B2B post-conversion customer experience tactics (as well as audience building and action-encouraging tactics) work not because they are complicated, but because they are simple.
Most marketers already have access to the core tools they need for success---metrics suites, testing platforms, survey tools---the vitally important thing is to use them regularly, and effectively.
Which customer experience tools and tactics do you use to build awareness, boost conversions, and retain happy users? We'd love to hear your story in the comments below! 
Insights that drive innovation
Get our best human insight resources delivered right to your inbox every month. As a bonus, we'll send you our latest industry report: When business is human, insights drive innovation.
About the author(s)