How customer feedback can supercharge your product page
Image
Today's guest post comes from Chris Campbell, CEO of ReviewTrackers. Enjoy!
A number of marketing executives and UX designers have a go-to list of best practices for creating a killer product page.
Use big, beautiful images. Write persuasive sales copy. Use emotional triggers. Get your delivery information right. Have well-placed calls to action. Cut the clutter.
One thing that isn't commonly cited—but which can have a significant impact on the success of your product page—is customer feedback.
In today's multi-channel consumer landscape, customer feedback can take on different forms, from social media comments and online reviews and ratings to usability tests, survey responses, and even call center notes.
Whatever the form, the most valuable kind of feedback often contains useful information shared directly by customers and offers candid, honest opinion on a product, service, or experience.
Customer feedback also happens to be the smart e-commerce marketer's secret weapon for improving on-page conversion. Let's explore the ways you can use customer feedback to supercharge your product page.
Customer feedback can improve your search performance
According to a 2015 study by Social Media Link, 83 percent of shoppers discover new products every month through customer reviews and social media.
This demonstrates how consumers today actively look for and engage with information that comes not from salespeople or traditional advertising, but from fellow consumers.
It therefore makes sense that search engines are placing greater importance on online reviews and customer feedback shared publicly on digital channels.
Search Engine Journal asserts that reviews can influence

up to 10 percent

of a business' search ranking.

Meanwhile, SEO software company Moz suggests that reviews are

one of the top seven factors

that influence local search rankings.
Our advice? Add reviews to your product page. And provide a means for customers to share their thoughts in their own words (and generate fresh search-engine-friendly content on your behalf).
But don't stop there. With the right analytical tools, you can dive deeper into customer feedback and extract high-impact insights to guide your SEO strategy. Here's a classic example: fashion brands used to insist on calling hoodies "hooded sweatshirts," until textual analysis of reviews and search trends revealed that shoppers much preferred "hoodies" when writing reviews or typing on search engines. By tweaking product copy and switching from "hooded sweatshirts" to "hoodies"—or another variation, like "hoodie sweatshirts"—clothing retailers quickly set themselves up for improved search relevance and better rankings.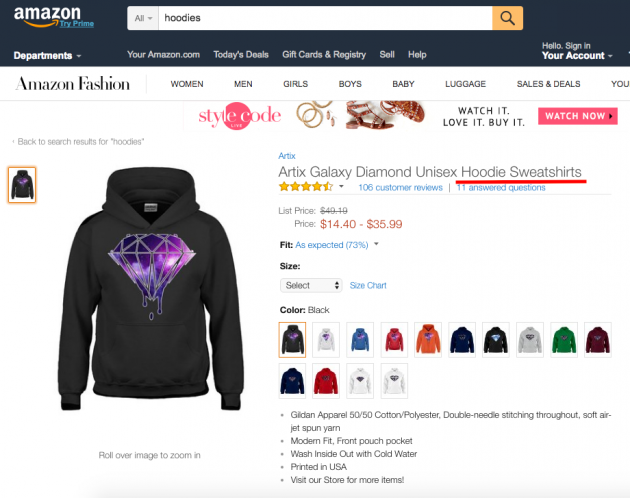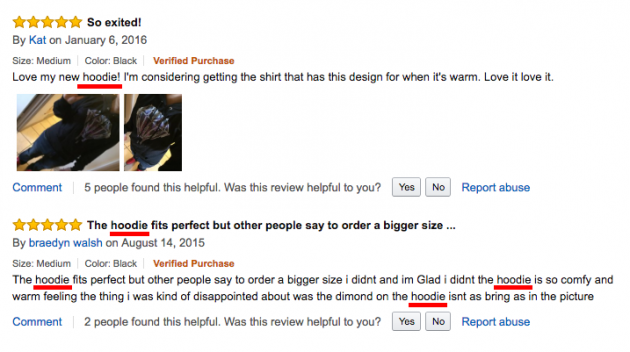 True to its purpose, customer feedback brings the voice of the customer to the forefront. Harness it to fine-tune your product page in ways that speak the language of your customers.
Customer feedback can help you achieve a more accurate, complete view of the user experience and the customer experience
According to Econsultancy, 88 percent of online consumers are less likely to return to a site after a negative experience.
That's why it's always useful to ask: what made shoppers stay, and what pushed them away? What part of your product page worked best and what didn't? Maybe users gave up instantly after finding that upon checkout the shopping cart was empty, even after an hour's worth of putting items in it. Or maybe, judging by the photos, they decided that the product wasn't worth purchasing. Or the problem could be the painfully slow pace at which the pages loaded on Safari for iPhone. And are you totally sure it wasn't the clunky currency conversion tool?
This is another situation where customer feedback—in particular, usability tests and online reviews—can help. By running usability tests and leveraging online reviews, you can more effectively create a product page experience that converts as many visitors into customers as possible.
Usability testing lets you get inside the heads of your target audience.
Usability tests, a method of evaluating a website by testing it with real users that are part of the target audience, can help you understand which parts of your product page visitors are drawn to, what catches their attention, what their reading patterns are, which sections they're ignoring or getting confused with.
Usability testing takes the guesswork out of the equation and serves as one of the most effective ways to get inside the heads of your target audience, see through their eyes, watch what they do, and hear what they think.
Usability testing with first-time customers is particularly useful for getting a fresh eyes' perspective and detailed insights about the user experience at one of the most critical points of the customer journey: before your product page converts shoppers into buyers.
A tool like UserTesting simplifies the whole process of running usability tests and adds one of the fastest and most advanced user experience testing platforms to your marketing arsenal.
Online reviews help you understand shoppers' satisfaction with their purchase experience.
Online reviews, meanwhile, can help uncover the thoughts, opinions, and sentiment of people who have already bought and used the product — and are sharing their feedback in their own words. As such, reviews are incredibly useful for understanding the digital in-store experience in a post-transactional context. Are the shoppers satisfied? Will they return to your site and recommend your product to friends?
Proactively requesting reviews from verified customers is one of the quickest, most effective ways to have those kinds of questions answered. E-commerce giant Amazon wastes no time with its product review requests: a few days after a purchase, customers receive simply worded e-mails designed to generate feedback, such as the one below: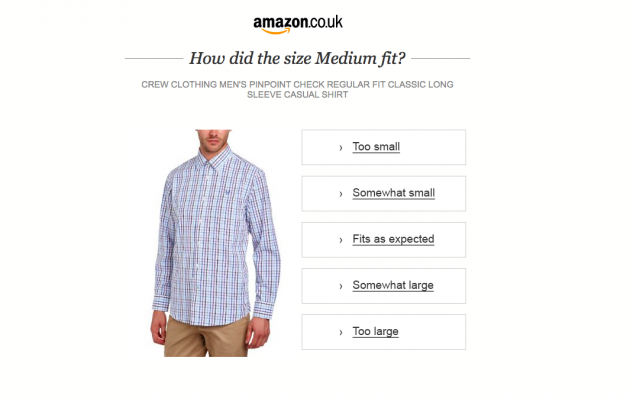 Customer feedback can foster consumer trust and boost shopper confidence
According to market research firm YouGov, 4 in 5 American consumers read online reviews and ratings before making a purchase decision. Reviews also inspire twice as much trust as general social networking "likes" and branded social media content. And according to Northwestern University's Spiegel Research Center, product purchases are most influenced by reviews with an average rating of 4.2 to 4.5 stars out of 5, making this the ideal average star rating for purchase probability.
What do these research studies tell marketers and UX designers? That, despite having heightened expectations, consumers today value authenticity more than perfection.
Your product page should do the same: foster consumer trust and boost shopper confidence by being transparent with the kind of customer feedback you're getting, regardless of satisfaction scores and star ratings.
Take your cue from Nordstrom, where even the list of recommended related items—or products in the "frequently bought together" category—comes with customer ratings. It's a great example of how you can encourage shoppers to stay on your site and keep browsing instead of exiting the funnel without a purchase.


Another way to bolster your product page is by leveraging customer feedback to act as "trust seals" that provide an extra measure of security and authenticity. According to YouGov, more than half of U.S. consumers read reviews to make sure they don't get ripped off. That's why it makes sense to harness well-known customer feedback platforms and add, say, BBB ratings or the TripAdvisor Certificate of Excellence widget to your page.
One great example is how The Honest Company incorporates awards and certifications information into every product page. Apart from getting recognition from PETA and Green America, Jessica Alba's soap has also earned acclaim from family-friendly lifestyle brand Red Tricycle, beauty product reviews site Total Beauty, and parenting-focused consumer voting platform Cribsie—and The Honest Company is smart enough to use these organizations' logos as conversion drivers.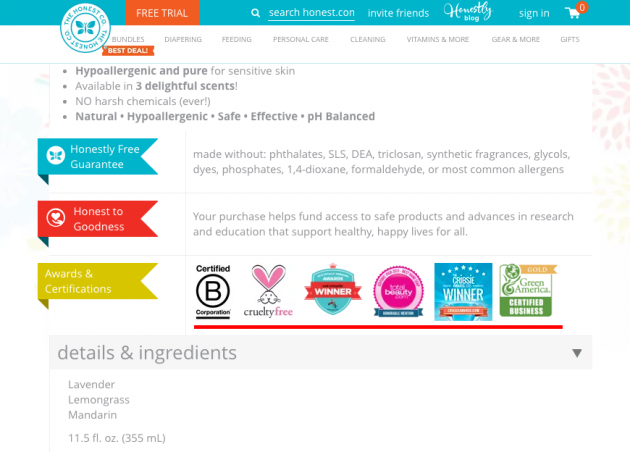 Conclusion
Customer feedback is one of the most valuable assets for businesses of all types and sizes. It can help you improve search visibility, measure and optimize the customer experience, and inspire consumer trust. So, while strategies for creating effective product pages may vary depending on industry and category, companies that actively listen (and respond) to customers will always have the edge. You could have the smartest copywriters, the most talented designers, and the most advanced sales funnel management software... but what may truly drive conversion and clinch sales is your ability to innovate based on customer feedback.
Insights that drive innovation
Get our best human insight resources delivered right to your inbox every month. As a bonus, we'll send you our latest industry report: When business is human, insights drive innovation.
About the author(s)
Chris Campbell
Chris Campbell is the CEO of ReviewTrackers, the award-winning review management and customer feedback software that elevates the voice of the customer and enables brands to innovate based on customer feedback. Trusted by over 25,000 client locations, the ReviewTrackers platform empowers businesses with data analytics and actionable customer intelligence to help them manage online reviews, improve brand reputation, and make data-driven decisions that result in increased profitability.