The future of travel: what makes consumers willing to travel again
Image
While America contemplates lifting restrictions and what our new normal really means, we interviewed consumers about their expectations for the travel industry. We observed a spectrum of cautiousness, ranging from those who are ready to travel as soon as possible, to those who need to be gradually assured of their safety before taking a trip.
In order to help the travel industry understand consumer sentiment and maximize strategies to bring back travelers, we've painted a picture of what the future of travel might look like, based on feedback from actual consumers. Check out our findings below—from booking a flight to deboarding a plane, and everything in between.
Planning and booking travel
When booking their next trip online, consumers are looking for the most flexible change and cancellation policies, because they don't know what's around the corner. "Things happen in people's lives," said one consumer, "and we have no idea if this will happen again, so having that extra reassurance would be better."
The type of vacation destination is being weighed too. Many potential travelers are opting for secluded beach stays versus family amusement parks, for example. Places that are more remote, and with less population density are top of mind. Travelers are even going so far as checking COVID-19 cases in the area that they're researching. A health forecast of sorts.
Airport check-in
When arriving at the airport to check-in, travelers are making sure that they have their boarding passes on their phones (to reduce human interaction and touching kiosks). However, checking a bag often means using one of those kiosks. Travelers now expect sanitation materials to be readily available and provided in order to minimize risk when using self-service kiosks.
There is hand sanitizer everywhere in an airport...but maybe there just needs to be more at this time.
Security and terminal
When it comes to security and TSA, travelers need to be assured that there will be space maintained between passengers while they wait in line.
When you are going through security have enough space for people to have some distance from each other, also, I don't think I've ever seen them wipe down one of those belts ever.
Additionally, travelers want to see staff wearing masks and gloves to protect themselves and passengers. Understanding that it may take longer to get through security, travelers hope to see that the bins are being wiped down between use.
And at the gate, food from restaurants should be to-go only, and people should be required to space themselves out throughout the terminal. Airlines could even consider rearranging the seats to promote social distancing.
Pre-boarding and boarding
As you probably could've guessed, cleanliness and sanitation remain a top concern for travelers. "I would love to know that between flights, seats and trays are being disinfected and wiped down," one potential traveler stated. While they believe this sort of cleanliness should be routine for airlines, special attention to sanitation is more important now.
And about those boarding lines. Travelers up to this point have been doing their best to remain socially distant, so congested lines aren't conducive to this practice. Travelers favor boarding in small groups to enable people to stay as spaced out from each other as possible. 
Finally, in the spirit of social distancing, (and not to our surprise) travelers don't want anyone sitting in the middle seat.
Baggage claim and car rental
Much like checking-in to a flight, travelers note that they'd be more inclined to take a trip if they're ensured that sanitation materials are readily available at all stages of their journey. Like when they're claiming their baggage, for example. Once a traveler sees their bag, they'd like to be able to wipe it down, right then and there.
Travelers also noted that they'd now prefer to rent a car than use ridesharing. They feel like their health and safety is more in their control this way.
A rental car is basically like I have control, I could spray it down with Lysol. With rideshare, I don't feel like I have as much control.
Hotel check-in
When it comes to a hotel stay, much of the same sentiments apply for air travel. In fact, travelers mentioned that they would like to be able to check-in virtually and be able to pick up their key card from a locker or holder in order to minimize unnecessary human interaction. Ultimately, people want to be reassured and feel confident that the hotel is taking all the extra steps to ensure that there are minimal health risks.
I guess I just wonder how clean the linens and things are sometimes. Maybe if they put some little cards out by the bedside and said what antibacterial products they were using.
Share your insights with us!
Have you conducted a similar study? Did these findings inspire you to run some experiments of your own? Insights are always best when shared, so share your biggest "a-ha" moments with us on Twitter with #RealHumanInsight.
Thanks to Amanda Woods, Senior Solutions Consultant, Landon Barnes, Senior Solutions Consultant, and Anthony Rogalski, Solutions Consultant, for collecting these insights on behalf of UserTesting.
COVID-19 Human Insight Portal
Resources and insights to help you stay connected to your customers.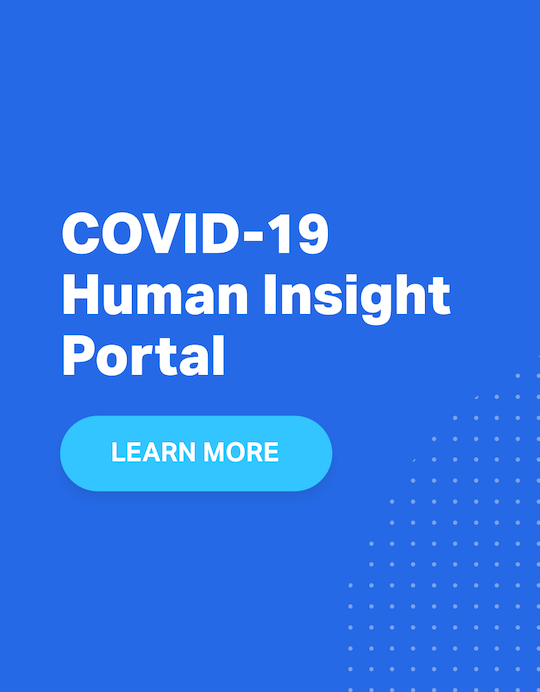 About the author(s)