Harvard Business Review Analytic Services reveals the role empathy plays in developing human-centered CX
Image
The relationship between organizations and consumers is constantly changing, but recently, it has fundamentally changed as a result of the pandemic. Organizations must now become more empathetic to meet rapidly changing needs and expectations. New research, commissioned by UserTesting, and conducted by Harvard Business Review Analytic Services, identifies the role empathy plays in delivering a better customer experience (CX). 
The role of empathy in developing CX according to Harvard Business Review Analytic Services
The study revealed that nearly three-fourths (71.6%) of businesses stated that they 'understand what it feels like to be one of our customers'. However, just over one-third (35%) of consumers surveyed agreed that companies actually understand them. This gap in understanding—which we've also seen in other research and is referred to as the empathy gap—between companies and the customers they serve, is an area of opportunity that business leaders should actively address. 
Organizations spend billions of dollars to understand their customers through mountains of data, but turning that data into actionable insights is challenging. Despite the investment, 86 percent of business executives acknowledge the difficulty to completely understand their customers from analyzing data alone. The report also found that more than half (58%) of the consumers surveyed agree that companies today have lost the human touch when dealing with their customers. 
The ability to understand customers means moving beyond just data to learn what they see, hear, and feel in relation to your brand and products. Seeing the world through your customers' eyes provides the type of feedback needed to create great customer experiences. -Janelle Estes, Chief Insights Officer, UserTesting. 
Ultimately, companies that better understand their customers are going to reap the rewards over those companies that don't. In fact, eighty-six percent of business respondents agree that they need to share customer experience insights more widely throughout their organizations in order to create a culture of customer centricity. It's undoubtedly a differentiator in today's marketplace.
Unlock insights from the report
Becoming customer-centric may be a goal for today's organizations, yet many struggle to achieve it. The report explores the role of empathy in delivering a better customer experience, the reasons why many companies continue to over-index on data rather than facilitating human connections, and provides recommendations on how business leaders can bring greater customer understanding into the decision-making process—and ultimately grow the bottom line. 
Survey methodology
Harvard Business Review Analytic Services surveyed 251 business executives from the HBR audience of readers (magazine/newsletter readers, customers, HBR.org users), and 1055 respondents drawn from a global consumer research panel completed the survey, from the United States and Canada. The survey was conducted in July 2021.
Emphasizing Empathy as a Cornerstone of the Customer Experience
the reasons why many companies continue to over-index on data rather than facilitating human connections.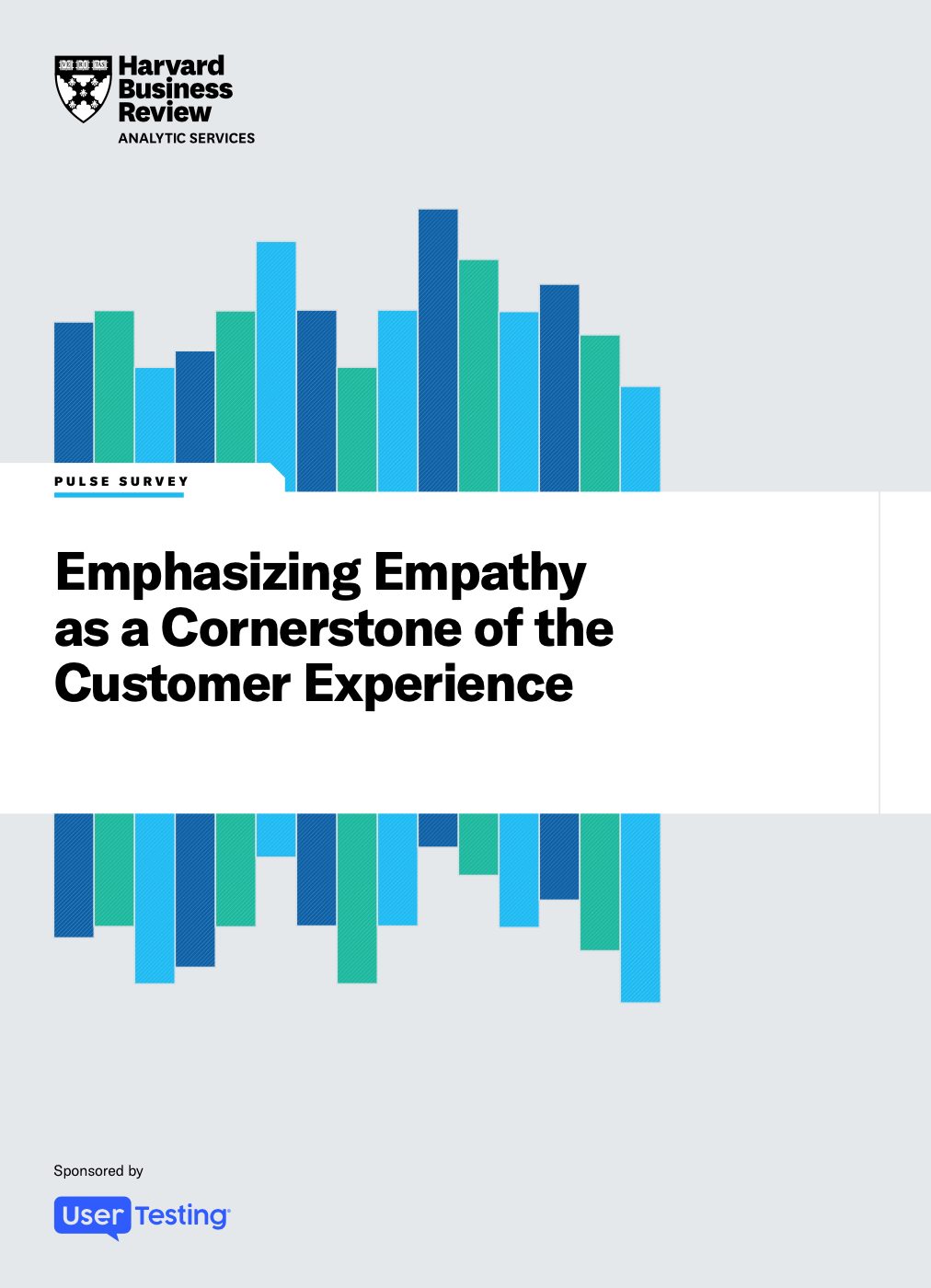 About the author(s)