ICYMI: highlights from the virtual Human Insight World
Image
Last week, people from around the world came together, virtually, for the first, two-day customer experience (CX) conference of its kind—Human Insight World (HiWorld).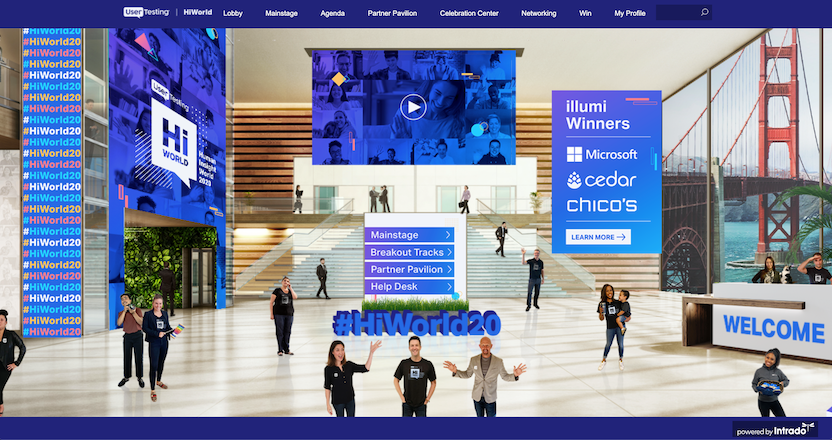 HiWorld is an interactive, online event designed to bring CX professionals together to learn from and network with their peers and other like-minded practitioners. Attendees and speakers included the best in research, design, product, and marketing—from Fortune 500 companies to small and medium-sized businesses.
If you'd like a chance to experience HiWorld, you can still sign up to access all the content on-demand. Not convinced? Here's more of a sneak peek.
HiWorld keynote sessions you'll want to share with colleagues
On day one, the conference was kicked off by Andy MacMillan, CEO, and Janelle Estes, Chief Insights Officer, at UserTesting. In their opening keynote, they discuss how companies are leveraging the power of human insight to understand changing customer behaviors, deliver innovative new experiences, and drive more value for their customers and their businesses.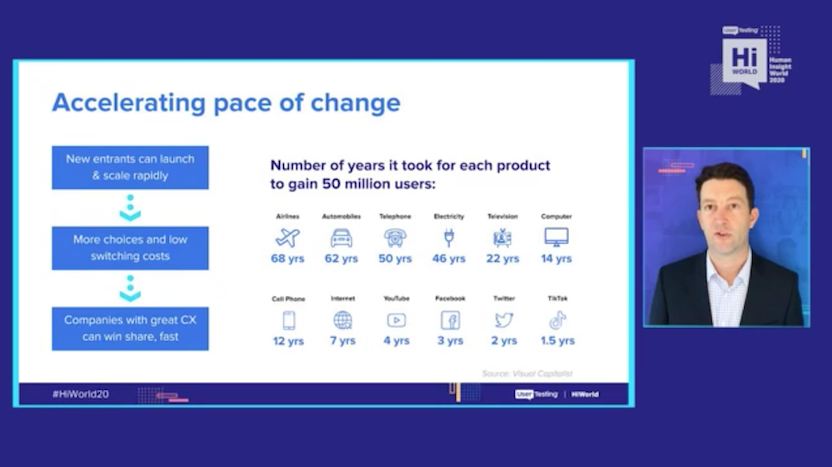 And closing out the first day was Wharton Professor and change expert, Dr. Jonah Berger. In his session, How to Change Anyone's Mind, he outlines a revolutionary approach to change and how you can become a catalyst for change.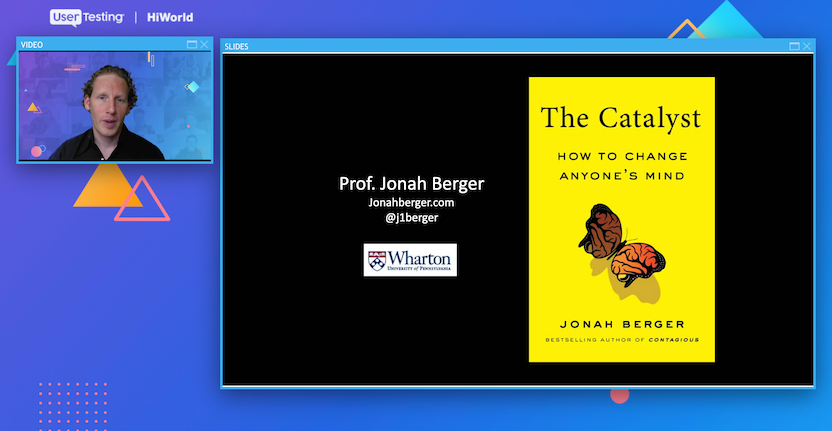 On day two, UserTesting's Kaj Van de Loo, CTO, and Michelle Huff, CMO, kicked off the conference with a product keynote. In this session, they shared the latest product and platform innovations—which are also highlighted in our October 2020 Product Release.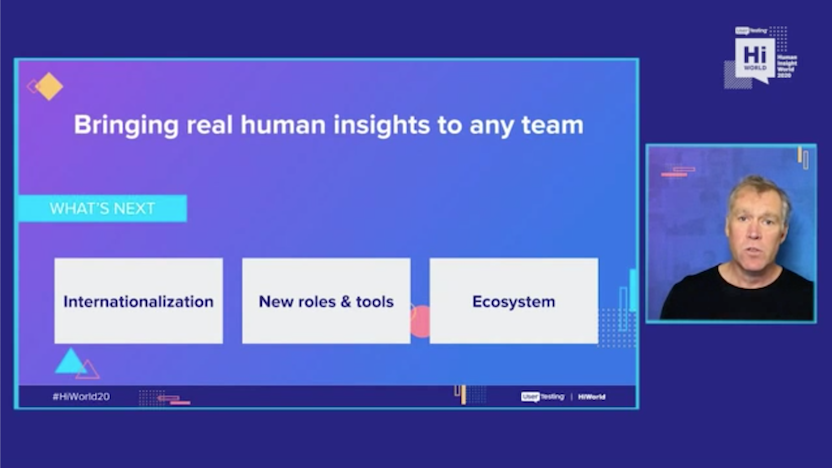 Finally, closing out the second day was Tricia Wang, Co-Founder of Sudden Compass, and Global Tech Ethnographer. In her session, How to Learn About Your Customer When Everything You Know About Them Has Changed, she introduces this new and emerging era, in which companies must recognize how quantitative data is tied to the past and embrace ways to merge it with more future-forward information sources. She calls this thick data.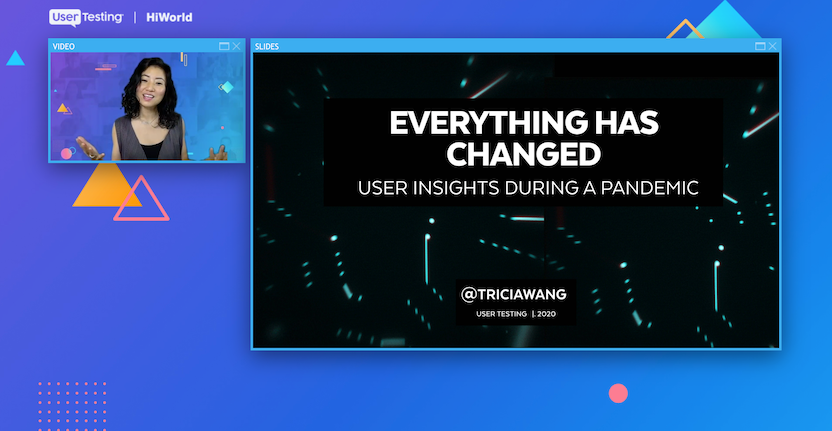 Customer-led breakout sessions
As if the keynote sessions aren't enough inspiration to register, there were over twelve breakout sessions packed with insightful Q&A. Designed with your needs in mind, HiWorld featured three breakout tracks with sessions that addressed human insight, feedback strategies, and qualitative research in ways that are most important to your role and organization:
Power of Research: strategies for maximizing the value of world-class UX research
Insights for Business: how to make human insights central to any team's business strategy
Customer Feedback Fundamentals: best practices for designing, executing, and growing a research program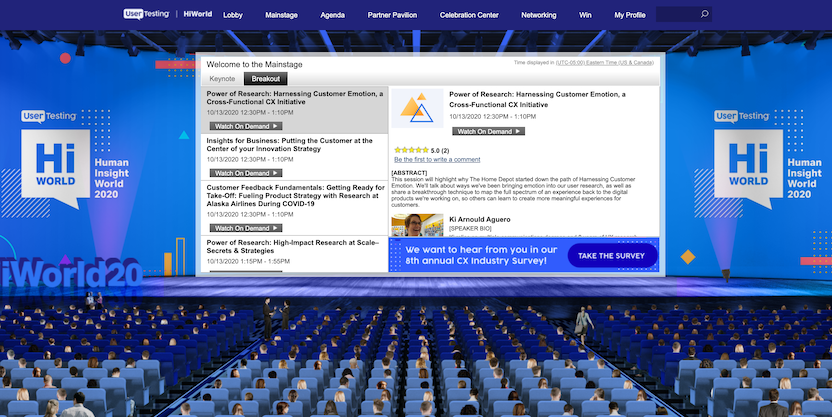 Check out our full list of speakers and session titles within the conference platform, here.
illumi Award winners announced in the Celebration Center
The UserTesting illumi awards seek to inspire the world to think about human insights as a key ingredient for customer experience excellence, product and marketing innovation, and team success. These awards recognize and celebrate the individuals and organizations that use UserTesting to make a meaningful difference in those areas.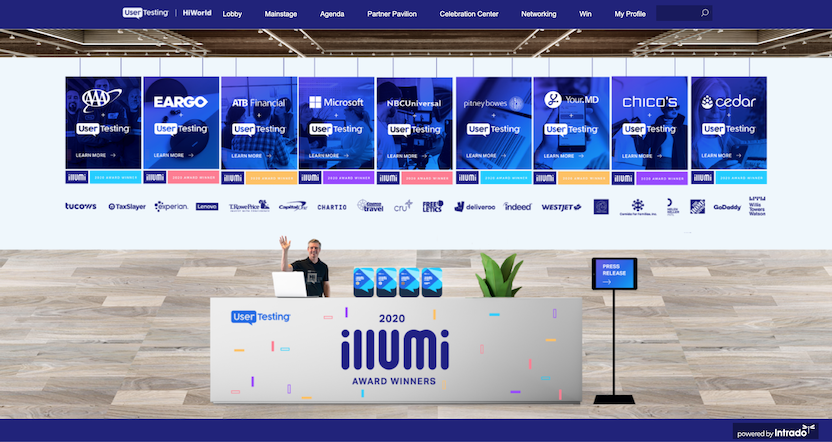 This year, we're proud to announce that there were nine winners across several different categories. Some of the winners include AAA, Microsoft, NBC Universal, and Chico's, to name a few. You can view their success stories in the platform, but here's a sneak peek.
Gain access to invaluable CX content today
The customer experience industry is constantly changing. And that's because the needs of the customer are always growing and adapting to the world they live in. In order to meet your customers' expectations, it's vital that you collect customer feedback in thoughtful and efficient ways.
Be sure to claim your ticket to the on-demand Human Insight World for the tips, tricks, and best practices you'll need to create world-class experiences your customers love. It will be left available for one year!
Insights that drive innovation
Get our best human insight resources delivered right to your inbox every month. As a bonus, we'll send you our latest industry report: When business is human, insights drive innovation.
About the author(s)