New UserTesting feature: Invite Network
Image
We're thrilled to announce that our newest feature, My Recruit, has been launched into public beta today!
My Recruit gives UserTesting customers the ability to create and launch a study with anyone, anytime—on demand. Best of all, the feature is completely self-service, helping customers tap into insights from employees, existing customers, industry experts, and people within unique demographics faster and easier than ever before.
We have many proprietary hotel management systems so it's critical that we use a private community of users, including employees and franchise hotels, for our user research,My Recruit is both private and fast! I now have complete control over setting up and distributing our tests, saving a significant amount of time.

- Andy Smith, User Experience Manager of Global Revenue Systems at IHG
Key features
With My Recruit, you can recruit users to test your product, helping you:
Gather on-demand, actionable, feedback from existing customers, industry experts, and more

Get insights even faster with completely self-service testing with highly-targeted audiences

Engage employees and generate excitement about your brand and products
How it works
My Recruit is built into the UserTesting platform, so subscription customers will now see the option to select "My Recruit" as the target audience when creating a study.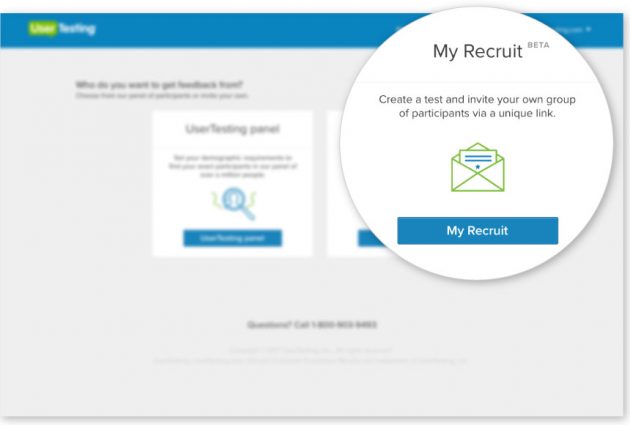 When you're ready to launch your study
A link to your study will be generated that you can share with your participants.

We'll also provide you with an email template that you can use to share information about the test with the group of participants you've chosen.

You send your participants an email explaining what the test is for as well as instructions on how to conduct the test. Participants will be guided through the test every step of the way, and soon you'll have videos from your users to review.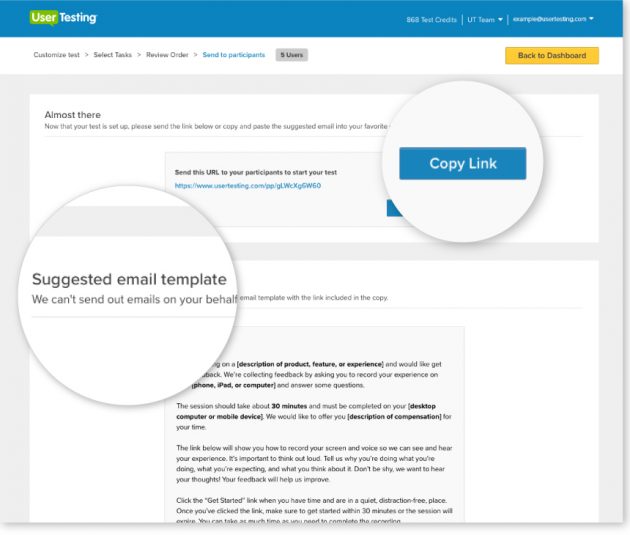 Get the most from My Recruit
My Recruit empowers companies to tap into audiences in ways that were previously unscalable due to logistical, financial, or timing considerations. Here are a few ways our customers have been getting results with My Recruit:
Hear from your power users
Another source of valuable insight are the power users of your brand. Sometimes a product or feature requires experience and knowledge of the product or a subject area. And that's where My Recruit can help zero in on specific personas to discover how well your product resonates with a specific audience.
Test with demographics not on the UserTesting panel
Sometimes you need to test with individuals that meet an exclusive demographic that isn't offered on the UserTesting panel.
My Recruit gives you the ability to reach out to unique audiences that you may already know that would otherwise be difficult to recruit for testing.
While we value the User Testing panel, our niche professional audiences—clinicians, medical educators, clinical researchers and healthcare executives–are hard to find. To add to the challenge, for many tests we prefer participants to be subscribers to one of our products. My Recruit made it significantly faster and easier to reach our subscriber base and gather the customer insights we need to improve our websites.

-Roger Feinstein, Director of Market Intelligence at NEJM Group
Generate employee engagement with internal testing
Employees can be a company's greatest ambassadors—if they're engaged and involved in improving the brand. But testing new features with an internal audience can be time-consuming and costly making it challenging to incorporate into an agile process.
My Recruit empowers companies to quickly and easily solicit feedback from internal audiences, driving more informed design decisions and increased employee engagement. The result? A better customer—and employee—experience.
Who this is for
My Recruit is available to any UserTesting customer who wants to launch self-service, on-demand desktop and mobile web studies with a customized group of test participants not in the UserTesting panel.
  Test participant recruitment, compensation, and communication are managed directly by the customer so studies can be launched anytime, with anyone.
Customers who prefer to have UserTesting recruit and manage the study can still do so through your Customer Success Manager.
Watch a demo
To see a quick demonstration of My Recruit in action watch the video below.
Want to learn more?
Listen to our on-demand webinar to hear how organizations use My Recruit to set up tests on-demand with their customers to achieve product market fit faster and create a customized testing experience.
Let us know what you think!
We'd love to know what you think of My Recruit, so give it try and share your feedback with us!
More resources you may like:
Insights that drive innovation
Get our best human insight resources delivered right to your inbox every month. As a bonus, we'll send you our latest industry report: When business is human, insights drive innovation.
About the author(s)