My Panel enables companies to onboard and connect with panels of their own users, prospects, partners, and even employees within the UserTesting platform.
---
Making confident, customer-centric decisions requires companies to connect with their users and get feedback from them on an ongoing basis. To capture the most holistic view of the user experience and inform areas for development and improvement, businesses need to capture feedback from all of their audiences, including customers, prospects, and partners.
To date, the UserTesting Panel has helped thousands of companies across industries get the feedback they need while taking the hassle out of recruiting and managing test participants. However, while the UserTesting Panel has a broad range of test participants that meets the needs for most situations, many research, marketing, product, and design teams depend on feedback from their current customer base to get hyper-specific, actionable insights. This sometimes requires organizations to leverage their own customer lists of loyalty members and recent buyers, for example.
While there are methods for targetting these audiences unique to your business, they're often expensive, time-consuming, and riddled with internal barriers. Many of our customers cite the difficulties of testing with their own audiences, including things like paying participant incentives, compliance, internal approval processes, scheduling, targeting, and more. 
To say the least, recruiting and managing your own audiences can be a challenge for even the most sophisticated organizations.
Introducing My Panel
My Panel takes the hassle out of collecting customer feedback by enabling companies to create and connect with panels of their own users, prospects, partners, and even employees within the UserTesting platform. This gives you the option to expand your targeting preferences from the UserTesting Panel to include panels of your own custom audiences while getting feedback through self-guided video recording or Live Conversation.
Simplify panel management 
Recruiting and managing your test participants can be a daunting task—not to mention time-consuming. From scheduling and notifying participants to managing incentive payments, it can become a handful—quickly.
My Panel enables you to streamline the recruitment and management of test participants, so you can get insights from your exact audience more efficiently than ever before. By bringing your audience to the UserTesting platform, we're able to target, notify, and schedule your participants on your behalf. Panelist's data (including opt-in/opt-out status) and incentive payments are also managed for you, so you focus on research.
My Panel opens the door for us to get a deeper understanding of our current customer experiences and expectations. We were able to recruit our customers into a private panel and let UserTesting handle test notifications, incentive payments, and more for our research studies, enabling our team to focus more of our time on generating insights." -Chris Tait, Senior UX Designer, AAA
Target your ideal audience with ease
Connecting with your ideal participants for each test is vital to receiving accurate insights. That's why we've built custom filters to help you target your users through attributes that are unique to your business context. 
All you have to do is customize your participant profiling questions, so when people join your panel, they'll be asked a series of questions to create custom targeting filters. These filters will help you more effectively target the right audience in the future—ensuring the feedback you receive is the actionable insight you need to build better products and experiences.
With My Panel, we get the best of all worlds. We can onboard our own audiences onto UserTesting, enabling us to create tests, target and engage with our customers, and discover insights all through the UserTesting platform. -Andrew Frueh, VP of User Experience, HealthCatalyst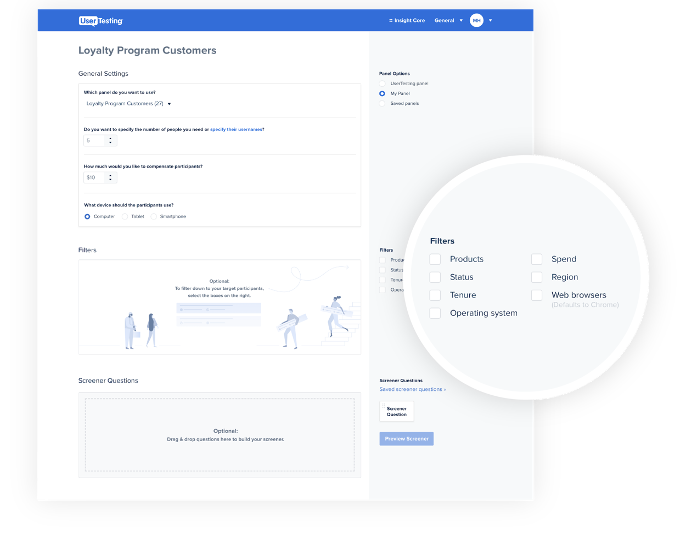 ​
Access panelists safely and securely
Security is important and cannot be overlooked. These are your customers, users, employees, and prospects after all. That's why we're putting as much emphasis on the security of your test participants' data as we do our own.
With My Panel, you can securely get feedback from your participants while ensuring the privacy of your panel. Rest assured, your panels are only accessible by your organization. And you'll only engage participants who opt-in, which complies with even the strictest privacy legislation like GDPR. 
We take your participant security seriously, too—by ensuring that you get the feedback you need without exposing any participant Personally Identifiable Information (PII).
Efficiently capture feedback with My Panel
Today, the customer experience is all about smarter, better, faster. This means you have to collect insights to optimize your experiences at the speed of business, leaving little time to screen, schedule, and compensate your own participants. 
My Panel makes it easier to connect with your own audiences by recruiting, managing, and targeting test participants through the UserTesting platform—helping teams gain the human perspective to make truly customer-centric decisions.
We've tested My Panel with over 120 customer accounts as part of our beta program—receiving valuable feedback.  
We can now engage with our audiences both from the UserTesting Panel and our existing customer contacts, which allows us to drive more value for the business and immediately multiplies the value of UserTesting for our team. -Chris Tait, Senior UX Designer, AAA
My Panel is available to all customers on premium plans through the UserTesting Insight Core platform.