My Panel enables companies to onboard and connect with panels of their own users, prospects, partners, and even employees within the UserTesting platform.
---
Making better, more confident product decisions requires companies to connect with their users and get feedback from them on an ongoing basis. This includes feedback from a variety of different customers, prospects, and partners to capture the most holistic view of the user experience and inform areas for development and improvement.
Over the last decade, companies across industries have been able to reach and connect with their customers on the UserTesting platform by leveraging UserTesting's powerful targeting and screening options. However, many research, marketing, product, and design teams also depend on feedback from different subsets of their current customer base to get actionable insights from unique personas.
Managing and maintaining a customer panel is no small feat. From compliance, to privacy, to scheduling, to payments, and ongoing communication, managing an in-house panel can be a challenge for even the largest organizations.
Introducing My Panel
My Panel, which is currently in private beta, enables companies to onboard and connect with panels of their users, prospects, partners, and even employees. This will give customers the option to expand their targeting preferences to include panels of their choice while getting feedback though the UserTesting platform with self-guided video recording or Live Conversation.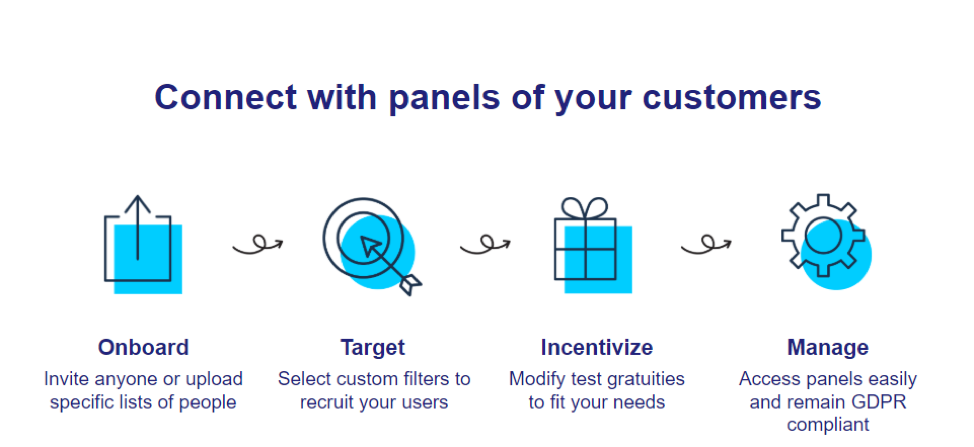 Get feedback from your exact audience
To address your business' growing need to test with specific audiences, My Panel enables you to upload your current customer panels or invite participants to join these panels all within the UserTesting platform.
With My Panel, you're able to onboard panelists that only your organization has access to, while co-branded landing pages ensure that your customers know exactly which panel they're joining to build trust from the very first interaction.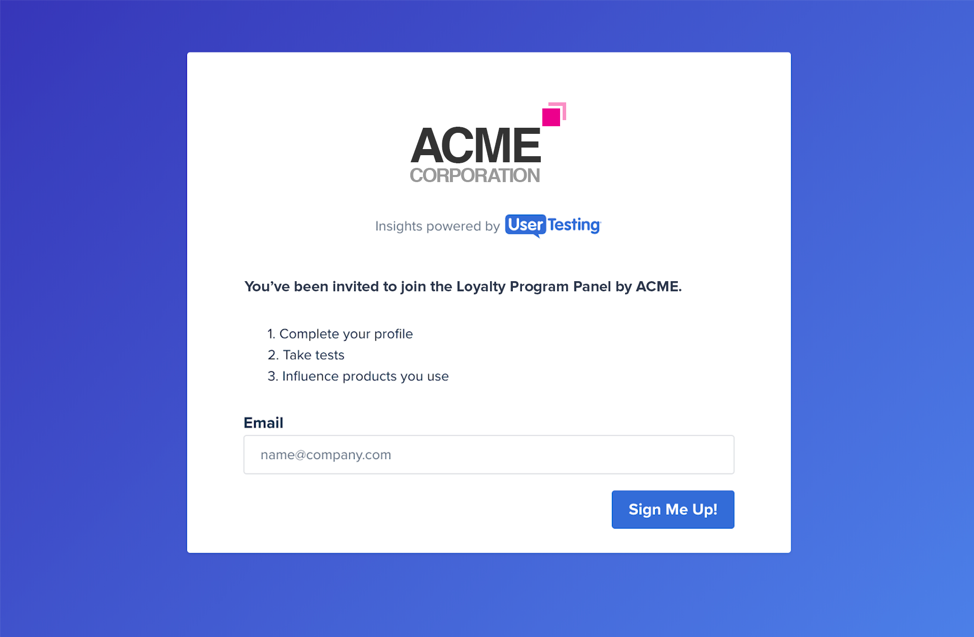 (Co-branded landing pages to invite anyone to join your panel.)
Manage your panels with ease
With My Panel, you can bring your customer data into the UserTesting platform, so you can quickly target your users through attributes that are unique to your business context. By onboarding panels with specific attributes in mind, you can more easily uncover the exact feedback you need to build better products and customer experiences.
In addition, you have the option to modify test incentives to fit your business needs. With the ability to adjust rates per test, or opt-out of payments altogether, you have more control of your panels.
Access panelists safely and securely
Your panels will be cared for with the same attention to security and privacy that you've come to expect from UserTesting. UserTesting manages opt-in and opt-out status and participant data, as well as payments and scheduling so you remain GDPR compliant.
We take your participant security seriously, too. We ensure that you get the feedback you need without compromising tester privacy and protect against exposing any Personally Identifiable Information (PII).
Become more customer-centric with My Panel
Today, the customer experience is all about smarter, better, faster. By continually integrating customer feedback into your design and development processes, you'll improve your chances of launching products and experiences that exceed your customers' and future customers' expectations.
With UserTesting's access to global participants and now with the addition of My Panel, it's even easier to get feedback from your users, customers, prospects, partners, and more. Use My Panel to simplify the management and maintenance of your panels while ensuring the security and privacy of your panelists—all through the UserTesting platform to ultimately get the insights you need to make truly customer-centric decisions.
My Panel is currently in private beta. If you're interested in learning more about My Panel please reach out to your Customer Success Manager to inquire about the beta.