The power of fast experimentation for Product Managers
Image
Product Managers (PMs) have a lot on their plates. In addition to managing the creation and launch of great products, they're also responsible for identifying business or market opportunities and developing feature requirements, all at the breakneck pace of today's competitive markets. Most PMs would probably say that they support incorporating experimentation into their process, but rarely find the time to make that happen. The perception that validating—from concepts all the way through to the finished product—is a complex, time-consuming, endeavor that's better suited for skilled researchers is prevalent. Although that belief might be widespread, the opposite is true.
Experimentation leads to excellence
In fact, experimentation is one of the most powerful tools PMs can leverage to build better products faster—and avoid the dreaded guesswork that many PMs struggle with. Incorporating a continuous practice of experimentation into the development process helps product teams:
Innovate through customer insight

: Most teams rely on internal subject matter experts for feedback, which can increase the empathy gap between a product and the customer.

Iterate quickly

: Relying on customer insight throughout the development process enables faster iteration and higher confidence in product decisions.

Stop guessing

: No one wants to build the wrong product or feature. Teams that conduct regular experiments avoid the costly financial and reputational damage that can result when the wrong product is built.
PMs are natural experimenters
Despite whatever hesitation some PMs may have with conducting their own experiments or customer research, most are well-prepared to experiment. Analytical and strategic by nature, PMs are born to be experimenters, regardless of their experience conducting research. With just a little guidance and the right tools, PMs who start conducting their own experiments may soon wonder how products were built without that insight.
Join us to learn how to harness the power of experimentation
In an upcoming webinar, I'll be joined by Forrester Sr. Analyst, Christopher Condo to discuss the latest findings from Forrester's research on experimentation platforms. We'll also dive into direct user testing experimentation platforms and how the latest features can help product managers get quick answers that inform decisions and drive product direction and improvements—all while empowering customers to be part of the value equation.
In this webinar you'll learn:
The 4 key levers of modern application delivery and how to empower your team

How an environment of experimentation can lead to a customer-obsessed organization

How best to roll out products in an agile, automated and controlled manner

Creative, simple methods for testing product ideas and concepts early and often
Register for the webinar
Ready to learn more? Follow the link below to register for the webinar. When: Thursday, February 27, at 11:00 AM Pacific How: Register for the webinar here
Want to learn more?
If you'd like to learn how UserTesting can help you understand your customers through on-demand human insights, contact us here.
Learn how Product Managers can rely on experimentation platforms to shorten time-to-value in this Forrester report.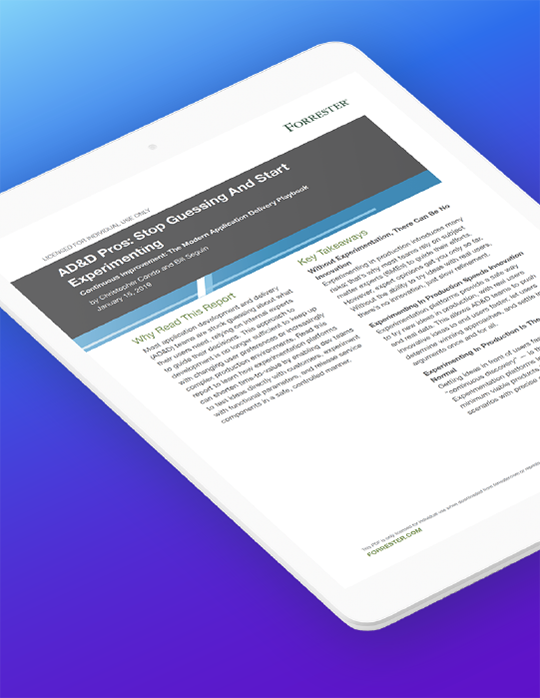 About the author(s)