Adobe XD Quick Answer plugin: easily collect design feedback from the platform you rely on
Image
Providing customer-centric products and experiences starts the minute you put the proverbial pen to paper. Getting feedback at the start—and throughout—the design and development process ensures you are headed down the right path towards creating something amazing for your customers.
We can all agree that customer feedback is the cornerstone for building great products and experiences, however, collecting it hasn't always been easy. And without a seamless and simple way to solicit feedback on designs and prototypes, designers often rely on their gut to make decisions.
Introducing UserTesting's Quick Answer plugin with Adobe XD
At UserTesting, it's important that we provide you with the technology, integrations, and plugins you need to collect, share, and leverage customer insights where and when you need it most. 
That's why we're excited to announce the upgraded UserTesting plugin when creating designs and prototypes directly in Adobe XD. This new plugin allows you to quickly and easily test prototypes and sketches, streamline the collection of customer feedback (without sacrificing the integrity of the research), and more effectively embed human insights throughout your design process.
In order to do this, the plugin allows Adobe XD users to launch Quick Answer tests—like Validate a Prototype—directly from the platform so you can get feedback on designs without having to bottleneck research resources. Ultimately, so you can quickly validate designs and drive productive iteration towards a successful product or feature launch.
What are Quick Answers and how will they work within Adobe XD?
Quick Answers are UserTesting templates that help people gather their own customer feedback on designs and prototypes. Simply, a Quick Answer test will record video feedback of customers or prospects as they complete tasks and answer questions. The tasks and questions are written for you and designed to answer the most common design questions.

With the launch of the new plugin, you will be able to activate it simply by downloading it from the Adobe XD marketplace. Once connected, users can launch Quick Answer tests in minutes.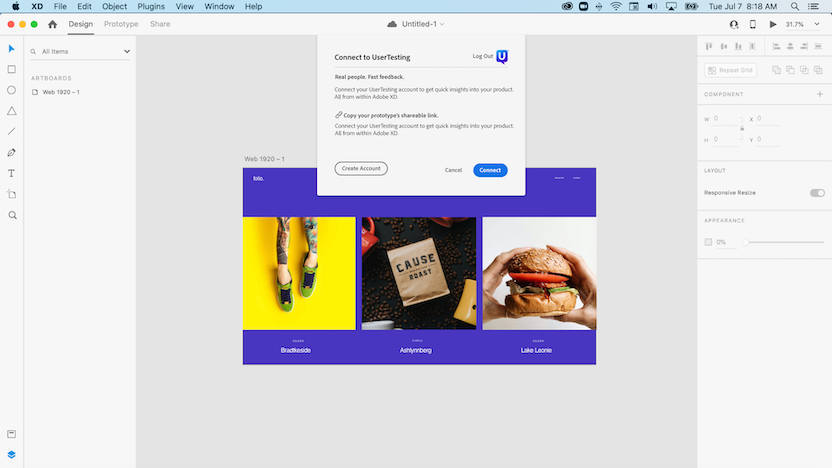 With one click, you can get started creating your study. Fill in your study details, including the name and published prototype URL, and select your preferences, including your target audience (to reach members of your Saved Audiences or those of your own network using Invite Network), and launch your test! Studies launched within Adobe XD can be accessed within your UserTesting dashboard, as with all your other studies.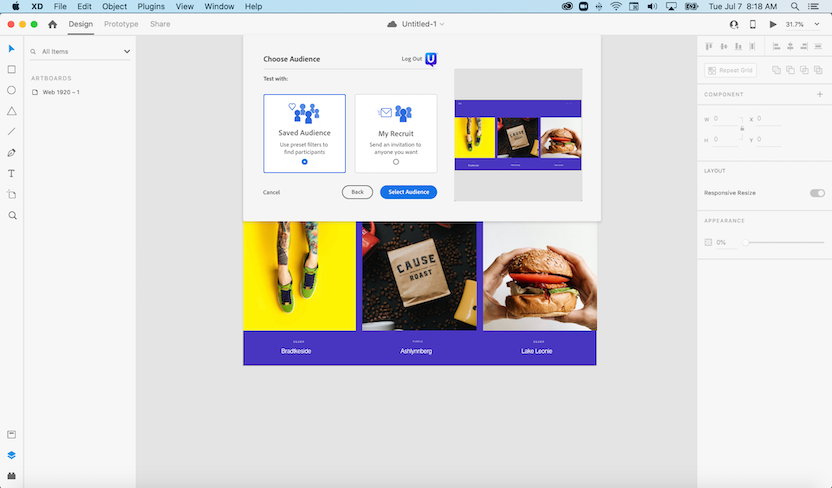 What's next?
This marks the fourth technical integration or plugin that we've built to help you extend human insights outside of the UserTesting platform, joining Trello, Slack, and Jira. With clear access to information that helps your design teams to act on customer feedback quickly and with confidence, they are better empowered to boost productivity while creating exceptional customer experiences.
Validating the earliest of sketches and product or feature ideas with your customers ensures you get a solid start before you invest the time and resources into further development. And getting customer feedback throughout the design and development process also helps you steer clear of critical usability missteps that often require even more time and resources to fix.
By making it easier to initiate a study and gather fast and helpful feedback, our UserTesting plugin for Adobe XD brings your customers' needs and expectations even closer to the starting point of great designs and ideas.

Stay tuned for more information on the official launch of the plugin coming next week during the Adobe MAX conference. 
Insights that drive innovation
Get our best human insight resources delivered right to your inbox every month. As a bonus, we'll send you our latest industry report: When business is human, insights drive innovation.
About the author(s)