6 ways to compete in the age of the customer
Image
The age of the customer has arrived, which according to Forrester Analyst Kelly Price, is defined as a 20-year business cycle in which the most successful enterprises will reinvent themselves to systematically understand and serve increasingly powerful customers.
Customers have more power and voice than ever before. They're empowered to make decisions that best fit their lifestyle and not only meet but exceed their expectations. If companies aren't meeting their expectations, they can easily find those that will.
In fact, the companies that are customer experience (CX) leaders are seeing greater revenue growth, increased brand loyalty, and more longevity for their business. According to Forrester, research shows CX leaders have a 5.1x greater revenue growth on average than CX laggards.
To become a CX leader, it's vital to cultivate customer empathy and push human insights to all edges of an organization. During a recent webinar, Forrester's Kelly Price and UserTesting's VP of Strategic Services Janelle Estes, discuss the various trends and key recommendations to facilitate CX transformation. Here are some of the highlights!
How to compete in the CX age
With CX being front and center for customers and businesses alike, it leaves many companies and brands asking themselves how to compete in this customer experience age. According to Price,
Organizations need to have an obsession with understanding, connecting with and serving customers.
Estes agrees and notes that in order to compete in the age of the customer, companies need to understand the people that they're building experiences for. She adds that in order to do this well, organizations need to capture human insights and continue to layer that onto other big data they have to create a holistic picture of their customers and their experiences.
Forrester identified six core competencies to become a CX leader.
1. Research
Research is the foundation of these six core competencies. It's what Price calls, "the gateway to understanding who your customers are, what they want and need and for providing a valid representation of the customer to the rest of the organization." Don't silo the research that's being done on customers to one department or team. It's crucial that all teams within an organization can gather their own human insights and use that to help them make better decisions that are in line with customer wants and needs.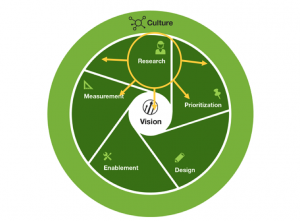 Via Kelly Price/Forrester
2. Culture
Creating a customer-centric culture is key. It's important for everybody within an organization to understand the value of incorporating human insights into everything they do. It means integrating all parts of the company into gathering those insights that can help with marketing messaging, product development, journey mapping, prototyping, and more. Everyone is responsible for customer experience and it's important to create a culture that reflects that.
3. Prioritization
Don't build something that your customers don't need and therefore won't use. Incorporate the customers' wants and needs as vital input into the prioritization of projects internally. Are your customers asking for a new feature or certain bugs to be fixed? Utilize those insights to make those changes, ultimately providing a better experience.
A great example of this, Estes shares, is when Walmart Canada saw mobile traffic dropping in one section of their site. They had a hypothesis that it was functionality, search, or price that was the cause of the drop in traffic. Once they were able to capture human insights from their customers they discovered that customers wanted to see the product presented in a different way. By prioritizing the right changes from the insights they received, they saw a 13% increase in revenue.
4. Design
Design products and experiences that are built for your customer. It's important to test and iterate using the feedback from customers. Organizations that have successful design experiences are those that use customer insights throughout the product development cycle, not after a product is already out.
5. Enablement
Implement tools and systems that enable your employees to continuously and effectively deliver great customer experiences. Make sure they're empowered and have everything they need to leave your customers feeling delighted and heard.
6. Measurement
Commit to ongoing and in-depth measurement to research and design practices. How can you see what's resonating with audiences before you put it out?   
Creating powerful customer experiences through CX leadership is crucial to the success of businesses in this "age of the customer" and capturing human insights is the key to it all.
Want to learn more?
To learn more about how human insights driven organizations become CX leaders, watch the on-demand webinar with Forrester.
If you'd like to learn more about how UserTesting can help you understand your customers through on-demand human insights, contact us here.
Insights that drive innovation
Get our best human insight resources delivered right to your inbox every month. As a bonus, we'll send you our latest industry report: When business is human, insights drive innovation.
About the author(s)