Why B2B companies need to compete on great CX to win over customers
Image
In the past, a small number of behemoths dominated the B2B market, but today, innovative brands of all sizes are competing in this large and dynamic marketplace. In order to stand out from the rest, B2B companies have to earn customer loyalty and constantly improve their business solutions to beat out the competition.
With more options than ever before, B2B buyers have high expectations when it comes to customer experience (CX). Decision-makers are seeking out the same ease of use, beautiful design, and overall great experience in B2B solutions that they've come to expect in business-to-consumer (B2C) products and solutions. In fact, 87% of business buyers report that they would pay more for a company with an excellent eCommerce portal than those without.
And yet, many B2B brands struggle to provide the frictionless experience consumers have come to expect from B2C brands. In the end, B2B customers are still consumers and it's your job to provide an experience worthy of their investment.
Differentiate your business with CX
While there isn't a one-size-fits-all approach to building a successful customer experience for your business, here are three tips to get you started:
1. Fast feedback eliminates guesswork
The best way to uncover your customers' preferences and perspectives is by—you guessed it—asking them. By getting the feedback from your audiences that matter most to your business, you'll be able to tailor your products and solutions in ways that fulfill their needs.
When gathering customer feedback, test at every stage of your product development life cycle:
Discovery: get to know your target personas and understand their high-level pain points
Prototyping: collect feedback on your early sketches or designs to validate usefulness and usability before investing resources to build it
Development: get feedback as you reach every milestone in your development so you can rapidly iterate if feedback indicates there's a problem in or enhancement for your design
Post-launch: continue to monitor your product or solution—post-launch—to continuously evolve the experience to drive greater adoption
Gaining a full understanding of your customers, their problems, and how you'll solve for them requires an investment in time and resources, but you'll see that it pays off. The process of learning about your customers can be incremental and continuous. You don't have to conduct time-consuming, in-depth research to learn something new about them. And you don't want to skimp on learning. There's nothing worse than building a new product or feature that nobody wants or needs.
Pro tip: You can gain your customers' perspectives on things outside of the product. Think about collecting their input the next time you launch a marketing campaign, new ad copy, or redesign your website. This brings us to our next tip.
2. Website optimization
Between 25%-55% of buyers exit B2B websites without ever going beyond the home page and the average amount of time users spend on a site is eight seconds or less. That's not a lot of time for a business or brand to make a first impression.
It's important that the web experience—both on mobile and desktop—is designed to give buyers an opportunity to self-identify as quickly as possible. You need to get your users to have an emotional connection with your site that draws them in almost immediately. Thinking about copy and imagery in such a way that is clear and focused will greatly enhance the impact of your site.
Within five seconds or less, your users should be able to easily answer these questions:
Who is this company?
What is this company selling?
Why is this company relevant to me?
Traditionally, B2C companies excel at this. Think about it. How many times have you visited a website selling shoes and you didn't know it was a company selling shoes? Probably few. On the other hand, how many times have you visited a SaaS website and been unsure what the product actually does? Chances are many more times than the former example. Ensuring that your website is clear and tells the story of your product and its value is crucial.
You may not get another chance to win over that prospective customer.
3. Show, don't tell
For many B2B companies, a "try before you buy" experience is expected, given the financial, time, and resource commitments required for purchase. Organizations want to know exactly how a solution will help solve their problems and integrate into their existing tech stack.
Depending on the product or solution, this can take the form of a staged online demo, sandbox environment, or live trial. These experiences help set the stage for the overall customer experience. Often these demos may be the first opportunity a brand gets to have a conversation with a prospective customer.
Superior CX drives business results
According to Forrester, high-growth companies are nearly 2.5x more likely to focus on solving customer problems than those that are not. So, with competition intensifying and high-value contracts at stake, B2B brands must create effective and intuitive end-to-end customer-centric solutions to stand out in a crowded marketplace.
How to build customer-centric products with fast feedback loops
Understand the benefits of fast feedback loops and how you can use them to inform your product decisions, so you can confidently build products that meet your customers' needs.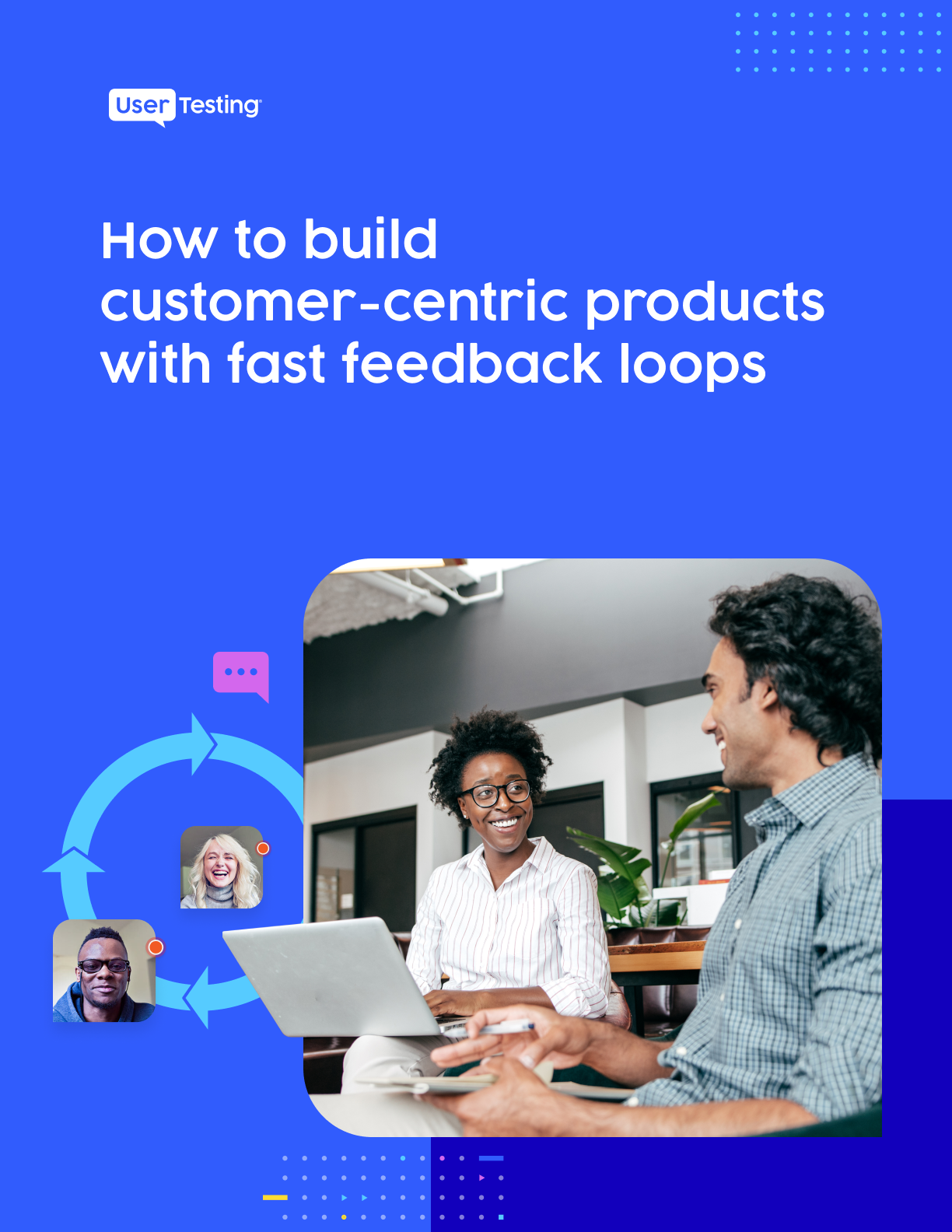 About the author(s)