7 strategies for collecting product feedback
Image
Collecting product feedback is essential for launching products your customers not only need but love.
---
Product Managers play a critical role in the success of companies. Balancing business priorities, customer needs, and technical issues in the face of tight deadlines, we have a lot on our plate—and a lot on the line.
Making this role even more challenging, today's product development moves at an increasingly rapid pace. So in order to launch products that customers love, fast, product managers must be strategic about using customer feedback to validate their product ideas at key stages of the product development lifecycle.
Validating your ideas before launching a product
When building products, focus on refining your understanding of three questions: who is your customer; what is their problem; what's the best, lightest solution I can build for them? This will ensure your solutions target a valuable need customers have, without being overengineered. You can use a variety of customer feedback techniques and channels to answer these questions.
Before you launch anything you should employ the following strategies:
1. Conduct research to build the right thing, and then to build the thing right
At UserTesting, our UX research team works in partnership with product management, engineering, and design to do foundational research when we're considering building out a new product or feature. We look to understand our customers' experiences in a broad problem space by asking them to talk about their most recent experiences, including what worked or didn't, and what they used to solve these problems. In this way, we're able to pinpoint the most impactful customer problems that we need to solve for, as well as focus on the areas of greatest pain, and where there are few easy ways to solve the problem.
Armed with these insights, we then follow-up with exploratory research to narrow in on solution ideas. We map these ideas to the customer needs that were uncovered in the earlier round of research. We then focus on a few key areas in this new round of research: do customers understand the value proposition; what features are most or least compelling; is anything missing; does the solution solve an important problem better than the available substitutes? Finally, we conduct evaluative research to make sure we're building the best solutions for our customers. We're big believers in interviews to do all of this!
2. Dogfooding and beta testing
Before we launch a product to a general audience, we dogfood (or test) our own products with our internal teams. This is a low-risk way to work out major flaws, add necessary updates or features, and test for overall usability before launching to a general audience. It also helps our teams get familiar with new products to get ready to market, sell, and support them.
We also run beta programs with customers to get early user feedback that allows us to iterate on the product even further.
3. Ongoing market research
In addition to collecting product feedback, we also conduct market research to understand broad trends in our industry. Most notably, we run an annual CX Industry Survey that helps us uncover a wealth of information about the current and future states of the experience industry. This helps us identify new problem-solution spaces we want to explore, restarting the cycle of customer learning.
Collecting product feedback after launching a product
We also collect feedback after launch to continuously improve our products and experiences.
Here are some of the ways we collect feedback post-launch:
4. Product satisfaction surveys
To better understand what's working and what's not working with a new product or feature, we run product satisfaction surveys. In these surveys, we ask how satisfied customers are with the feature and what could be improved. We also ask how disappointed users would be if we took the feature away—this is a great way to understand the value of the feature to them. We use the results of the survey to iterate upon the product.
Pro tip: Share this feedback with your sales teams to give them use cases that they can use to position features better when they sell them to new customers.
5. Create an email alias for ongoing customer feedback
Our field-facing teams are invaluable sources of customer feedback and expertise. That's why we have an email alias called "share-feedback," so internal teams can forward customer feedback that they've received to a centralized location. Additionally, the alias pulls in all of the customer feedback that comes in through our various in-product feedback forms. The whole Product team is subscribed, so we see the stream of feedback coming in. But all of that feedback is also tagged and then analyzed to find key themes by our UX Research team.
6. NPS
You can never overlook the value of NPS, which is why we run a quarterly NPS survey. Seeing the score over time can be useful, and helps to track long-term customer satisfaction.
7. Community
Providing your customers with as many ways to share feedback as possible is key to collecting actionable insights. We have a customer forum, the CommUnity, where customers can ask questions, share ideas with each other, and leave product feedback.
A multichannel approach to collecting product feedback is key
Why use all of these different channels? It offers a richer, multi-dimensional understanding of our customers: starting at the highest level (the market), then customer problems/needs, finally at the solution level (which we gather both proactively, and which customers send us reactively). If we focused on only one, we wouldn't have a holistic understanding of our customers. We're also able to better understand our customers throughout their entire journey with our product.
Design thinking for product teams
Discover how to leverage human insight at every stage of your product development life cycle.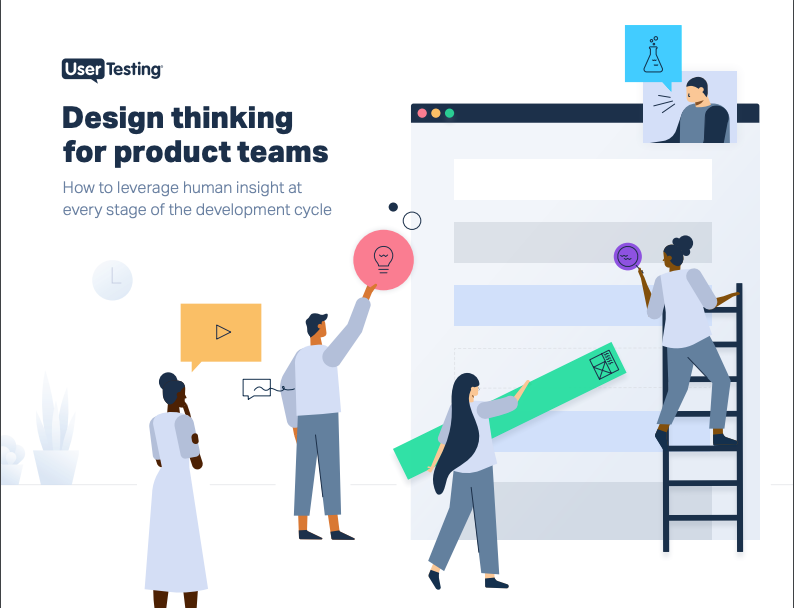 About the author(s)