Making the switch to collecting customer feedback remotely
Image
Like many companies, we're closely monitoring the latest on COVID-19 and thinking about the ways in which we can help our customers during this time. We know that teams are changing the way they work—with more work being done remotely—to help reduce the potential spread of infection in our communities. While working remotely is easier than ever, it requires us to think differently about how we engage with and get feedback from our customers and users. 
And customer feedback is critical in this volatile environment. Truly understanding behaviors, motivations, expectations, and needs will give companies the insight they need to pivot business models to meet shifting demands. 
As companies respond to the current environment, many are transitioning even more of their customer feedback sessions to remote methods and technologies, and some are introducing new teams to remote approaches in lieu of in-person and face-to-face feedback sessions. Some in the industry are even calling for companies to shift to fully remote research as a way to define their role in "minimizing transmission of the virus."
To help those who are making or leading the shift to more remote approaches, we've created some best practices that may help as you get going: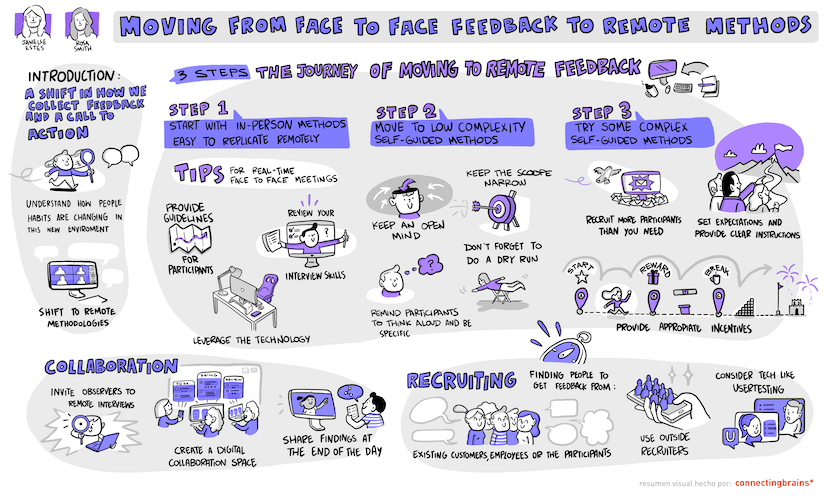 1. Conduct real-time, face-to-face interviews remotely through a web conferencing platform
For those that are used to doing in-person feedback sessions, it's best to start with interviews over a web conferencing platform, such as UserTesting's Live Conversation, as they allow you to have real-time conversation over video. Interviewers can interact with customers using verbal and non-verbal queues, ask follow up questions, probe, and see their reactions—just as they would in-person. Some tips for before, during, and after your session:
Show up early and build in time for troubleshooting. As with an in-person meeting, aim to show up early. With the added complexity of software and tech, allow time to work out any technical challenges by adding 10-15 minutes to each session. 
Create a backup plan. Think about poor internet connection, poor audio quality, and delayed start times when planning a Live Conversation interview. Consider providing the interviewer's phone number to the participant ahead of the session in case they have technical difficulties and need some support.
Be focused. Turn off all of notifications, both browser-based and computer-based, so that there aren't alerts, chimes, or other noises that might prove distracting while giving instructions or observing.
Review your interview skills to improve over time. After you've done an interview, go back and watch it. Find places to improve your interview skills—whether that is by asking clearer questions, finding better opportunities to probe for more information, or conversely, learning when to stop talking so the customer can give you more details and context. 
2. Gather self-guided, recorded customer feedback
You can still get rich feedback from your customers without speaking to them 1:1 and in real-time. Self-guided customer feedback is a great way to reach your customers when it is convenient for them, and it adds efficiency to the team's workflow and processes, as the sessions are completed while they are focused on other priorities. For example, 80% of UserTesting's self-guided sessions fill within a few hours. If you're newer to self-guided, recording customer feedback, here are a few tips to get started:
Ask open-ended exploratory questions in an interview-style format. Open-ended questions encourage people to discuss and share details and perspectives. This approach provides a depth of feedback that is similar to real-time, face-to-face interviews, which allows teams to build a stronger sense of empathy with customers. For example, asking people to describe their current challenges with financial planning will garner richer feedback as compared to simply asking people if they agree or disagree with specific challenges that you have pre-defined. 
Give participants the option to turn on their webcam. Even though you won't be attending the interview, you can still ask people to turn on their webcam. Being able to see the person as they answer questions helps to build a level of empathy that you don't get with a voice recording alone.
Get feedback on a product or idea—a mobile app, brand campaign, rough sketch—anything, really! This could be anything from a landing page to a new product idea to a competitor's experience. Keep the scope narrow and try to focus on a single objective, such as: "Do people find value in this new product idea?" or "How do our competitors describe their offerings?" Our test plan templates are a good place to start for common questions that UserTesting customers look to answer with our platform.
3. Analyze and share learnings through various channels
When gathering customer feedback remotely, teams lose the opportunity to observe in a co-located group session. While this can be a challenge, there are several ways to consume insights via remote technologies:
Invite observers to remote interviews. Zoom, UserTesting, and other technologies allow others to join and observe in real-time. Consider hiding these remote observers so the participant doesn't feel overwhelmed or "on the spot" if lots of people join.
Use technology to analyze and prioritize findings. Whiteboard sessions, affinity diagramming, and group discussions are common approaches when analyzing data from an interview or a usability study. If you can't do this in person, lean on virtual whiteboards, such as MURAL or even within a Google Doc. 
Use categories or tags to organize findings. After you've done your analysis, you'll likely see strong themes. Decide as a team how you want to categorize your findings. This could be by customer "feelings" (such as motivations, fears, needs, etc.) or, if you are evaluating a message, concept, or experience, by design elements (such as content, navigation, interaction, etc.) Use these tags as you document your findings and create highlight reels or clips of customer feedback.
Share with teams through various channels. There are many ways to share customer feedback. From email to Slack as well as within feedback platforms, such as UserTesting, there is no shortage of ways to allow others to consume insights.
As your practice of customer feedback moves to more remote approaches, you will learn best practices that are specific to your industry and team, and you'll want to build those into your overall strategy as well.
Don't hesitate to reach out with any questions or comments that we can address in an upcoming post or webinar.
Moving from face-to-face feedback to remote methods
Watch UserTesting's Chief Insights Officer, Janelle Estes, and UX Researcher, Rosa Smith, in this recorded webinar as they share advice for building empathy for your customers, remotely, in just 3 easy steps.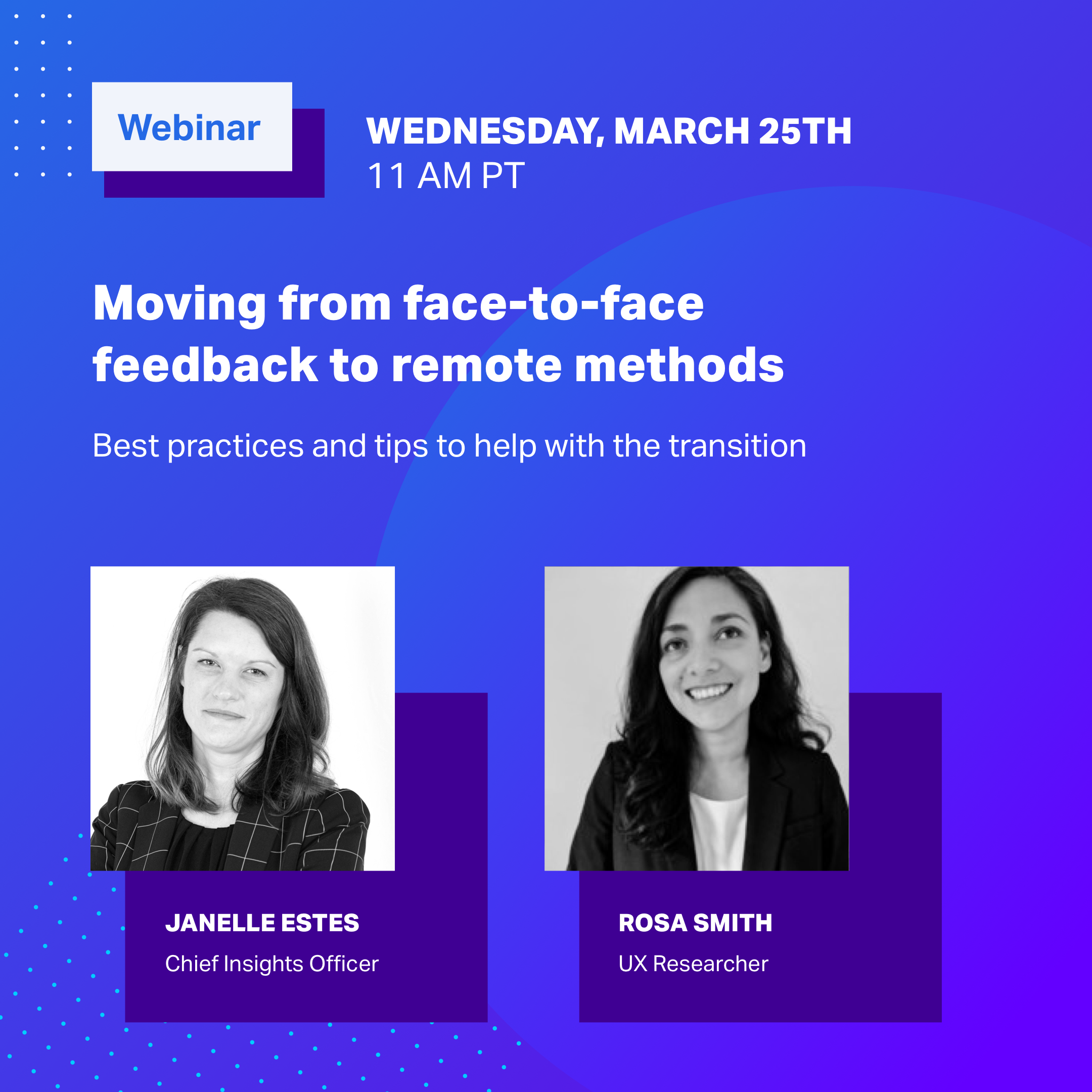 About the author(s)
Janelle Estes
Janelle is UserTesting's Chief Insights Officer and an expert research practitioner fascinated by human behavior and intrigued by data insight. She brings over 15 years of experience conducting large-scale customer research initiatives with both B2C and B2B companies across a variety of industries to help them transform their customer, user, and brand experiences.