What's in your wallet? How to improve digital payment experiences
Image
What's in your wallet? If you're like many Americans, there probably isn't a lot of cash—if you carry a wallet at all. According to a survey by U.S. Bank, over half of Americans surveyed only carried cash half the times they went out—and when they did bring their greenbacks, half kept only $20 or less in their wallets. With the rise of fintechs like mobile payment apps and digital wallets, consumers are relying less on cash and more on digital payment options.
As cashless payment options become more convenient and embedded in our daily lives, it's important to pay close attention to the potential empathy gap that can build up between companies creating digital experiences and their customers.
While a seamless interaction that helps customers pay with ease is naturally a priority, it's also important to make those experiences as human as possible.
Improving mobile payment experiences
Consumers seem to be embracing mobile payment options, with Capgemini and BNP Paribas estimating that digital payments will exceed $726 billion by 2020. That means every company, from fintechs to B2Bs to retailers and everything in-between needs to be paying close attention to their digital payment experiences.
To dig a little deeper, we looked no further than Google's Mobile Payments UX Manager, Skip Allums, who literally wrote the book on mobile payment UX. In one of his talks, he shared some great insights on what's important for creating a great mobile payment experience. Here are the key takeaways from his presentation to help get your digital wallet experience ready for a cashless economy.
1. It's not about the app
As with any experience, it's important to remember that your customers aren't all that interested in your app—they're interested in what it can do for them. The ultimate goal is for your customers to get in and get out as fast as possible, with as little friction as possible. If paying with your app isn't faster or more convenient than using cash or a credit card, they're not going to use it.
2. Think of payments as a conversation
One benefit to digital interactions is that they can remove some of the friction of dealing with other people. However, don't miss this opportunity to connect with your customers and remind them that there's a human on the other end of that app. Looking at digital payments like a conversation helps humanize transactions—an important step to bridging the empathy gap in digital experiences.
Digital transactions should clearly communicate to customers what's happening during a transaction, and what's going to happen next. Take Zelle, the digital payments app used by many financial institutions, including Bank of America. Before sending money, the app clearly explains what the customer has requested, how long it will take to happen, and importantly points out that the action can't be reversed. Providing clear, easy to understand explanations of each step helps put customers at ease, and goes a long way in establishing trust with a brand.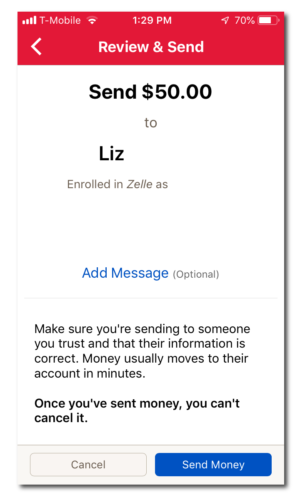 3. Skip the jargon
This is a good design practice in general, but it's especially important when the topic is people's money. Describe what's happening as simply as possible, even if it's a complex process. Your customers have limited time, patience, and screen space, so they need to be able to quickly scan their screens and understand exactly what's going on.
Robinhood, an app that enables customers to trade stocks without paying commissions, takes a sometimes intimidating and jargon-filled process—buying or selling stocks—and makes it clear and easy to understand, no matter how much investing experience you may have.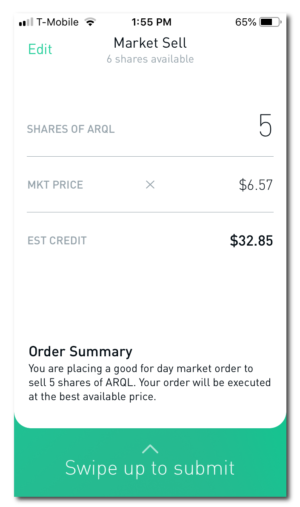 4. Lock it up
Although consumers are more comfortable than ever with using mobile payment options, concerns surrounding privacy and security are still top of mind with consumers.
Accessing money with an app needs to be easy to do, yet still feel safe and secure. That can be a tough combination, especially with mobile devices. Skip suggests relying on complex passcodes or PINs, rather than traditional passwords (which can be a pain to enter on mobile devices). Easy to use, however, should still be secure—no "1234" passwords allowed.
Additionally, biometric security options are also gaining popularity. Apple's Touch ID and Face ID uses biometrics by scanning a person's unique fingerprint or facial features as a password and is required to authorize payments through Apple's mobile payment app, Apple Pay.
A recent UserTesting study explored consumer reactions to Apple's facial recognition feature that enables users to unlock their phones and even make purchases, just by looking at their phones. Many consumers in the study expressed concerns over security and privacy.
Technology for humans, not the other way around
As the world becomes more digital in all aspects of daily life, the Experience Economy becomes ever more important. Whatever the digital advancements in development (or the ones we haven't thought of yet) may be, the most important measure will always be how well those technologies connect with the humans they were intended to help.
Gathering human insight at every stage of your product's life cycle is the best way to ensure that your customers always feel like they're interacting with your brand and that they're not just another number on a screen.
Want to learn more?
If you'd like to learn how UserTesting can help you understand your customers through on-demand human insight, contact us here.
Learn what consumers like and dislike about doing business with fintechs—and how to adapt your strategy to meet modern consumer preferences.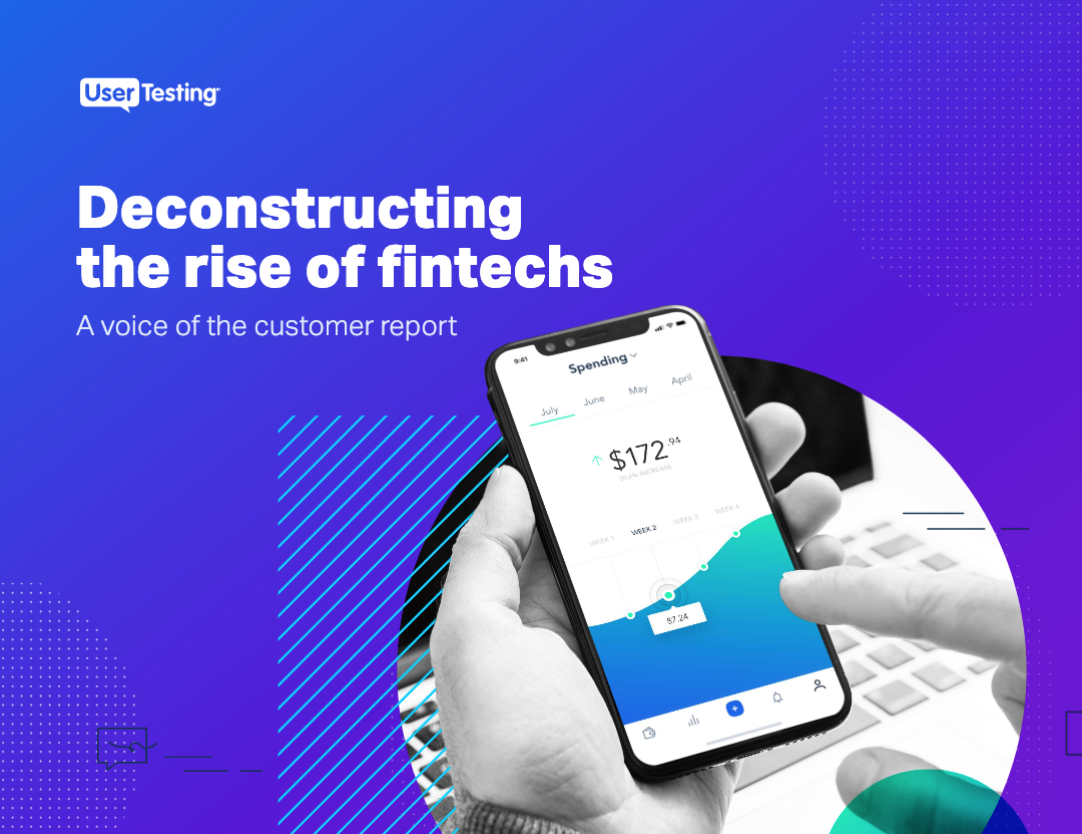 About the author(s)