DIY research: how to collect UX feedback on your own
Image
Thanks to DIY research, connecting with customers and your target audience is now within reach. These days, the best way to do something is DIY (do it yourself). Whether designing your own wedding or installing a backyard fire pit, there's nothing a little motivation and a lot of YouTube tutorials can't accomplish. Traditionally, research was a complex, expensive, and labor-intensive process requiring highly trained experts to get it right. Because of the level of investment required, research projects were massive undertakings that could break the bank. 
However, thanks to the internet, increasingly lean budgets, and short turnaround times, researchers, designers, marketers, and product managers feel empowered to tackle the small things independently. With solutions available to do the heavy lifting, teams can focus on what matters the most—human insights. 
Whether you're a scrappy team-of-one or looking to automate processes at scale, collecting actionable feedback from your customers and users has never been easier to do all by yourself.
Here's a DIY research guide for user experience (UX) to help you get started: 
How to approach DIY research 
At the end of the day, this kind of research aims to design with the end-user in mind, whoever that might be. So whether it's a prospect, customer, or employee, you'll know you're doing it right if you're interacting with your end-users. 
So you want to DIY your own research? Here's a quick look at the research learning spiral to get you started: 
Establish your objectives
Before conducting a test, you need to create a plan. What knowledge gaps do you need to fill? What questions are you trying to answer? This is best done with a team of people who can spitball questions in the form of who, what, when, where, why, and how? Then, take all the ideas and start to frame your questions. 
Related reading: what's the difference between CX and UX?
Challenge your assumptions
Now that you know what questions you want to research try answering them yourself. This will help give context to your findings and help eliminate your team's biases. For example, what do you expect to find out during your research? What kind of design changes do you anticipate making based on those predictions?
Select your methods
There are many research methods for UX. Yet, not all of them are DIY friendly. Different methods serve different purposes. Be sure to do your research and decide which method is best for the hypothesis you're testing, your turnaround timeline, and your budget. 
For tips on selecting which research method is right for you, check out our related reading: which qualitative method is right for you?
Conduct your research 
Now that you've selected your research method, it's time to collect feedback and gather data. 
If you're new to collecting user feedback, check out our resource: getting started with user feedback.
Synthesize your findings 
Once you've finished conducting your research, it's time to answer your research questions and prove or disprove your original hypotheses. The most important part of this process is getting to the insights, and it's a part that really shouldn't be automated. 
There's definitely an art to getting insights. According to Lauren Serota, an associate creative director at Frog, "In synthesis, you're trying to find the meaning in your data. This is often messy and can mean reading between the lines and not taking a quote of something observed at face value. The why behind a piece of data is always more important than the what."
The key to synthesizing your data is making sure that your insights are concise, actionable and that you share them with the company at large. 
Finally, it's called a spiral for a reason. Now that you've gotten your insights, it's time to start the process over again. It's a muscle that you should continuously work out. Optimizing UX and leveraging feedback as a continuous process will yield continuous results. 
DIY research methods 
Surveys
Surveys are an affordable and easy way to gather information. They are especially useful for DIYers with a large and diverse group of users or concerned with anonymity. 
The limitation to surveys is that researchers cannot interact with the respondents, so the framing of their questions will need to be as close to perfect as possible. 
Usability testing
A DIY-friendly alternative to in-lab interviews is remote usability testing. It typically involves using an insight platform to record a test participant interacting with a website, app, or in-person experience. It's great for improving existing designs and discovering knowledge gaps you didn't even know existed. In addition, the tests can be moderated or unmoderated.
Another way to DIY usability testing is called "guerilla testing," where a researcher goes out into the community and asks random people in bookstores or parks to complete basic tasks. It's a good way to start DIY research for those with a large user base, but it gets harder to manage at scale. 
VIDEO: why Freeletics switched from guerilla testing to UserTesting
Interviews
In terms of connecting with your customers or audience, it doesn't get better than interviewing a real person. Interviews are a perfect medium for DIY research. Traditional interview methods are a huge hassle and can limit your potential audience. However, some solutions make live conversation easy. 
Benefits of conducting DIY research
While no one understands your business better than you do, there's one group that understands your UX better than you do—your users. Traditionally, research was so prohibitively expensive that many companies, especially smaller ones, were priced out of it. However, this has changed. 
Benefits of DIY research: 
Less expensive than traditional research
Can get quick feedback as needed
Frees up time for your research team
Save money
It goes without saying that DIY research is cheaper than traditional in-lab testing. However, it can reduce costs in other ways too, such as: 
Continuously identify growth opportunities
Pinpoint low-lift areas where you could see a high ROI and impact 
Save the rework needed to fix ideas that didn't work out so well
Address the real source of a problem the first time
Reduce risk
Doing something is better than doing nothing. DIY research can help you validate ideas before spending the time and resources to bring a bad one to life. Next, marketers should test their messaging to make sure it resonates with their target audience. Next, product managers should test their prototypes to make sure it's something customers will actually use. Finally, designers should stay connected with their audience to make sure they are anticipating needs and meeting expectations. 
Start small
To put it bluntly, there's no excuse for not conducting your own research. Lean UX teams, designers, product managers, and marketers can continuously utilize the various tools and platforms to improve their offerings. 
Think of DIY research as an iterative process. Projects can be as simple as preference testing an image on your website with 5 people. Start by making small and continuous improvements and work your way up to bigger projects. 

Of course, some things are better left to the professionals. Should you redo the electrical in your house? Probably not. When it comes to generative vs. evaluation research, keep your DIY research evaluative in nature, at least in the beginning.
Guide: Remote testing and feedback
Remote feedback is the key to customer empathy. Add it to your processes and start building empathy more efficiently.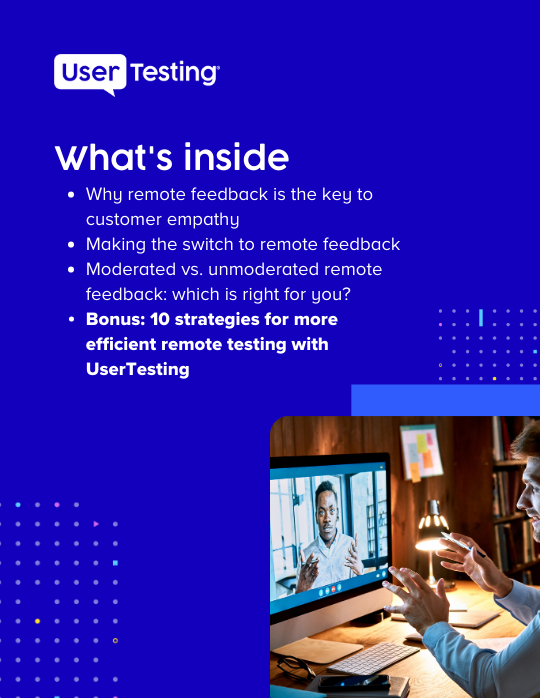 About the author(s)