The Crowd has spoken, and for the fourth time in a row, UserTesting has earned placement as a Leader in User Research Software in G2's 2020 Winter Grid® Report for User Research Software.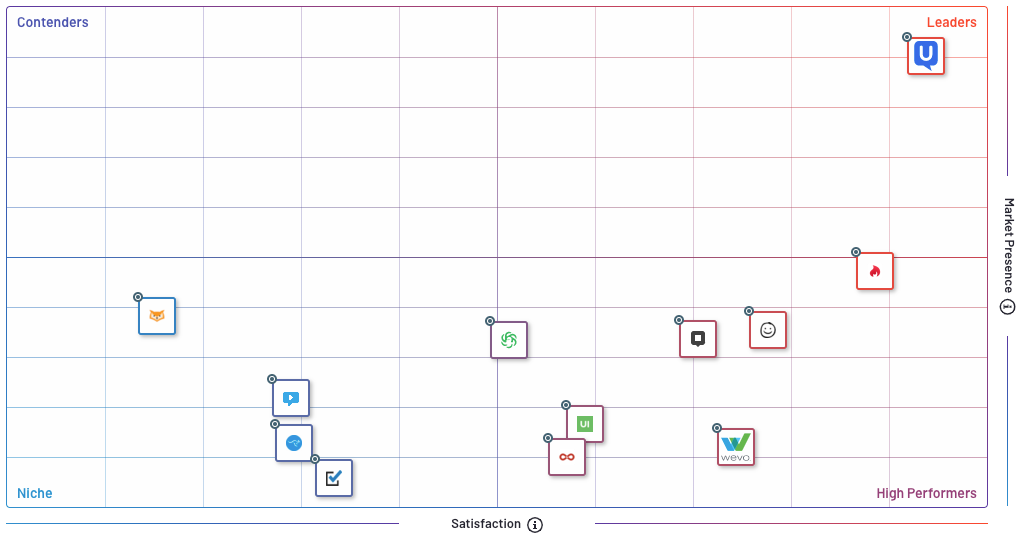 Unlike other quadrant-based scoring reports, G2's Grid represents the democratic voice of real software users, rather than subjective opinion. G2 understands that selecting business solutions can be risky, so they've created a way for you to access real-time user reviews to help you objectively assess the best solutions for your business.
It's through these reviews, as well as data from online sources and social networks, that G2 algorithmically rates products for placement on the grid.
Key report details:
96% of users rated UserTesting 4—5 stars
89% of users believe UserTesting is headed in the right direction
90% of users said they'd recommend UserTesting
Find out what sets us apart, see what UserTesting reviewers had to say
Speed
"So, boss needs 'insights.' No problem, get them the same day without a budget." -Kai Kane A., Product
"I like the ability to create a test, recruit, and have results the same day. This allows me to get feedback to my designers in a quick and informed way." -Juan C., UX Researcher
Service
"Our interactions with the teams at UserTesting are always outstanding. They provide great insights on best practices, listen to and appreciate our ideas and feedback, and provide stellar service when our team needs extra help." -Camron L., Product Designer
Ease of use
"I like the efficiency of UserTesting to get quality feedback and the note-taking feature, which makes it really easy to timestamp and pull quotes and flag key insights." -Bowie L., Associate UX Researcher
"I really liked the templated tests that were available as well, this was key in helping me set up a couple of prototype tests that I had never done before. It really helps to walk you through the process." -Mandee E., Digital Strategy & Analytics
Innovation
"UserTesting is committed to continual improvement and innovation in all areas of user research. I regularly see existing products being enhanced and improved while your teams deliver updates on how to get the most from those products." -Camron L., Product Designer