Accelerating edtech: supporting learners in a remote world
Image
Edtech is booming by all accounts, whether it's measured by the more than $10 billion investors poured into edtech startups in 2020 or by the number of edtech-related startups admitted in the current class at Y Combinator. Nevertheless, edtech is accelerating faster than ever before. 
In this episode of the Human Insight podcast, we interview Raina Mehta who's Vice President and Head of Product and UX at Kaplan. Kaplan provides educational services to colleges, universities, corporations, and businesses–including higher education programs, professional training and certifications, test preparation, and student support services.
In her interview with Janelle Estes, UserTesting's Chief Insights Officer, Raina shares how edtech is accelerating their efforts to engage with today's online learners..
Enjoy the conversation!
No time to listen now? Bookmark this post for later and catch the highlights below: 
Raina's journey to Kaplan
The acceleration of online learning
Creating a single user experience
Owning the customer experience
Advice for investing in UX
Getting to Kaplan
Raina's path to Kaplan is marked with some key chapters. Every story has a beginning and hers begins with an HTML for Dummies book, which she read over a weekend while in college. "From there, I was taken by both the creativity of coding and the design aspects," she said. 
That experience landed her a job at Prudential right after college, designing their website and eventually growing into a management role.
The next key chapter was at Fitch Solutions, where she had a manager that was adamant about talking to multiple clients every week. It was "his way of helping us learn how to validate our ideas and empathize with customers."
"And I found that this practice bolstered my confidence and credibility with the sales and business folks to whom I would try to influence with my ideas. The product ideas that I would come forward with were really born directly from customer feedback, so it gave me a lot of support."
Then it was off to NBCUniversal, where she helped launch what's called CNBC PRO. It was there that she was introduced to Jeff Gothelf and Lean UX. 
"Lean UX is really the intersection of design thinking and customer centricity, and the creativity that comes with that. But it brings speed to it, like rapid prototyping and moving fast into iterations," she said. "I fell in love with product all over again."
And then from CNBC, Raina went to Amazon where, as she says, she wanted to "up my product game with all their Amazonian ways."
"They pride themselves on being customer-obsessed," she said. "And they really upped my game with the working backwards process, which taught me how important writing is to communicating effectively, and really moving away from PowerPoint to get product ideas across."
Now she's at Kaplan where she heads product and UX—facing a new challenge "because I've landed in a company that isn't digital-first, they're embarking on a digital transformation."
Accelerating online learning
The shift toward online education was underway before COVID-19, but COVID-19 certainly accelerated it as we've all either experienced ourselves or watched our children go through the experience.
Those behind that movement–from startups to incumbents–have to address many challenges beyond creating a website or app: 
How do you make an online class engaging?
How do you make it interactive?
How do you overcome technology constraints and bandwidth issues? 
How do educators administer tests in an online environment (and prevent cheating)?
And how do you help students feel like they're not isolated
And, Raina said, today's digital-first students are asking for more self-directed learning and may not want everything you would typically offer in a classroom environment.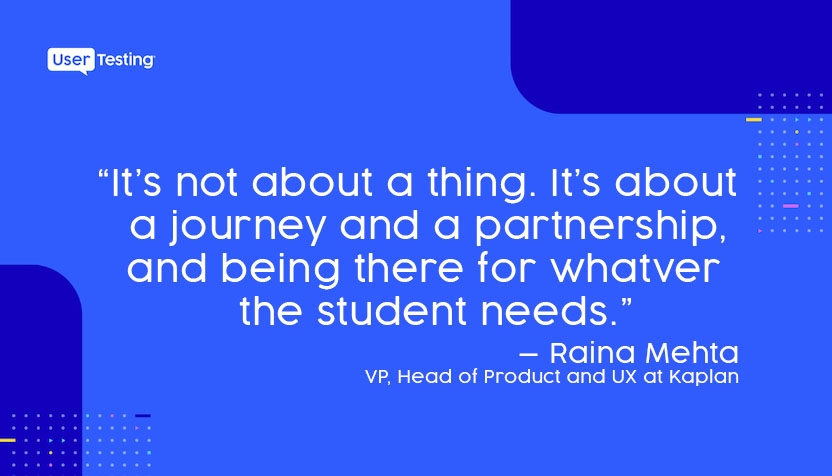 "We have to think more about how we fit into that space," she said. "Actually, I think all businesses need to operate this way. You have consumers who are more adept at researching online all of the options, and then curating their own solution to the problem. I think the way to win these days is really to position yourself as a partner on a journey with the student, rather than that transactional provider of content or a thing. It's not about a thing, it's about a journey and a partnership, and being able to be there for whatever that student needs—whether it's supplementary to something else or an all-in-one solution."
Creating a single user experience
Raina works within the exam part of Kaplan's edtech business and her team consists of product managers, UX researchers, and UI designers. They also have a growth and strategy team.
Her mandate is to build a single digital experience from Kaplan's 15+ exam prep products.
What Raina and her team have found is that Kaplan's audience has a lot more in common than they have differences. 
"There are ways that you can build personalization into a platform to help meet the student where they need to be, even when each student's learning objectives are slightly different," she said.
One part of it is helping a student really work through their coursework—which can be four months or even up to a year—in the most efficient way. And then the other is motivation, and how you keep a student motivated when they're moving through many modules and helping them feel like they're not alone.
Owning the customer experience 
Raina believes that while product and UX teams will drive some of the organizational understanding of the customer, it needs to be something that everyone owns, in their individual roles, so they can bring that knowledge to their area of the overall business. 
"Obviously UX researcher research problems and customer pain points. So, they've got that inherent in their job, that understanding product decides the priority of solutions based on the value they're going to provide to the customer," she said.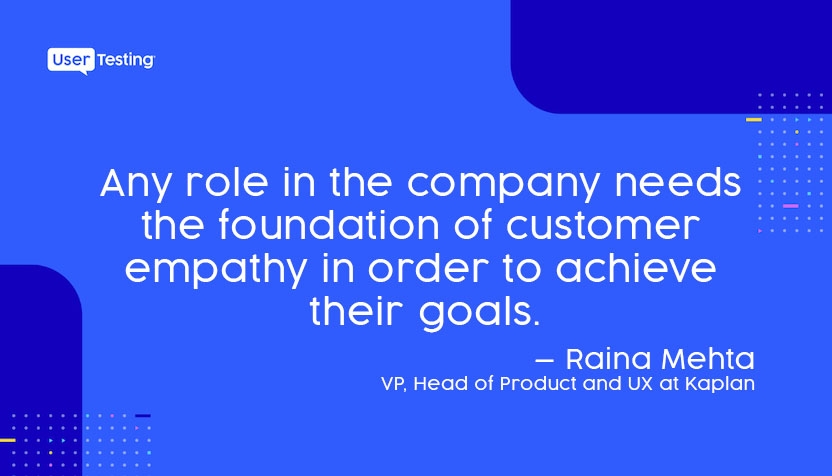 "But sales needs to know how customers are going to respond to these features. How will it affect pricing? How does it stack up against the competition?
Tech needs to make sure that they're building simply and effectively and designing technical solutions that are going to work for the customer. They can't do that without having an understanding of the customer.
Marketing, obviously in order to drive acquisition, will need to know how to speak to a customer in a way that resonates with them."
Advice for investing in user experience?
"I think a great feature set without a great user experience will eventually lose to the competition," Raina said.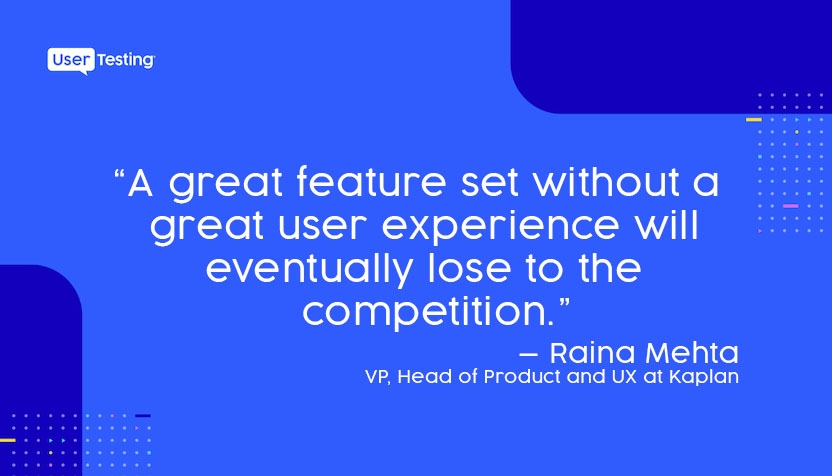 Eventually, your customers are going to get over the new and novelness of your product or service, and are going to want exceptional usability to go with it. If you don't move quickly into providing a great user experience, Raina said, your customers are going to move on to the next thing that does.
The startup's guide to user feedback
Learn why fast, iterative feedback is critical to any startup's success—from concept testing to prototyping, and more.
About the author(s)