How to improve CX by scaling customer research
Image
Analysts and pundits have proclaimed this the Age of the Customer, a nod to the shift in power from corporations to the customers that they serve. In response, companies have voiced a deep commitment to improving customer experience (CX).
Forrester reported that nearly 75% of

businesses say improving customer experience is their top priority.

Gartner found that

81% of CX leaders report they will compete mostly or entirely on CX.
However, saying is easier than doing. Data shows that companies are continuing to struggle when it comes to providing the experiences that they know customers want and expect.
Forrester found that only 1 in 5 companies deliver good or great CX.

Gartner reported that

only 22% of CX leaders report that their CX efforts have exceeded customers' expectations.
For companies who are ready, willing, and excited to take their brands' CX to the next level, but have difficulty identifying how to accomplish this, we have a suggestion: to provide what your customers want and expect, start by encouraging every team that touches your brand's experiences to deeply and thoroughly understand the customers themselves through human insight.
Scale matters
Some organizations have centralized customer research teams in which experienced researchers conduct all research to provide insights and learnings across the entire organization. While this helps assure best-in-class research, it limits the scope and pace of customer research to the capacity of a single team. Other organizations, however, choose to embed a researcher within each segment or department. The benefit of this setup is maintaining a high quality of research that is conducted and insights collected and shared.
One risk, however, is overloading researchers with the needs of the entire team, leading to valuable insights going uncollected or overlooked for the sake of deadlines or meeting high-volume demands. Another approach some organizations have adopted is an open structure in which everyone conducts, analyzes, and reports on their own research to meet their individual project needs.
While this matches organizational imperatives to be customer-centric, it can pose challenges for both researchers and non-researchers alike. Non-researchers, for example, might not know best practices or be uncomfortable conducting their own research. Skilled researchers, on the other hand, can be stretched thin attempting to impart what amounts to decades of education and professional experience into short training sessions for their colleagues. Quality of insights may suffer, frustration and confusion rise, and team members may not be generating the insights that will help them improve the experiences they're working on.
Scaling through empowerment
At UserTesting, our experience has shown that the ideal model for scaling customer research lies somewhere between the models described above. We think of this as an "empowered" model, wherein all parties are able to gather the insights they need to build customer-customer experience. This model entails loosening the reins on research so that customer data can be collected by whoever needs them, whenever they're needed. At the same time, it involves creating a system that ensures that internal expertise and best practices are effectively documented and widely shared throughout the organization.
This model provides newer researchers with the support and confidence they need to gather actionable insights while giving skilled researchers the much-needed bandwidth to focus on strategic CX initiatives. In our latest eBook, Scaling research for better CX, a how-to guide, we share our recommendations on how teams can best structure and scale customer research resources within their organization. The guide also includes tips by roles so that executives, research experts (like power UX practitioners), and those who are new to research are empowered to ensure that every brand and product touchpoint is created and improved with customers in mind.
Want to learn more?
If you'd like to learn how UserTesting can help you understand your customers through on-demand human insights, contact us here.
Learn key strategies to structure and scale customer research resources within your organization.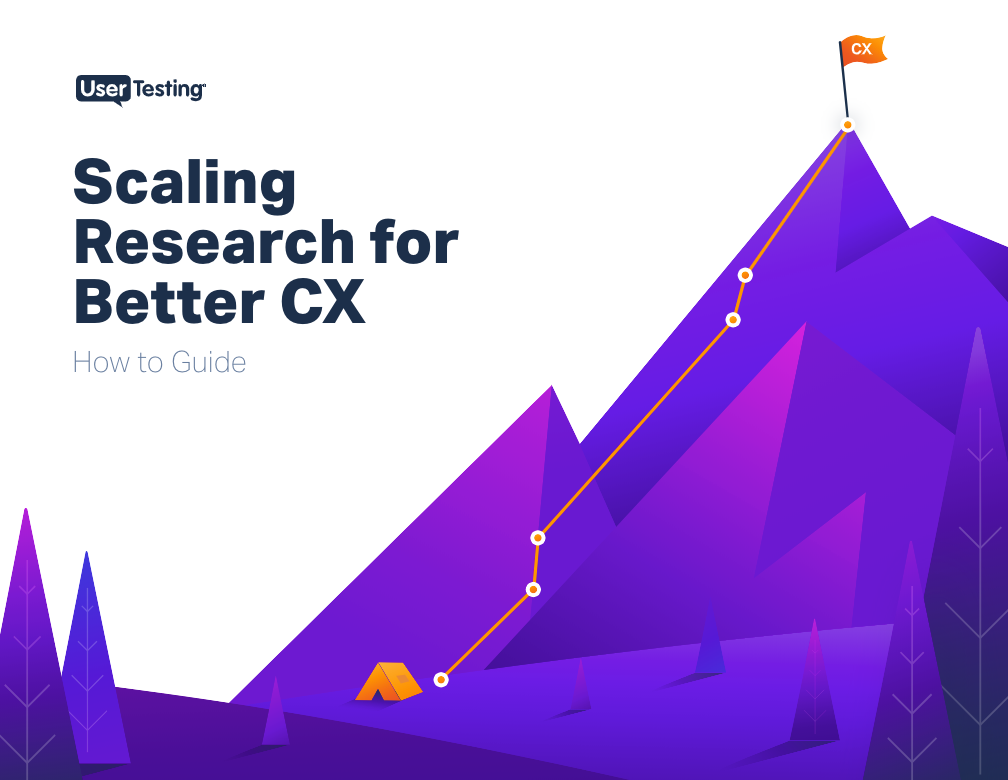 About the author(s)